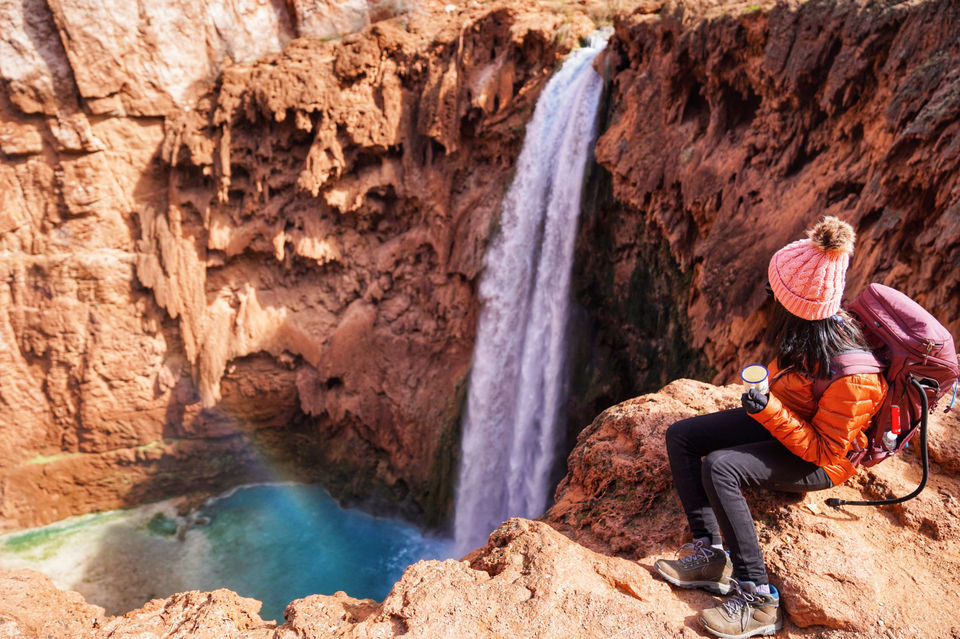 Mooney and beaver are some of the greatest waterfalls in the United States and to reach the waterfalls, there's a strenuous 10 miles hike to the Havasupai Campground. From here, there are further hikes to multiple waterfalls. The hike to Havasupai Falls is not a random hike that anyone can do without any preparation. The key to making this hike memorable and successful is proper planning and preparations. If you haven't already, take a look at guide to havasupai falls in order to get all the information about reaching to the campgrounds.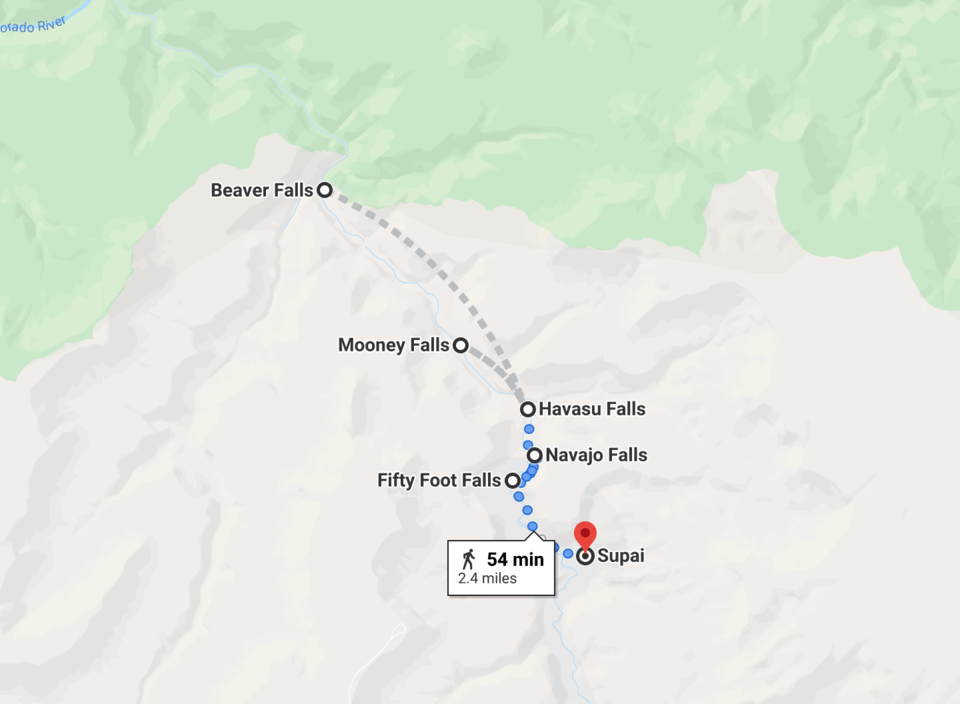 Mooney Falls
We started hiking early morning from Havasupai campgrounds. The toughest challenge of this entire trip was right in front of us – Getting down to Mooney Falls. The only way down to Mooney was to traverse down the canyon's face using muddy, wet chains and ladders. When I say this is the scariest thing I've ever done in my life, I am not even exaggerating. Maybe that's the reason they have put "descend at own risk" sign at the cave entrance. After the cave is when the descent started to get just a little bit crazy. I assure you if I can do it, you'll be fine too!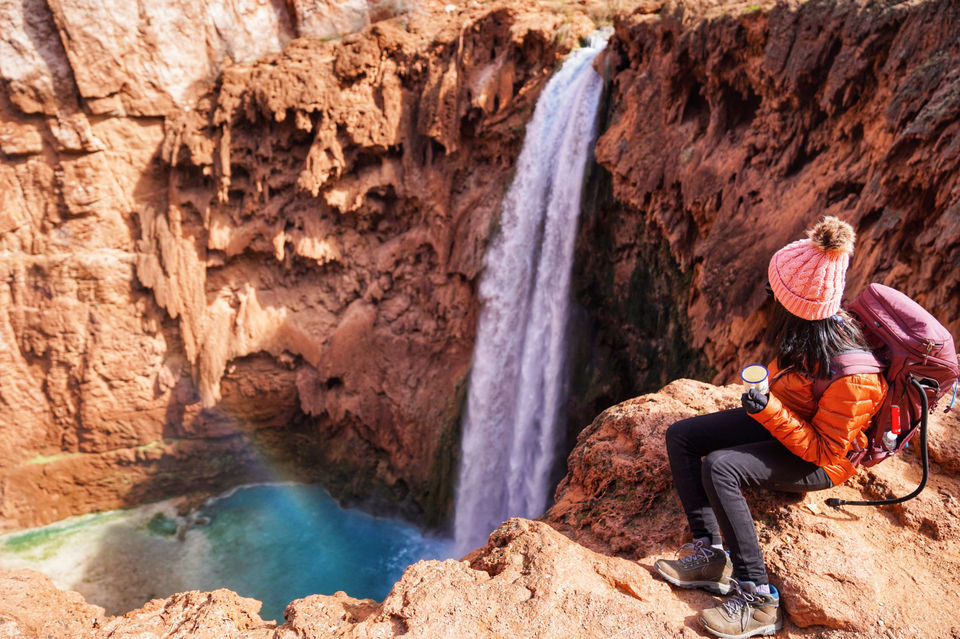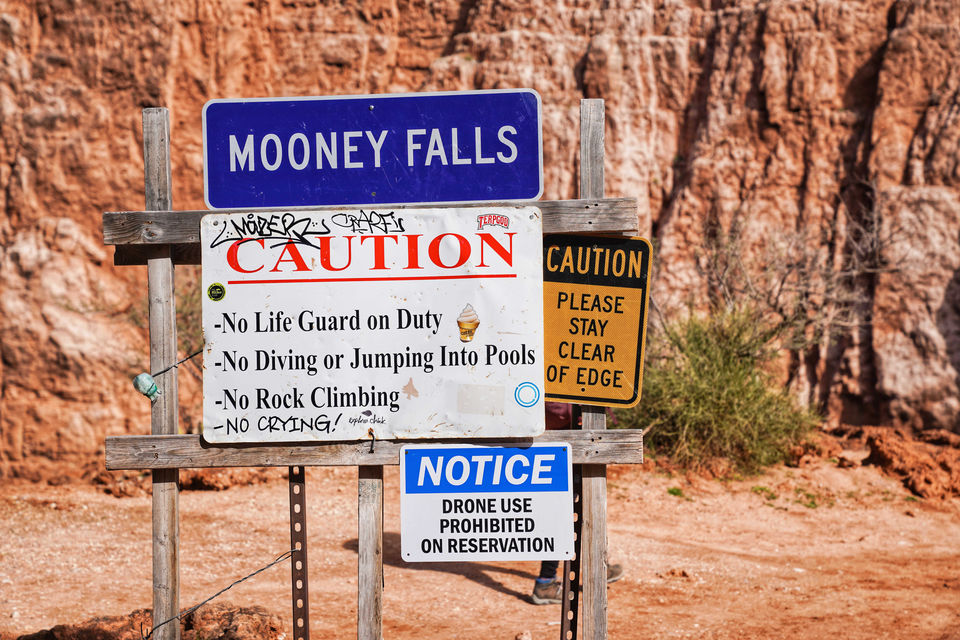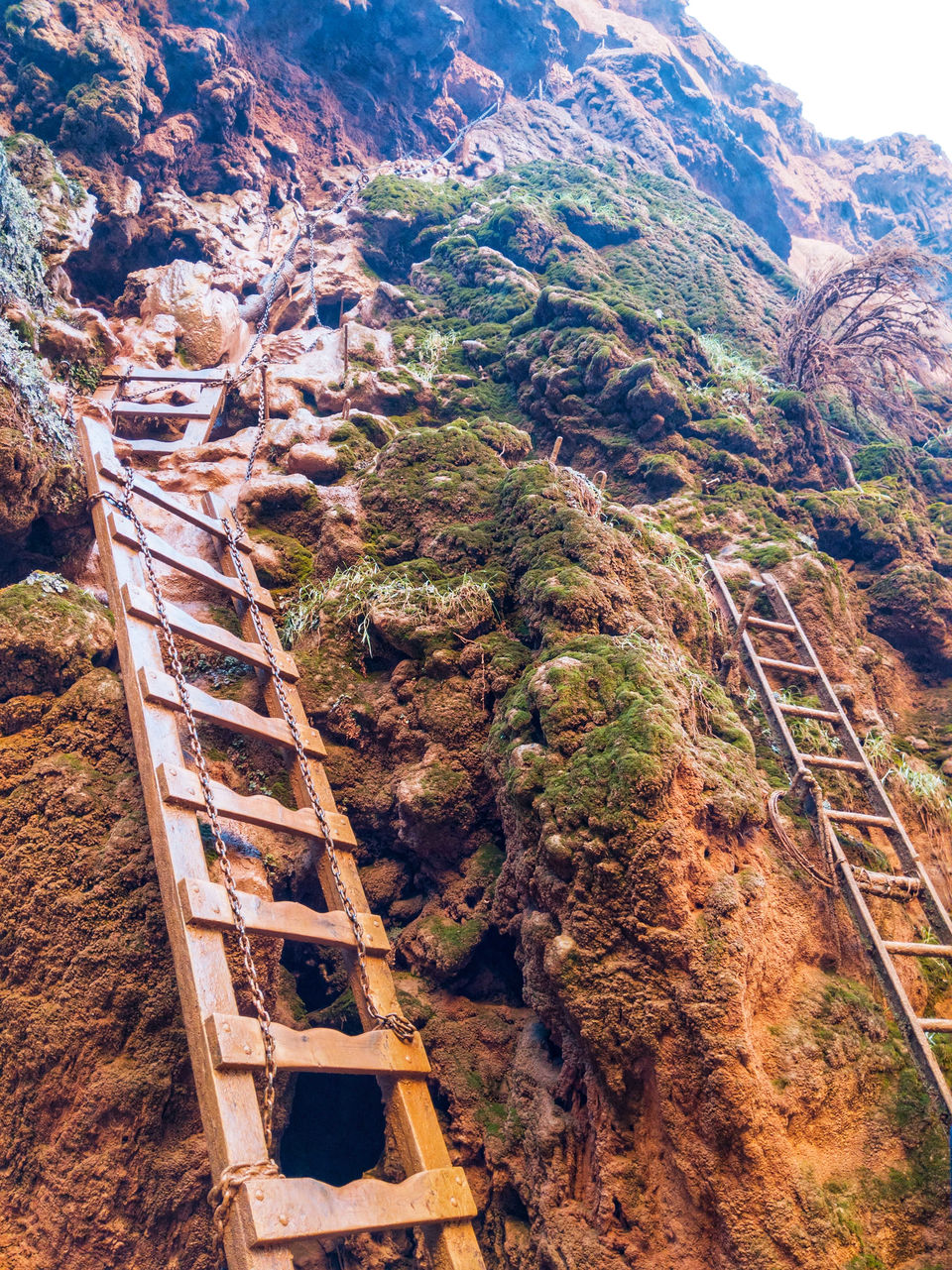 Mooney Falls is so powerful, that the rocks and chains were soaked in water, and thanks to the impromptu rain for creating extra slippery surfaces. I was nervous at this point. I knew one little slip could easily lead to my death so I made sure to go slow and steady. When my feet finally touched the ground…it was the BEST feeling! Looking at the beauty in front of my eyes…I forgot everything that I had to go through in the last few minutes. I was speechless. Mooney falls has its own charm, it stands over 200-feet tall, like a captain of all the waterfalls, dumping crystal clear water into aqua-blue pools. Since we were here so early, we had the waterfall to ourselves. Mission successful. After taking a few good photos, we immediately took our layers off and jumped in the water. Oh-my-god! I never imagined water could be this cold. But your body gets used to the temperature in a few minutes. Just hang in there!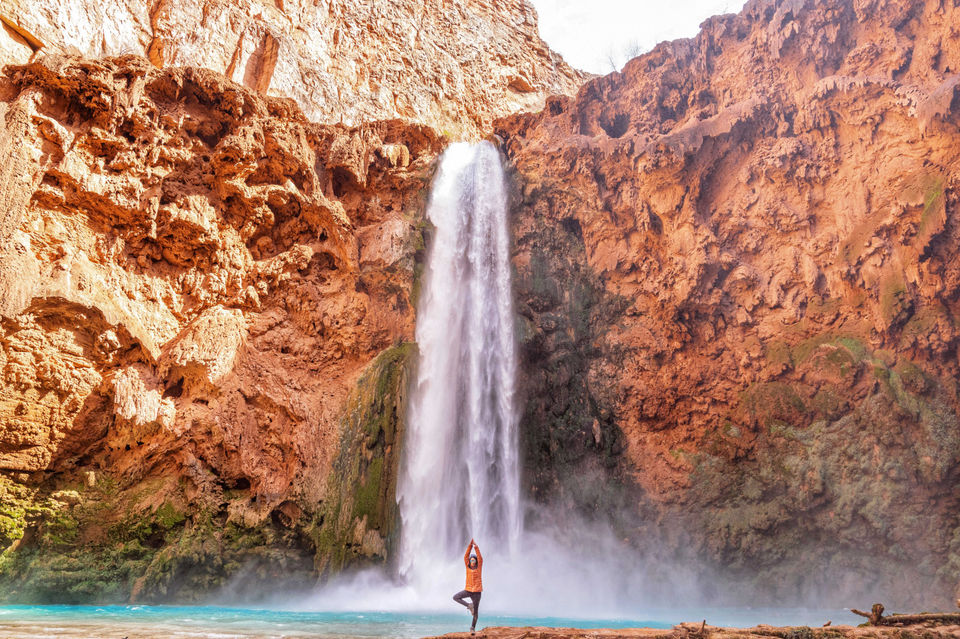 You could spend a ton of time at Mooney, but we wanted to keep moving and get to Beaver.
Beaver falls
Beaver falls is about 4 miles hike from Mooney Falls. The hike is easy but tiring and adventurous so I would recommend starting this day early around 7-8 am to make sure you come back before sunset. Because the only way to get back is to climb up the rock that you descended for Mooney falls. Getting to Beaver Falls involves crossing three rivers and wading through the water, so don't forget to pack your water shoes for this hike, I found them very useful. I wore waterproof hiking pants so I didn't have to fold it every time I went into the water.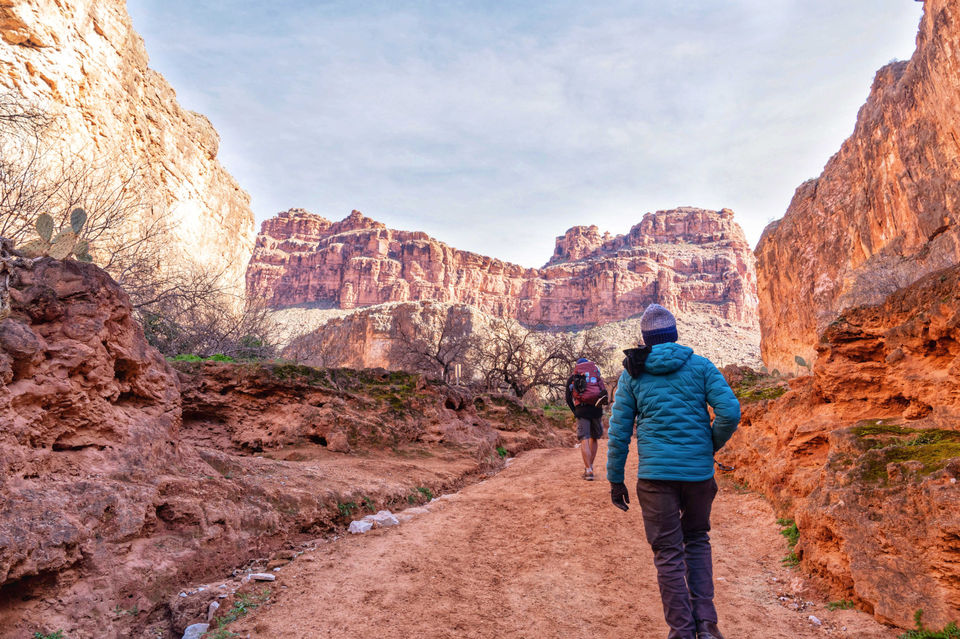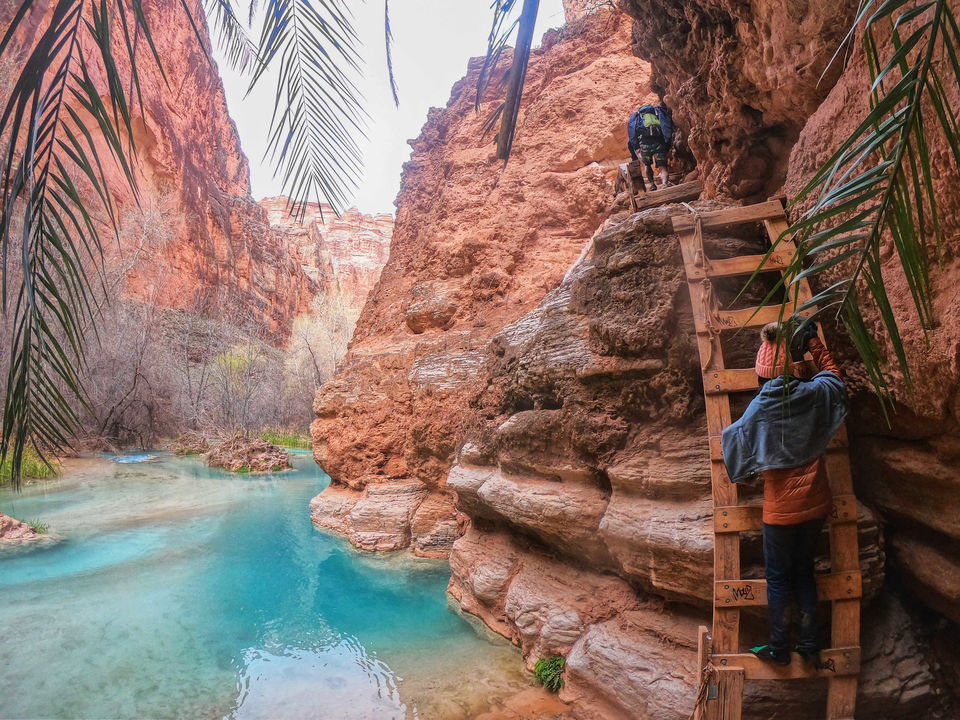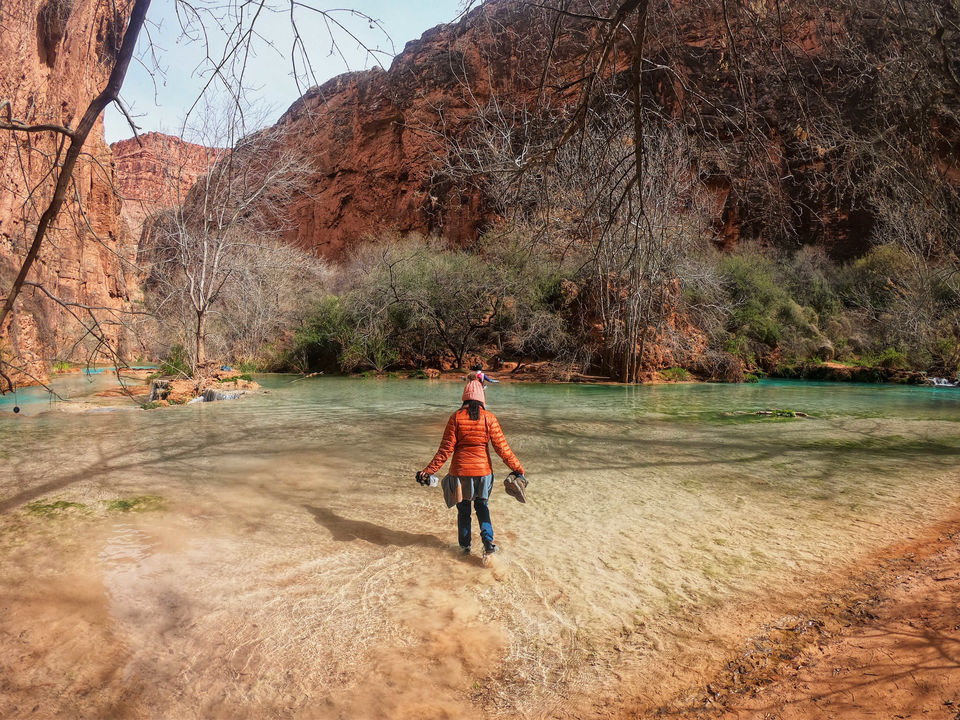 For me, hiking to Beaver Falls was really exciting, it is shady at times, rugged trails in between river crossings, trek through fields of wild grapes with stunning views of the massive Grand Canyon walls, with some getting-lost-in-jungle moments and much quieter than previous trails! At times, it felt like I was in Jurassic Park! From Mooney Falls, you just need to follow Havasu Creek downstream, requiring to wade in knee-deep water through at least four river crossings and some footbridges.
Beaver falls are my favorite amongst all Havasupai falls. It is a series of smaller waterfalls that build swimming and wading pools from the water that cascades over the sandstone and limestone terraces creating picturesque views. Once you arrive, you can enjoy swimming in many pools, cliff jumping, and climbing up, down, and all over the falls. After all the jumping and shooting, we sat there eating our food, living those quiet and peaceful moments.
Happy hiking!