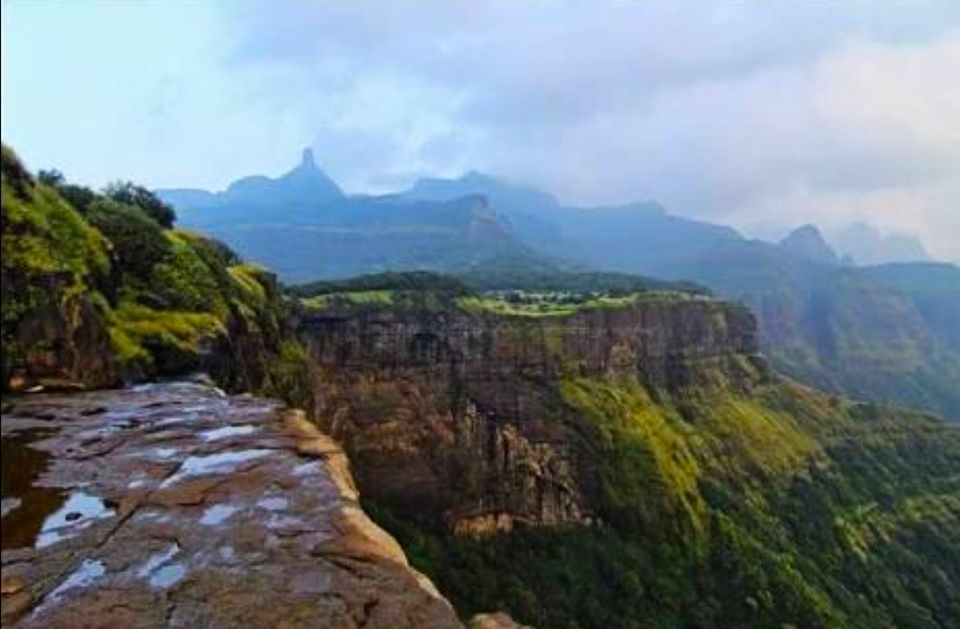 Sandhan valley is a gorgeously carved valley in the magnificent Sayhadri mountain range, which is part of Western Ghats in Maharashtra. The valley is situated at the height of 4255 ft high above sea level and is surrounded with mighty and jaw-dropping mountains of Ratangad and Kalsubai. The brilliant and deep narrow rock floored ravine is located between the two high walls of mountain range. At some places its width is less than 3 ft and at some places sun rays unable to reach the ground. This valley's sublimely beautiful landscape is adorned with breath-taking gorges and glistening streams that snake their way down to the lush valley.
The trek goes through 200 ft deep and 2 km long gorge carved by water over a million years between the narrow walls. The most adventurous part of the trek is the water rappelling when trekkers are left to rappel at three spots down the 100 ft rocky patch with the help of experienced guides and equipment. Unlike all treks, trekkers descend in valley on the first day and climb up the next day.
How to reach?
By Air: The nearest airport is Mumbai airport which is approx.
By Rail: The nearest railway station is Kasara which take about 2.5 to 3 hours from Mumbai. Samrad is approx. 80 km from Kasara railhead. You can hire a jeep to get you from Kasara to Samrad. Another option is to take a train to Igatpuri
By Road: Getting your own mode of transportation would be the most suitable and suggested way of getting to Sandhan Valley because getting public transport is difficult
Things to do:
Trekking: Hike into this canyon's spectacular cleft involves rappelling over rocky descends, wading through cold mountain water and making your way through shadowy moss-covered ravines
Reverse Waterfall: The gushing water seems to defy the natural law of gravity which occurs when high winds hit the area and their updrafts force the water to blow back upstream resulting in kind of reverse waterfall
Portaledges (hanging tents): Experience what it feels like to be in a vertical hanging tent and try being in one for a bird's eye view of the magnificent Sandhan Valley!
Wading in Waters: Enjoy wading in cool creek waters that can range from calf-deep to chest-deep. Also, steer through slippery boulders and crevices which is little bit tricky but loads of fun
Rock Formations: Encounter the narrow canyons which are undeniably among the most stunning of the things the valley offers
Waterfalls: Stumbles upon some surreal waterfalls hidden in the cool, lush green crevices of the canyon
Valley of Shadows: Witness the naturally sculptured geological formation sides of the canyon which are so narrow that even sunlight makes brief appearances. Hence, it's also famous as the Valley of Shadows
Pretty Pool: Jump into the crystal-blue water nestled within the canyon. Waters from tiny streams pour over cliffs, creating stunning waterfall and fern-decked pools
Nearby Attractions:
Pabargad fort, Aswala fort, Bhairavgad fort, Aajoba, Ratangad fort, Ratangad Khuta (Pinnacle), Bann (Pinnacle), Karoli Ghat, Alang fort, Madan fort, Kulang fort, Kalsubai (5400 ft. Highest peak in Maharashtra)
Experience walking along a deep gorge, as sunlight flickers though the moss-covered crevices and the sound of your breath echoes against the narrow walls. Sandhan valley can be described as a perfect blend of a rugged canyon and a lush valley. Thanks to the 200 ft depth and long way descend, which gives the trekkers the adrenaline rush and makes the descending experience a moment to cherish.