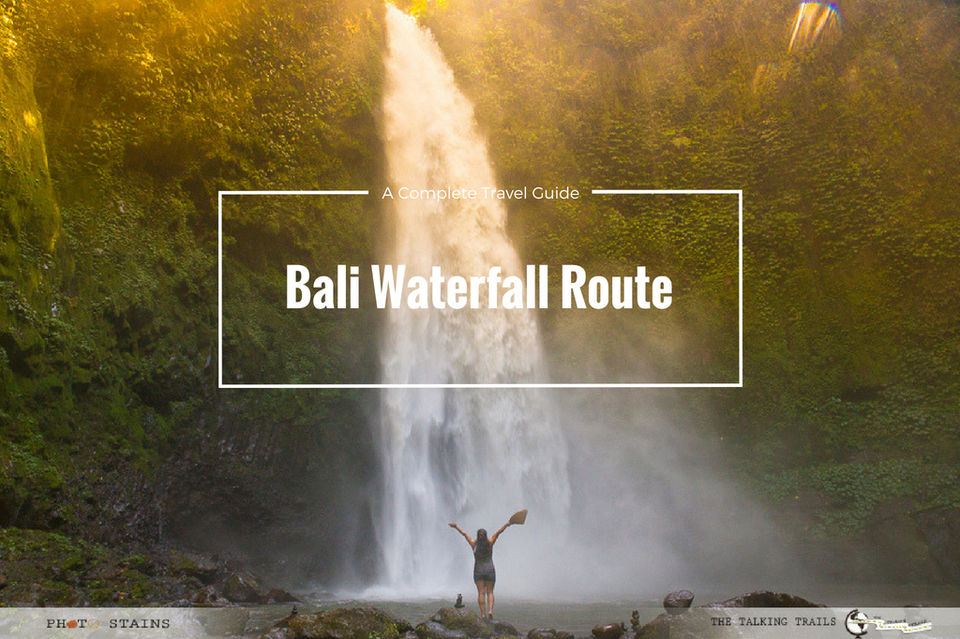 Bali is tropical , green and lush. It is not only home to beautiful beaches ,sunset cocktails (though I LOVE those too), rolling rice paddies, lakes, and mountains but also to stunning waterfalls. Yes Bali has some of the most amazing waterfalls I have ever seen in my life. And from my own experience I can say that each one of those waterfalls will inspire your jaws to drop in awe. Imagine cool, lush green paradises where the force and beauty of nature is bound to impress and enchant you. Places to swim in cool, refreshing water, surrounded by the tropical rain-forest. Your trip to Bali is not complete without visiting at least some of the island's waterfalls. While of-course on my recent trip to Bali I could not see all of them , but here is my guide that will cover most of them. I have named it Bali Waterfall Route - A complete travel guide.
Important Tips :
1) Some of the waterfalls are easy to drive to but many others are not. If you are in time crunch like me , I will highly advice to hire a car and a driver. This will make your life soooo easy.
2) You must carry cash. Most of the waterfalls have an entry fees and parking fees and you are expected to pay in cash.
3) Reaching waterfalls like NungNung ,Skempul etc is hard work. It requires rigorous hike and involves lot of stairs( you will see in the details below ;)) , so come prepared.
4) You will need good pair of shoes and a lot of water since it is not easy to reach to the waterfallS.
5) None of the waterfalls are wheelchair accessible.
6) If you are into photography , make sure your camera gear is waterproof or weatherproof. Most of the waterfalls generate a lot of spray and it gets really humid on hike down. Also for long exposure shots , you will have to carry tripod.
7) If you plan to drive yourself , download offline maps. You will hardly find any cellphone reception in interiors.
8) As you go towards Nothern Bali ( where you will find most of the waterfalls) , weather gets a little unpredictable. It rained couple of times while we were hiking down the waterfalls. So bring a poncho or umbrella.
9) If you really want to enjoy Bali waterfalls , you have to take dip in the natural pools. Carry spare clothes :)
10) Lastly, if you want the whole waterfall to yourself - reach early. I can bet in later part of the day you will not be the only one :) . And at times you will have to be in line to get your fav shot.
How to explore Waterfalls in Bali :
Exploring all the waterfalls of Bali in a single day is just not possible. Distance does play a factor here. But don't worry I have made these 2 Bali Waterfall routes and put together an itinerary that will cover all of these waterfalls. That being said , where you stay plays an important role in how much ground you can cover. If you really want to see waterfalls , I will highly suggest to stay in Ubud or Munduk. That will cut your distance by half.
Most of the people will suggest that the best possible way to get to Bali's waterfalls is by renting your own scooter. While I do believe it might be the case for the waterfalls near Ubud but for the ones up in the north, I will highly suggest to rent a taxi or hire a driver. It's inexpensive and many chauffeurs are funny and have great local knowledge. I can't be thankful enough to our Driver Yande - who showed us all these amazing places. Not only he drove us to the waterfalls but also shared some tricks to save money and he was more like a guide to us than a driver.
Note : If you want to hire Yande , you can contact him at ( +62 881-3601-995) or you can leave him a message here
If you happen to go in Ubud market , you will find that there are many local tour companies that also offer day trips to these waterfalls . If you are interested , do your homework , research about such local companies and be ready to negotiate price with them.
If you do choose to go by scooter, always put directions into Google Maps and download, so that you can access them even though you don't have internet. Most of the famous waterfalls in Bali are located on the map, at least the parking area, and then there will also be signs to take you to the actual sight.
So you will want to start your day early, not only to get exclusivity at the waterfalls but also because it is a long day and later you start , you will lose on the light by the time you reach your final destination. Also just to reiterate , Bali is tropical so it gets really hot n humid at most places. Specially during afternoons. Since most of the waterfalls require hiking , you will want to do it in morning than in burning afternoons. This is how we started :
1) NungNung Waterfall :
Starting from Ubud at about 7:30 am , NungNung was our first stop. I want to say that may be our driver wanted to ease us into the hardships of chasing waterfalls and that is why this was our first stop , but imagine 510 (or more may be )stairs one way. As tiring it seems , once you reach this waterfall , you might not want to leave. Getting to this waterfall might be difficult but it is totally worth it , as when you arrive at the falls, you will see water plunging 165 feet to a pool below and yes you can swim in the pool at the base of the falls. The trek down will take 15- 20 mins and and climb back up around 30 mins. Remember the stairs here are steep.
Entrance Fee - 3000 IDR per person
Parking Fees - 2000 IDR
Facilities - Some shops with water and restrooms.
2) Banyumala Twin Waterfalls :
Imagine torrential rain , where you can barely see anything and you are hiking to the waterfall with water pouring on you like a cloud burst. Slippery and muddy , chasing this waterfall is not for the lazy tourist or elderly. It is a bit of a challenge to get to this place as well . The last 3 km to the waterfall will see you driving through a bumpy and narrow road where two cars cannot pass each other . The conditions are so awful , you will barely call it a 'road' at all. If you plan to visit this waterfall on your own , you need some driving skills. Once you reach the parking lot , prepare yourself for a somewhat tricky hike through the jungle. But once you reach , you will forget all the hardships. It is beautiful and tranquil and not at all touristy. Take your time in taking your perfect Instagram shots and soak yourself in the water-pool . You have earned it :).
Entrance Fees - 15000 IDR per person
Parking Fees - 2000 IDR
Facilities - Reataurant at the parking lot. A small shop near waterfall.
3) Sekumpul and Fiji Waterfall:
I am combining these two waterfalls because they are so close to each other and the way we visited - we only paid entrance fees once and then our guide took us to both of the waterfalls. Even though many people claim Sekumpul waterfall to be the most beautiful waterfalls in Bali , I found Fiji more beautiful. I think the reason is that reaching Fiji made me feel like Indian Jones - walking on half built bamboo bridges , making our way through wobbly rocks and walking through the water streams that were waste deep at some places. Yes , it was truly adventurous. That being said , the hike down is about 40 minutes at least and along the way you have the view of the most incredible rice fields.
1) Tegenungan Waterfall :
This is the most Instagram popular waterfall of Bali. If you really want to be alone here , make it your first stop and that too early in the morning , preferably before 7. There are tons of souvinier shops and restaurants around this waterfall. It is not difficult to reach but like any other waterfall in Bali , there are stairs about 80 - 100 stairs that you will need to climb down. If you do not want to get all the way down to the base of waterfall , there is a viewing area jsut after the entrance which requires not more than 10 mins walk.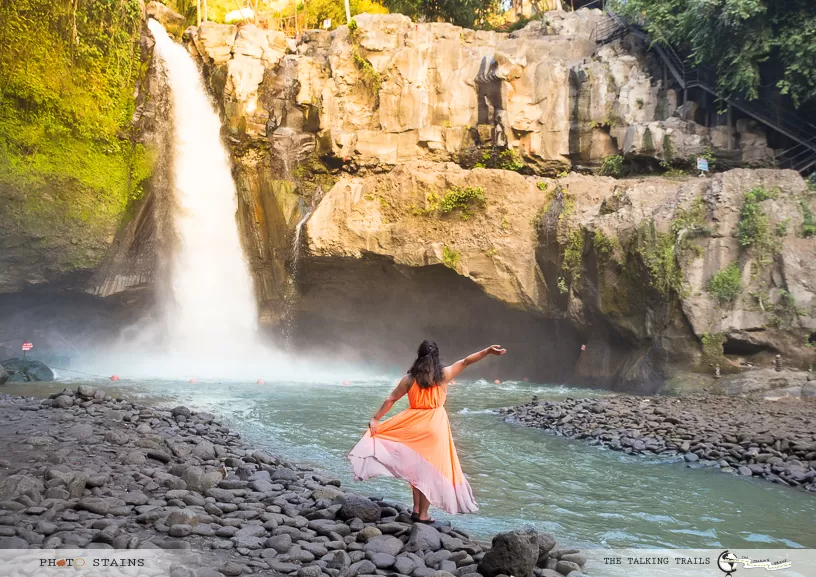 Entrance Fees : 10,000 IDR
Parking Fees : 5000 IDR
Facilities : Shops and Restaurants
2) Tibumana Waterfall :
Tucked away in the village of Apuan, 15 kilometres east of Ubud, Tibumana Waterfall is a must see. It is less popular than Tegenungan and I guess that is why you will find it less crowded. It is a hidden gem surrounded by luscious garden with exotic birds and butterflies around. The fall itself falls into a shallow pool where you can enjoy a dip. The hike is not strenuous and you should definitely add it in your itinerary.
Entrance Fees - 10,000 IDR per person.
Parking Fees : None
Facilities : Changing Room
3) Tukad Cepung Waterfall :
This was the last waterfall that we visited on our trip to Bali , and i must say - what a way to end the trip. Located 30 kilometres north-west of Ubud, Tukad Cepung offers a rare view of a waterfall that should not be missed. Though there are plenty of waterfalls worth visiting in Bali, Tukad Cepung Waterfall is one of its kind. Well-guarded by the cliffs and a few hundred stairs down , the waterfall will give you the feeling of water flowing from the sky.The circular cliffs makes you feel as if you are in a cave and the open sky from where the waterfall emerges, gives you the most enchanting view. If lucky and you visit it early in the morning , you might see the rainbow forming right above the falls. And yes you can definitely take a dip the base pool of the waterfall :) .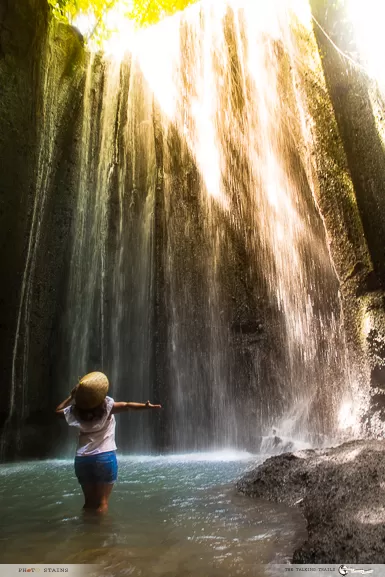 This is indeed one of my favorite memory from my Bali trip - chasing the waterfalls. 2 days of full excitement asking ourselves repeatedly - How can Bali be so spectacular? There is no denying the fact that reaching to a lot of these places can be a bit challenging but trust me , it is worth it. Each one of these waterfalls is unique in its own way. While ofcourse I could not see all the waterfalls like bla , bla bla... but hey , I had to leave something for my next trip ;) . Bali is not a kind of country where you will not return . You are bound to make another trip to this amazing island. Let me know in comments below if you managed to see all or some of these waterfalls. How was your experince? If you need help in planning , leave me a comment and I will be happy to help. Thank you so much for stopping by. And before you go-
Which waterfall was your favorite? Did Bali amaze you?
Frequent searches leading to this page:-
Bali honeymoon package cost, bali honeymoon packages from chennai, bali honeymoon packages from kerala, bali honeymoon package from pune, bali honeymoon package cost from india, bali honeymoon places