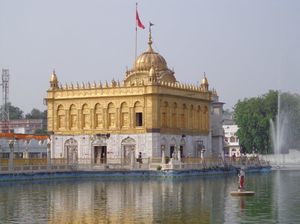 Best time to visit
7:00 AM - 7:00 PM
Open hours
6:00 AM - 10:00 PM
Rank
5 out of 52 attractions in Amritsar
Durgiana Temple
Made in the style of the Golden Temple of Amritsar, this is another temple dedicated to Lord Laxmi- Narayan in the same city of Amritsar. One of the main pilgrim places in Punjab, this temple is also known as the Durgiana Tirath or the Sitla Mandir. The construction of the temple was done by Guru Harsai Mal Kapoor and is often known as the Silver Temple. This is mainly due to the beautiful carved silver doors of this temple. Both Lord Vishnu and Lord Krishna are worshipped here along with Goddess Durga. This temple houses a number of historical shrines of Sita Mata and The Bara Hanuman. The main festivals celebrated here are the Dusshera, Janmastami, Ram Navami and Diwali. The Temple features include a beautiful dome and pillars and the dome is illuminated with glittering lights during the evenings.
Places to stay near
Durgiana Temple
Amritsar's bed and breakfast
Reviews of
Durgiana Temple
•
2
Durgiana Temple: Durgiana temple is devoted to Maa Durga and modelled on the much sacred shrine of Amritsar, Golden Temple.
Attractions near
Durgiana Temple