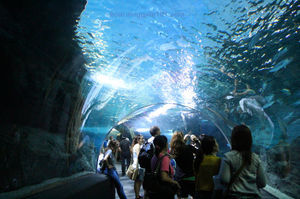 Siam Ocean World Bangkok Co.
Places to stay near
Siam Ocean World Bangkok Co.
4min to BTS in Huge Condo @Nana
MRT, Swimming Pool, Kitchen, WiFi
Reviews of
Siam Ocean World Bangkok Co.
•
1
Nestled below the posh Siam Paragon mall in Sukhumvit, Bangkok is the Siam Ocean World oceanarium. It is one of the largest in Southeast Asia, just a tad bigger than the Manila Ocean Park, at 10,000 square meters. I visited the oceanarium on my third visit to Bangkok, during the food tour. The aquariums were grouped into zones, seven in all: Weird and Wonderful, Rain Forest, Deep Reef, Rocky Shore, Living Ocean, Open Ocean, and Jellies. The Weird and Wonderful section contain several cylindrical aquariums housing weird creatures, such as the giant spider crabs, sea horses of all shapes, and mollusks that somehow resembled Admiral Ackbar of Star Wars. The Rain Forest also has its share of strange animals, not just fishes. I was particularly fascinated with the lung fishes, some albino-colored cave fishes with two hind legs, some rodents that swim, and a chameleon, staring at the onlookers with its multi-colored eyes.The Deep Reef, containing large tanks, are populated with a multitude of fishes, swimming around the artificial corals and rocks set in the aquarium. Penguins and other marine animals populate the Rocky Shore. Midway through the exhibits we entered a room to board glass-bottomed boats to observe the fishes from a different angle. We were also able to see the machineries that responsible for the upkeep of the aquariums, and we saw where they are breeding some of the fishes and shells. After taking the glass-bottomed boats, we went through the 270-degree acrylic underwater tunnel to the Open Ocean, where sharks, stingrays and groupers abound. The size of the aquarium was impressive, but the number of shark species and sharks were a bit of a letdown (Manila Ocean Park has more sharks). I did enjoy the last part before we exited - the jellyfishes. I'm allergic to jellyfish stings in real life, but I find them fascinating. Seeing them in LED-lighted aquariums is the best way to observe them, as it removed the possibility of being stung. But it's a biatch to take pictures of them. It took Arvy several tries to take that picture of the jellyfish above, and all my efforts turned out to be blurry blobs. There are other activities in the Siam Ocean World that we didn't do, such as disturbing the starfishes in the "petting zoo," feeding the sharks and otters, having fishes eat our foot callouses in the fish spa, and scuba diving in the aquariums to encounter the sharks.
Attractions near
Siam Ocean World Bangkok Co.