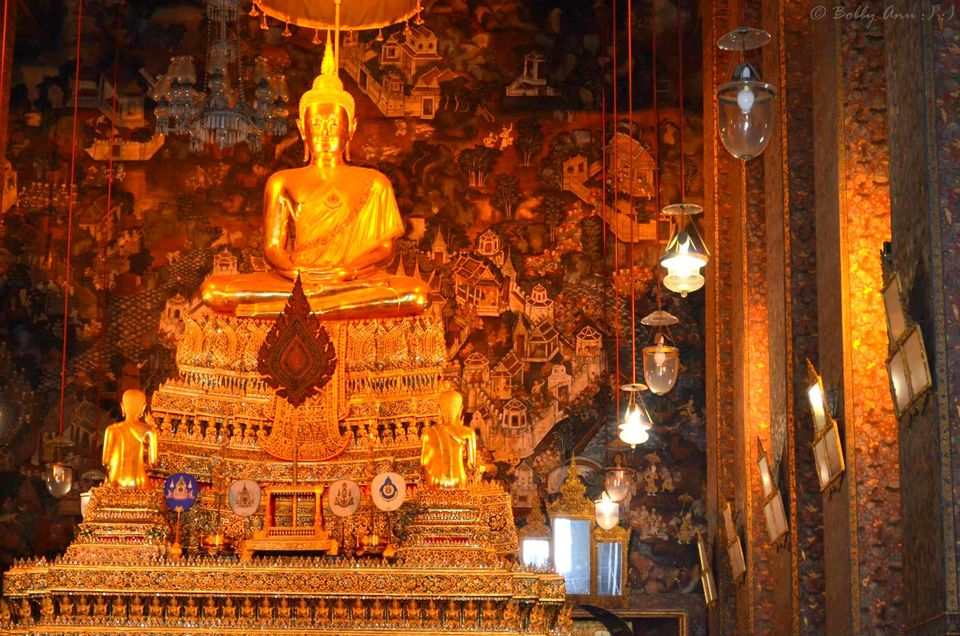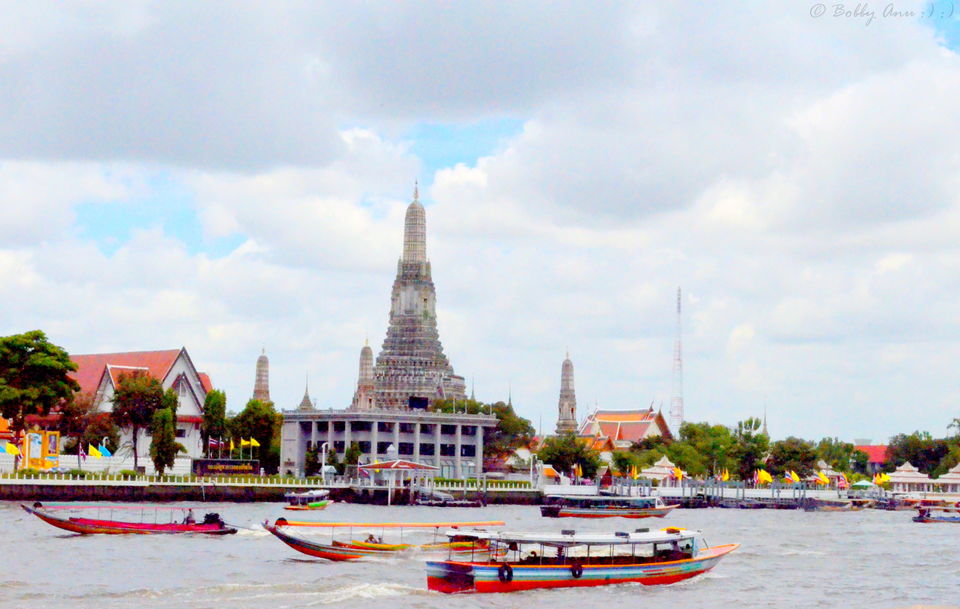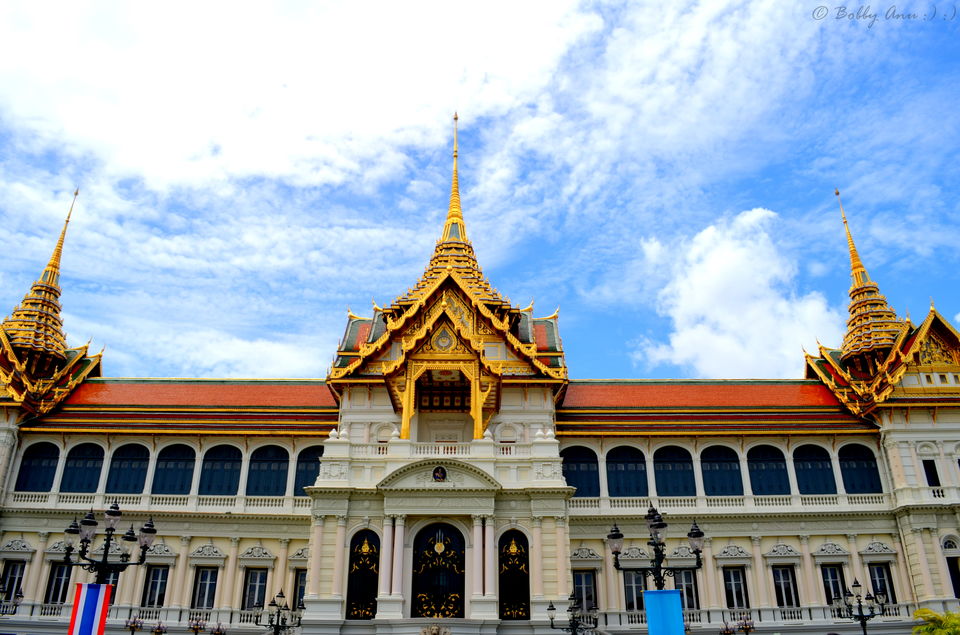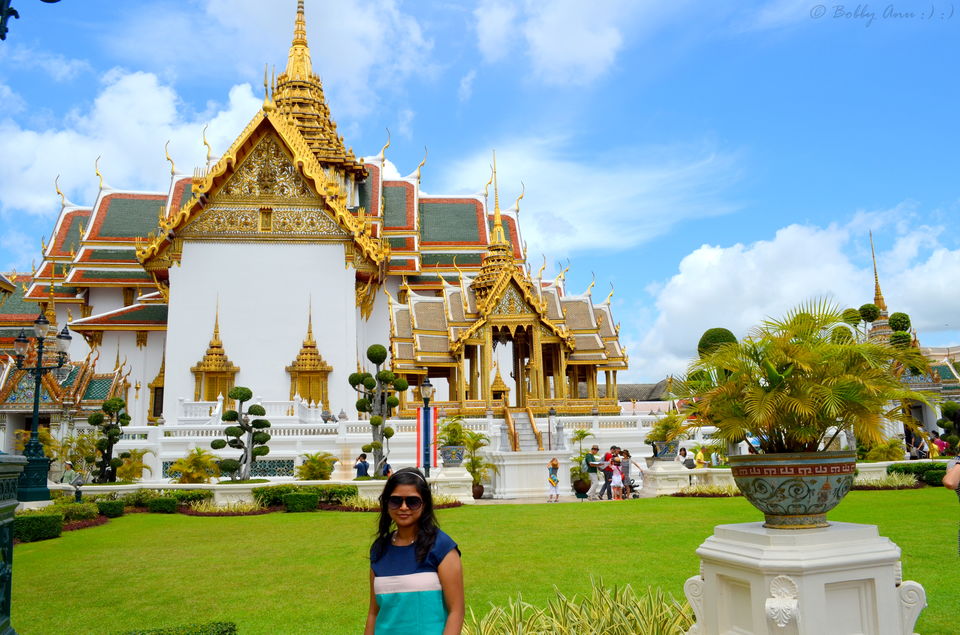 Bangkok - A city of contrasts with action at every turn; marvel at the gleaming temples, catch a tuk tuk along the bustling Chinatown or take a long-tail boat through floating markets. And no visit to Bangkok would be complete without a glimpse of its famous nightlife – from cabarets to exotic red-light districts, Bangkok never ceases to amaze.
We (Me & My wife ) were here in Bangkok to spend our long weekend.
Few tip's to travelers -
Avoid following Thais that need assistance on the street. Chances are they are hasslers.
Use the metro or the Sky-train. Very convenient and you avoid taxi crooks. Beware of the beautiful Thai women. They might not be women after all ;) Dress code applies to visit temples.
Day 1 - Took AirAsia flight from Kuala Lumpur to Bangkok, arrived at 8 PM and reached Hotel.
Impressed with Interactive Wall Cotto in airport, Had fun for sometime ;)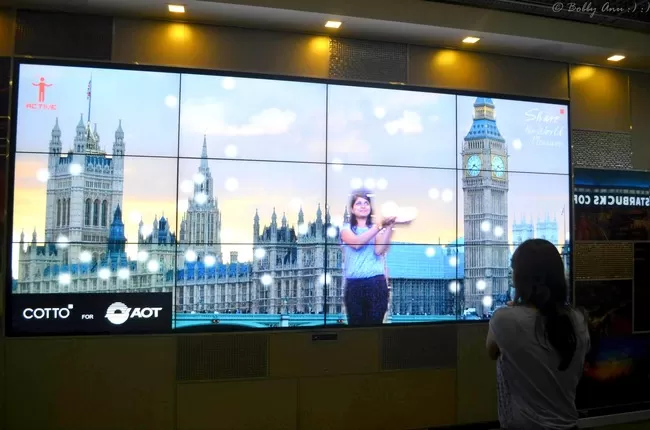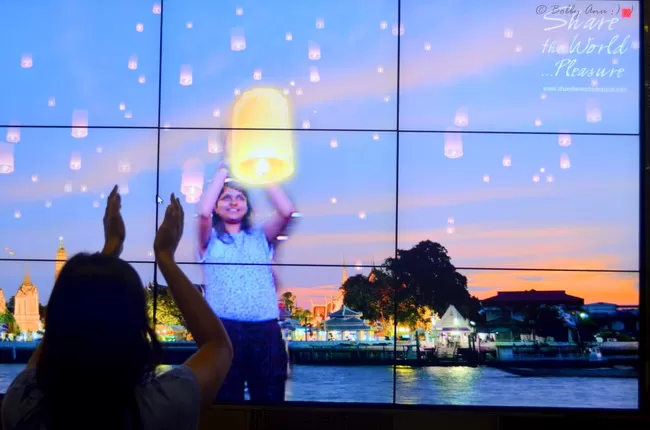 No ripped jeans, no short T-shirts for women either. You must have long pants and cover as much as you can on top as well especially if you are a woman. They are very strict on dress code there and will turn you around if they do not see fit.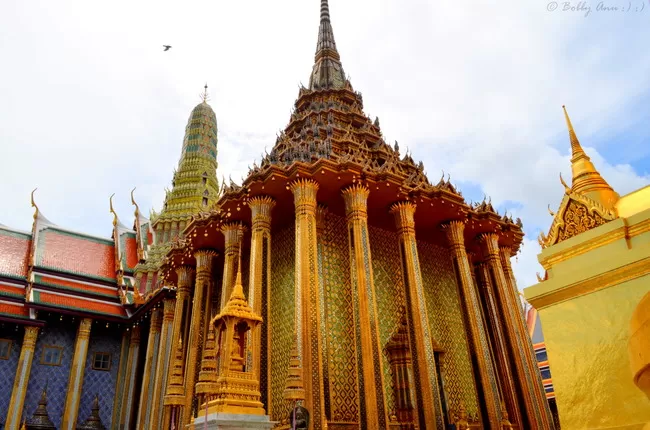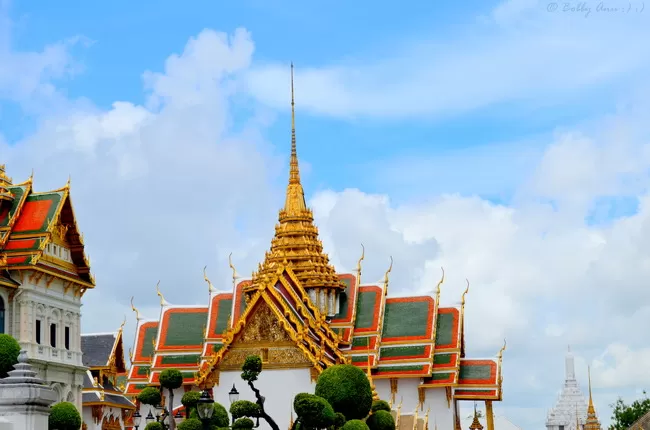 Temple of the Reclining Buddha (Wat Pho) - One of the largest temple complexes in the city and famed for its giant reclining Buddha that measures 46 meters long and is covered in gold leaf.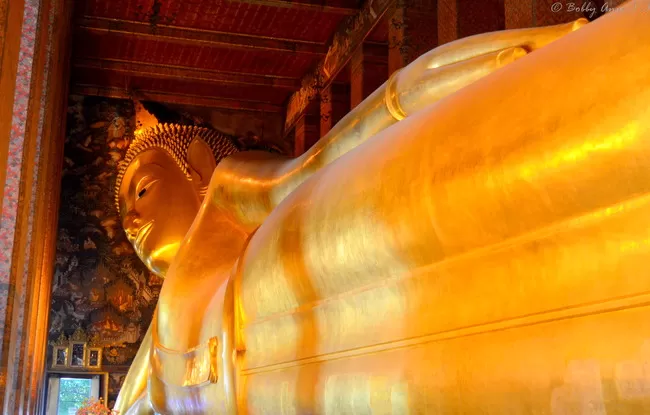 MBK Mall - large shopping mall in Bangkok, Thailand.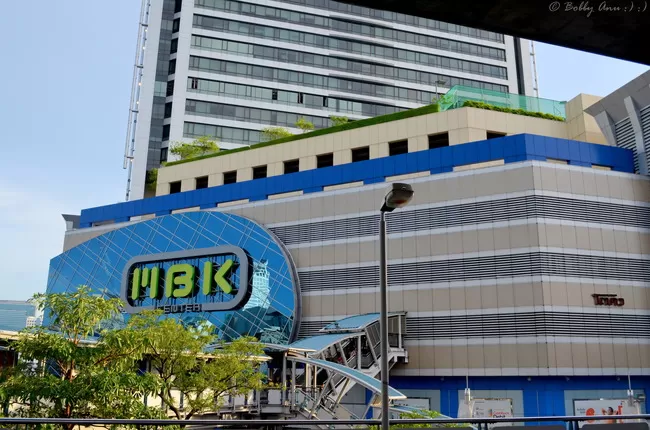 Visited Madame Tussauds Bangkok - Museum chain for life-size wax replicas of famous Americans & historic icons in themed galleries, Situated in other side of MBK mall in a walkable distance.
Sukhumvit- If you are looking for nightlife and adult entertainment, then look no further then this area. Having all the bars on each side of this narrow iconic street and Nana, the other adult nightlife and entertainment area. This is definitely a must place to stay while in Bangkok if you are looking for nightlife fun!
Day 2 - started with Temple of the Emerald Buddha (Wat Phra Kaew) & Wat Intharawihan (Temple dating to the 14th or 15th century, notable for its 32-meter-high gold Buddha statue.)
Snap before Wat Intharawihan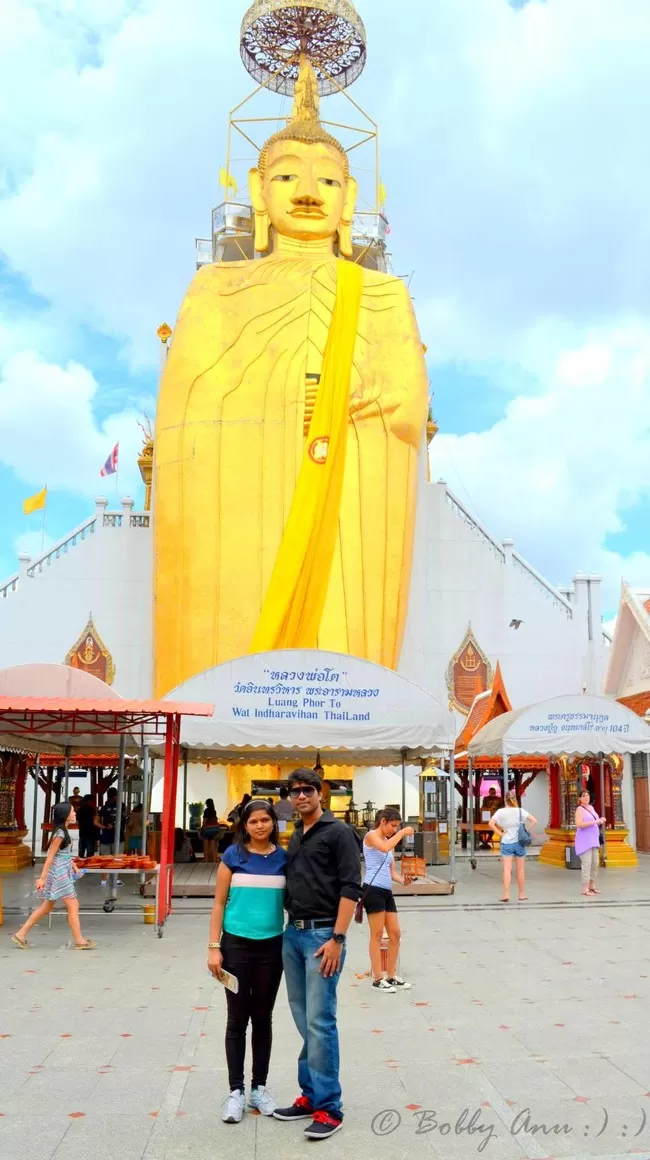 Next is to Temple of Dawn (Wat Arun) - on the Thonburi west bank of the Chao Phraya River, situated on the bank of Chao Phraya has always been the most remembered scene of Bangkok's skyline.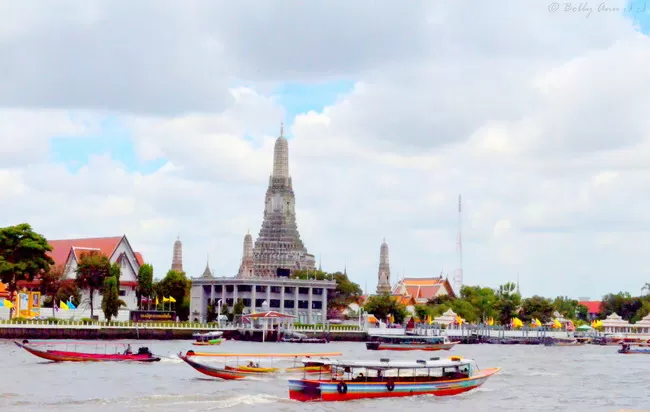 When you reach the highest point you can see the winding Chao Phraya River and the Grand Palace and Wat Pho opposite. Along the base of this central tower there are sculptures of Chinese soldiers and animals.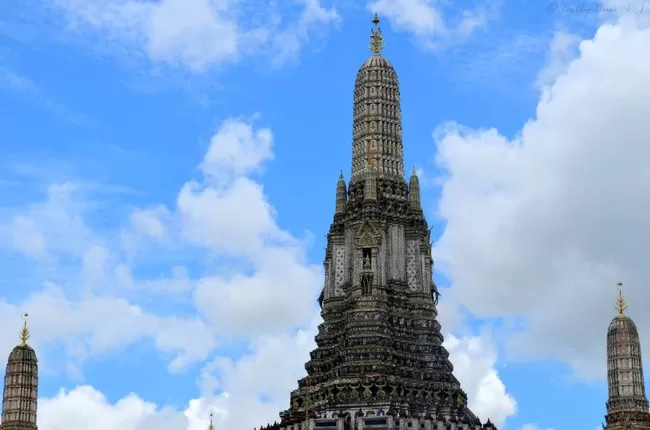 Day 3 - Took a Chao Phraya Express Boat to visit Bangkok's most famous Floating Markets, provides tourists with the opportunity to see Bangkok from a whole new perspective, within one day, tourist can easily travel on high quantity boats from pier to pier without worrying about purchasing boat tickets or getting lost. Plus, they can visit many attractive tourist spots such as the temple of Dawn, and the great Reclining Buddha at Wat Pho.
Streets in Floating market.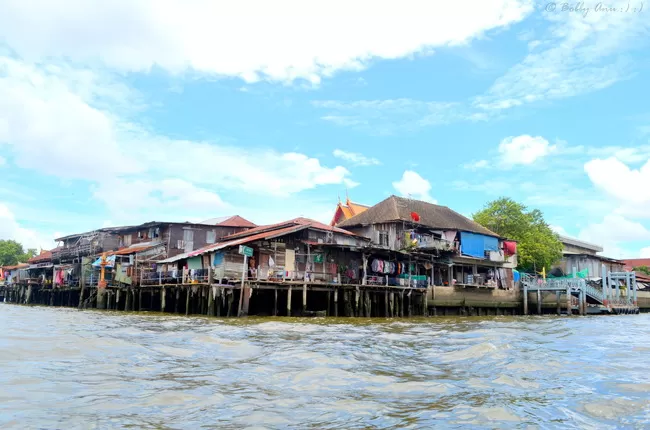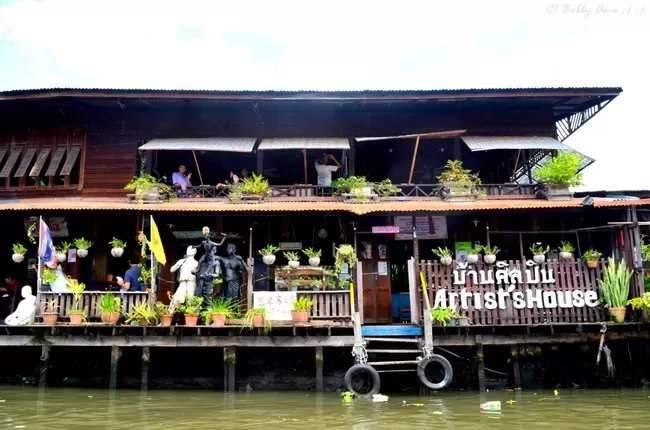 Day 2 - The Grand Palace - A must visit destination if visiting Thailand for the first time. Magnificent and really beautiful.
The architecture and majestic uniqueness of this building is beyond what the eye could have imagine but just like the other parts of this area there are way too many people there every day and very hard to get the picture you want.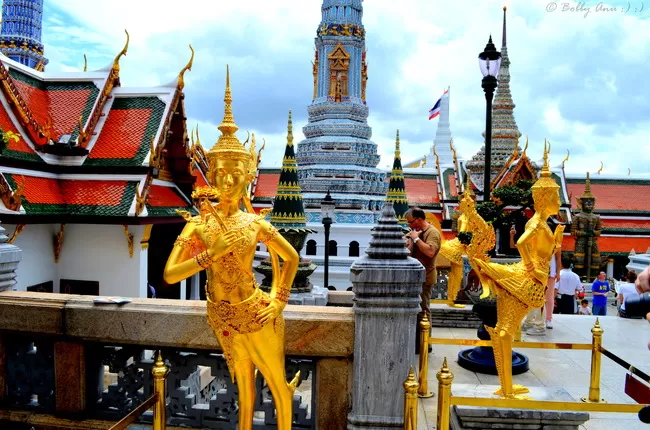 A Beautiful View before the Beautiful Golden Temple.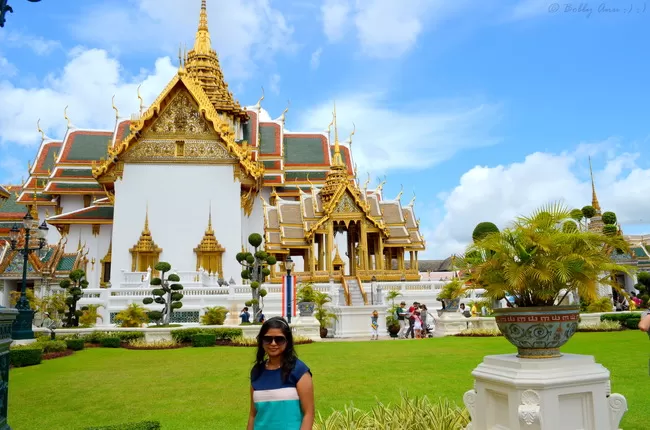 Magnificent Wall-art inside the temple :)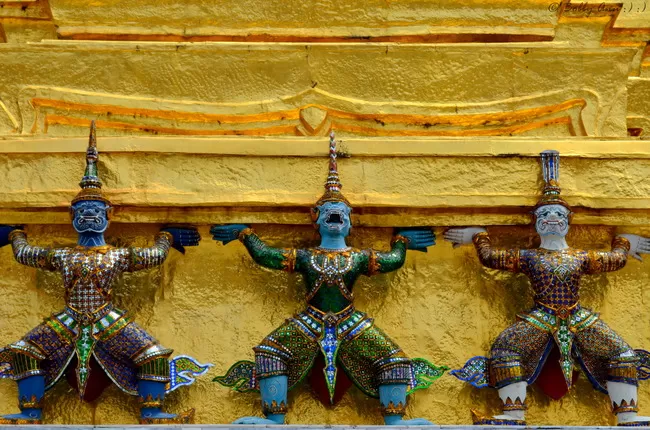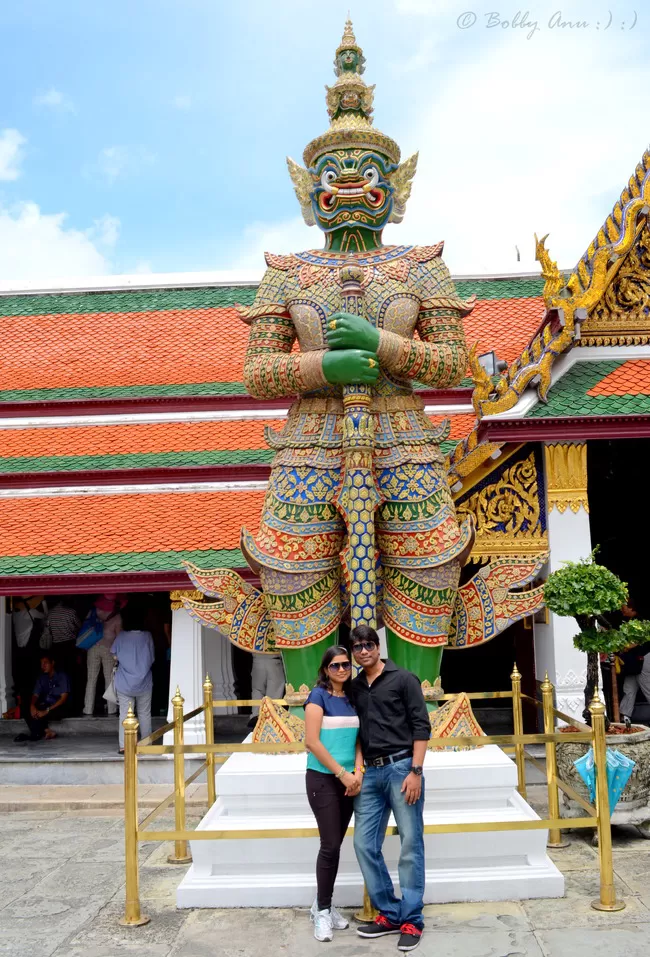 A Beautiful & mesmerizing fort in the temple, made with Sand.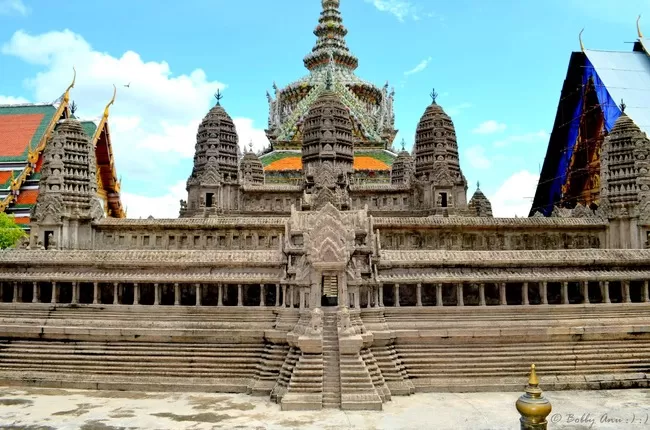 My girl with another beautiful woman in the temple ;)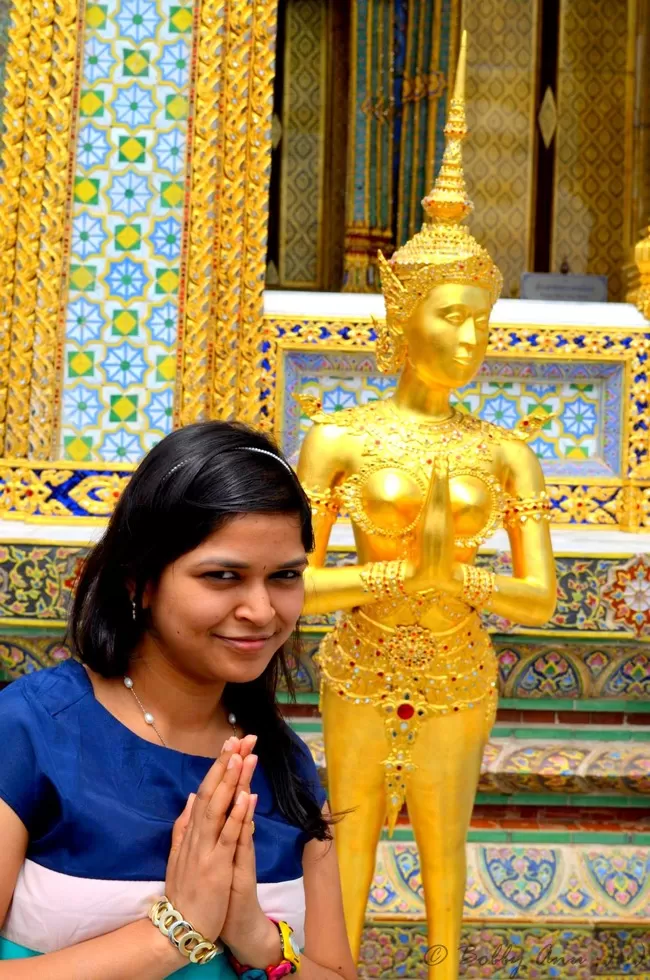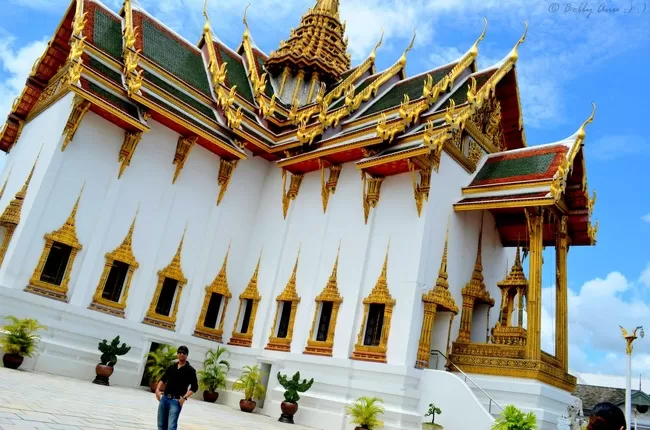 Beautiful grand Palace :)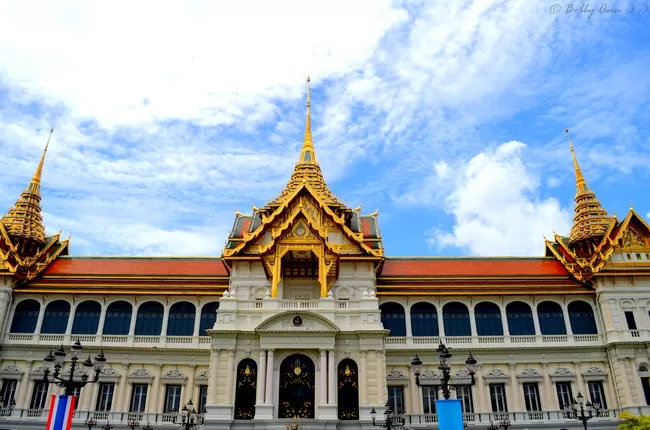 Nicely arrange trees in-front of Royal Grand palace.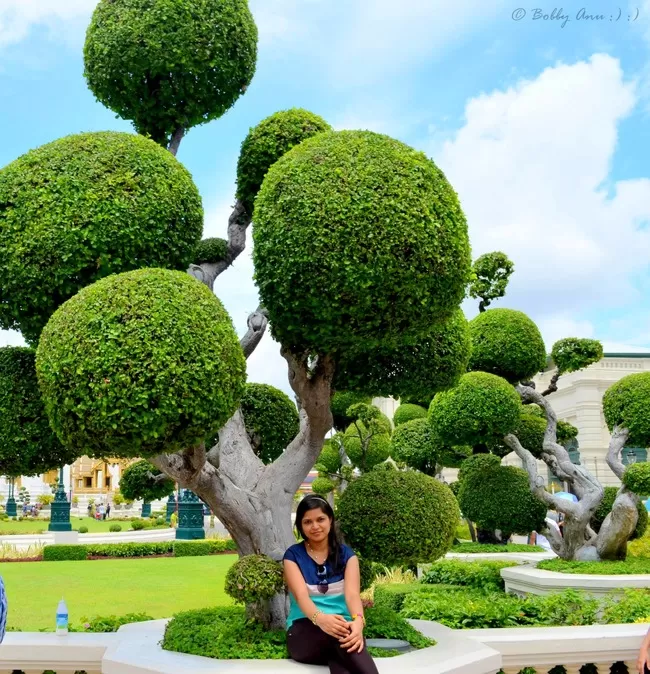 5 meters long Buddha's feet of reclining Buddha.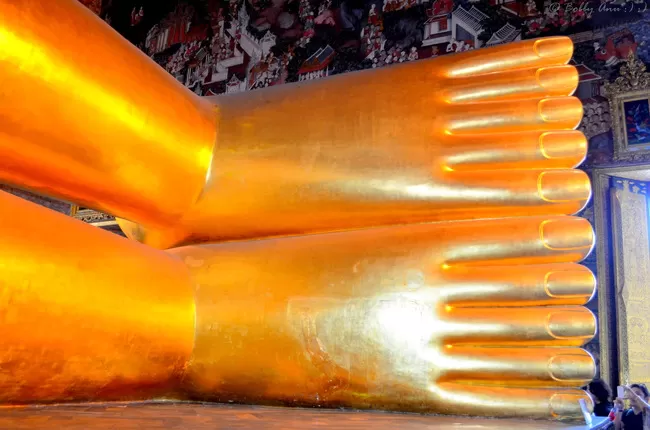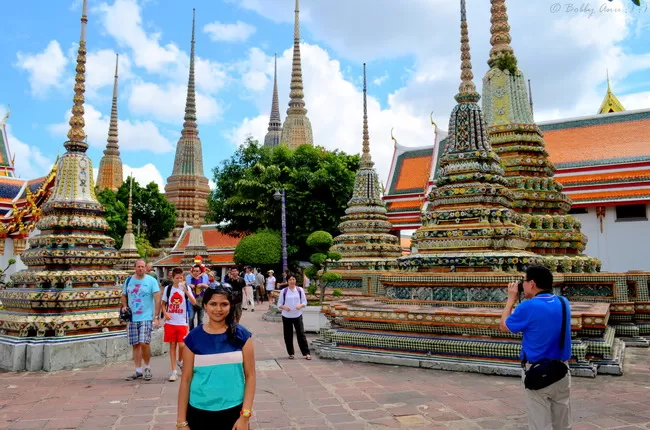 Beautiful Golden Buddha status inside the temple.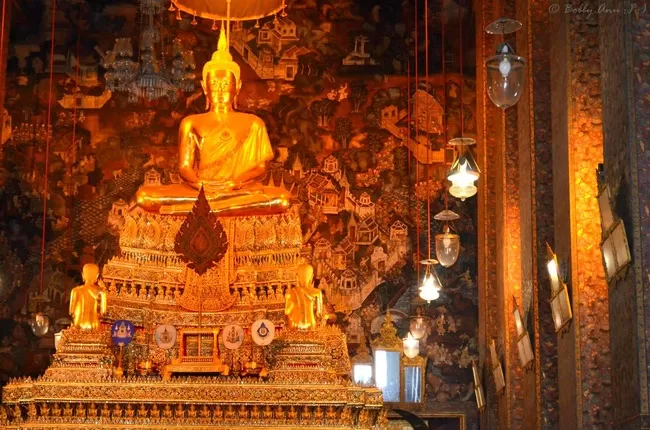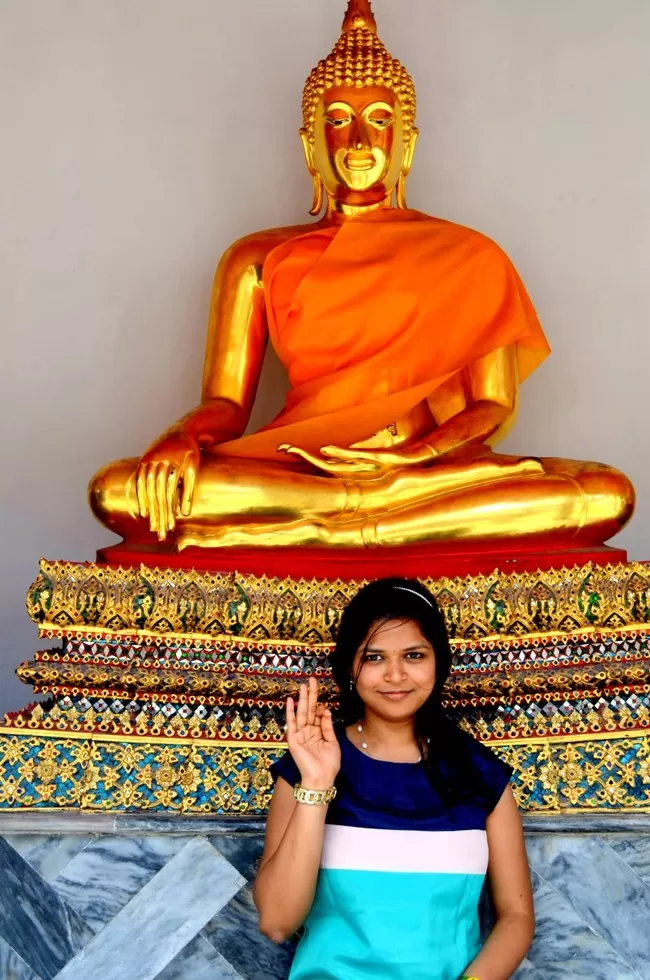 Took Sky-train from Watpo temple, went to MBK Shopping Hall and did Gadgets shopping. Had some Indian food in the mall on the top-floor.
Look all around you and just soak in the atmosphere there, especially at night!!
The floating market - boats are still piled high with tropical fruit and vegetables, fresh, ready-to-drink coconut juice and local food cooked from floating kitchens located right on the boat. unfortunately, the day we planned to visit floating markets, it was holiday and we returned sadly visiting only few markets.
Had some fun with live Fishes, while roaming around the streets. Live fishes fighting for Bread pieces.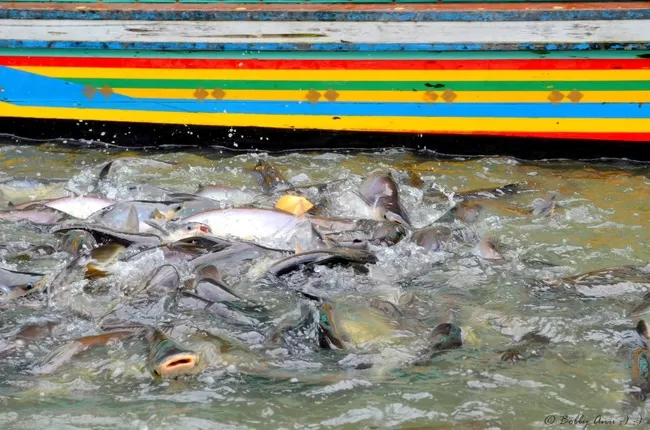 Some beautiful Buddha statues in the Busy Bangkok Street roads.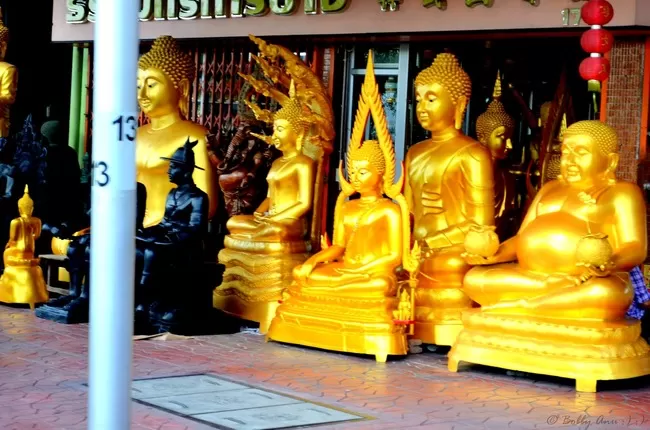 Day 4 - That's the end of our Bangkok trip and we took return flight to Kuala lumpur from Bangkok Airport.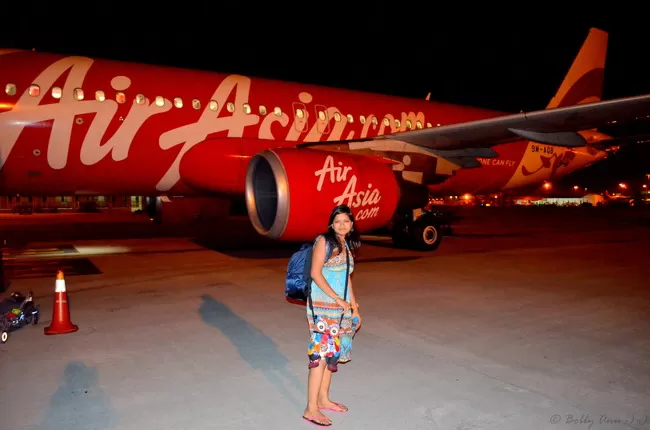 Overall, It was an overall amazing experience visiting Bangkok, the enchanting city and we really miss this place and planning to visit Bangkok again, but definitely not for 3 days ;)