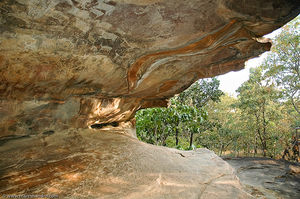 Best time to visit
: The best time would be from September to February.
Open hours
7:00 am to 6:00 pm all through the week.
Things to do
Visit the Ratapani Sanctuary only 10 kilometers away.
Budget
INR 10.00 need to be paid by Indians to gain entry while INR 100.00 is charged for foreign tourists. To park vehicles, INR 20.00 is charged while for a minibus INR 100.00 is charged.
Traveller Types
Families, Friends
Rank
2 out of 52 attractions in Bhopal
Rock Shelters of Bhimbetka
These caves lie 45 kilometers away from Bhopal in Madhya Pradesh and are a famous tourist destination on the Bhopal- Hoshangabad Highway. It is believed that these were the very caves where the Pandavas sought shelter when they were exiled. Dr. Vishnu Wakankar, a professor at the Vikram University in Ujjain discovered these caves while on an excavation during 1957-58. He strayed far from the site and stumbled upon these caves. One cannot afford to miss this place when one visits Madhya Pradesh.
Reviews of
Rock Shelters of Bhimbetka
•
5
Attractions near
Rock Shelters of Bhimbetka