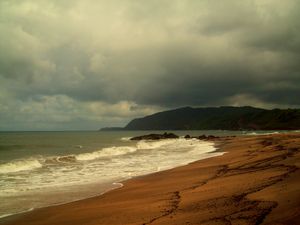 Best Months
December - May
Traveller Types
Couples, Friends
Rank
2 out of 23 attractions in Canacona
Cola Beach
A beautiful beach in Canacona, Goa, it is small beach but is very secluded and offers a great spot for people to relax and rejuvenate themselves.
Places to stay near
Cola Beach
Khaama Kethna Retreat Centre
Riya Cottages and Beach Huts
Reviews of
Cola Beach
•
2
It took me a long time to decide whether to write about this beach. Cola beach is undoubtedly the most beautiful beach I've ever been to in my whole life. It has a fresh water lagoon on one side and the sea on the other, separated by sand ofcourse. When the tide is high, sea water very often washes into the lagoon. The water in the lagoon is extremely cold; so brace yourself, take a deep breath and get in ! You can see tiny fishes swimming around in the lagoon, especially where the freshwater meets the salt water. The beach is extremely clean and the water is calm. However you cannot touch the bottom and have to float if you don't want waves breaking over your head all the time. So non-swimmers might want to give the sea a miss, spending all their time in the lagoon instead. The beach itself has two fancy beach resorts to stay in. Since we were on a budget trip, we made this a day excursion. There is an absolutely terrible path of about 2 kms to reach the hill adjoining Cola. You can park your scooter there and climb down to the beach. Mind you, you will need GPS to find this path. But its worth it. All the effort is completely worth it !! It was the best part of my trip. Enough said.
Attractions near
Cola Beach