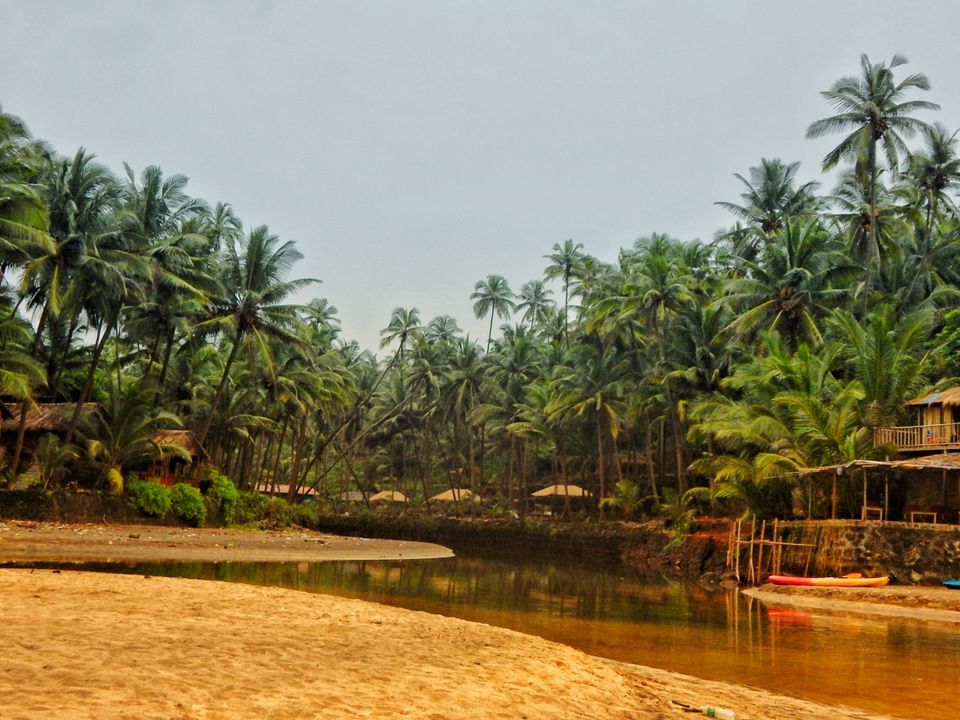 Originally posted on my blog : The Drifting Satellite

It has been more than 10 years since I visited the pristine backwaters of Kerala, and was smitten by the peace and serenity they offer. I went to Alleppey with my family in 2005 and we spent one night in a house boat. I admit that as a teenager I did not love spending the night cruising through the backwaters, but I must confess that it was a holiday experience that I had never witnessed before and something that my now-wiser adult self yearns for.
I've been in Bangalore for the last 8 years and have somehow never been able to plan another trip to Kerala. But last year on my trip to Goa, I came across the Cola lagoon which revived my love for backwaters and has motivated me to plan my next trip to Kerala (hopefully in 2018).
I visited Goa with my husband in October 2017. It was our second trip to Goa, and on both occasions we decided to drive, owing to our love for road trips and the flawless picturesque journey from Bangalore to Goa. The roads are very well maintained and we could easily cover the ~500 km distance in about 10 hours (with food and photo stops along the way).
We were happy that we took advantage of the long weekend but were super annoyed to find a mad rush of people in Goa. Our first visit to Goa was in the monsoon season and I fell in love with the greenery and the peace that the so-called off-season guaranteed. Our recent trip from a few months back was just the beginning of the tourist season and we frankly did not expect much rush but we were severely disappointed to see the amount of people that ended up in Goa that weekend.
On our first day, we covered North Goa but were utterly frustrated by the crowds at Vagator, Aguada Fort, Candolim beach and Chapora Fort (which was a quaint gem I discovered on my last visit that hardly anyone used to visit). For the next 2 days, we decided to stick to South Goa. Luckily, we had booked our stay near Utorda beach (South-ish Goa) and were glad to find significantly less people in South Goa as compared to North Goa.
I searched online for peaceful and serene beaches in South Goa and almost every list included Cola beach.
We could easily find Cola on Google Maps and headed there around afternoon. The last few kilometers involved passing a rough muddy patch through the forest. We seemed to be the only ones there and were almost thinking of turning back when we saw some bikers in search for the beach. We continued driving and at one point even google maps exclaimed we had reached our destination but we were nowhere close to a beach. Finally we reached a cliff sort of place where we found other cars and bikes (much fewer than anywhere else in Goa that weekend) directly facing the sea.
We sat at the cliff edge for a few minutes and enjoyed the pleasant breeze with breathtaking views of the Arabian Sea. But the lagoon which Cola is known for was nowhere to be seen. So we decided to take the easy hike down to the beach and there it was. There were several streams of sea water flowing inland forming a shallow swim-friendly pool and then merging with the lagoon.
Standing on the narrow strip of sand that separates the lagoon and the sea, you're stuck in that ever so beautiful conundrum of whether to face the roaring waves of the endless Arabian Sea, or to get lost in the dreamy tropical paradise with countless coconut trees right opposite !
We spent an hour or so at Cola. There were hardly any people around and we absolutely loved chancing upon backwaters in Goa. The golden sand beach was extremely clean and reiterated the fact that the cleanliness and serenity of a beach (or any place) is inversely proportional to the amount of people that land up there.
I could spot a few beach resorts near the area and would just love to stay there with the perfect beach and backwaters setting.
So if you're looking for a quiet, serene, crowd-less beach and want to laze around in Goan backwaters, Cola is the place for you. It is definitely on my list for all my future visits to Goa.