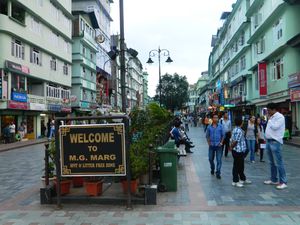 Best time to visit
September to March
Open hours
Open from 8am to 7pm.
Things to do
The Statue of Unity
Rank
1 out of 4 attractions in Gangtok
MG Marg Market
"M. G. Marg otherwise called Mahatma Gandhi Road or MG Road is a street which is viewed as the town focal point of Gangtok. The street and the territory around it has changed throughout the years. It is currently more like a long extend of open shopping center or lane square where local people and visitors take recreation walk or simply sit and unwind on one of the numerous seats laid along the center and both sides of the street to absorb the vibe. The whole range is free of trash, smoke ,vehicle and any other mode of transportation. It's a ""Person on foot"" zone and vehicles are not permitted on this 1 kilometer stretch of the street. In line with government's green activity, all structures on both sides of this street are painted with green colour. The Statue of Unity overlooks MG Marg. The statue includes the figures of Bhutia Chieftain Khye Bumsa, the Lepcha pioneer Thetong Tek and his wife Ngo-Kong-ngol. Shops in MG Marg are open from 8am to 7pm. "
Places to stay near
MG Marg Market
Golden Star Continental & Spa
Treebo The Nettle And Fern Hotel
Reviews of
MG Marg Market
•
6
Attractions near
MG Marg Market