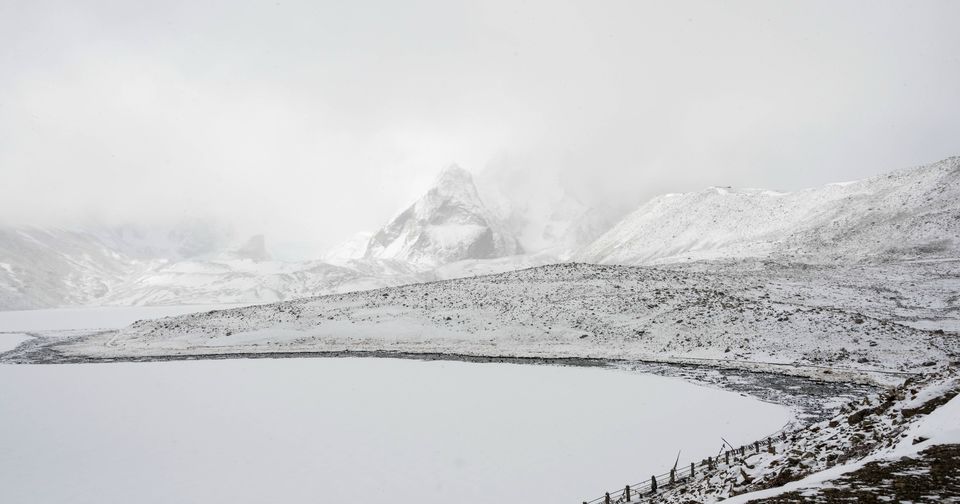 A long weekend and X-Mas on the cards. It took a couple of months to plan the trip although the place was already in the wishlist since one year. People recommended us not to visit such an extreme cold place in winters. After the trip I recommended," Why not?".
Reach New Jalpaiguri or Siliguri in the morning. You may also take a flight to Bagdogra Airport. Hire a cab for M.G. Marg, Gangtok. Avoid booking a cab for your entire trip since the place might be inaccessible for reasons which are common in the mountains.
Take a hotel in the vicinity of M.G. Marg since this is the most beautiful place to stay and has the best dining options. Do check if the hotel has hot water facility since it is a common problem. Book a cab for Nathu La and Baba Sahib Mandir for the next day. The drivers need permit since it is in a close proximity of China border and only a limited number of cars are allowed.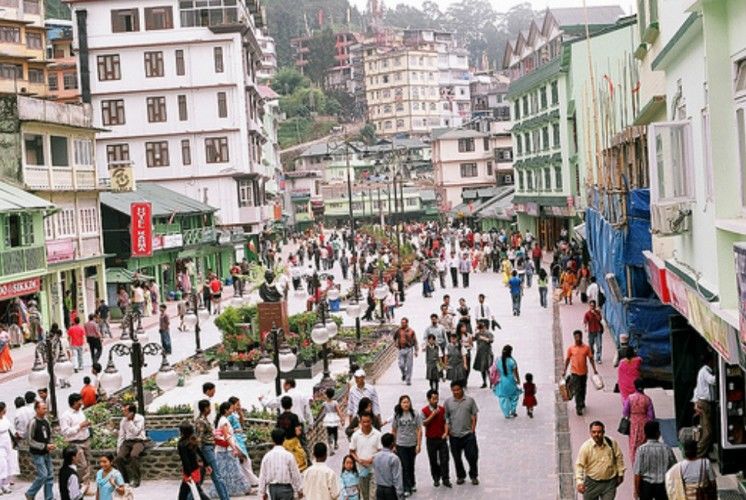 There are a lot of options for dining on M.G. Marg but the best of all is the famous Momo which is available in plethora at this place. We were elated after having tastiest momo ever.
We started for Nathu La at 9 a.m. and were lucky enough not to face any deadlock due to landslides which is very common in this route and takes hours before the roads are clear. At a height of 14000 ft, barbed wire, Chinese and Indian soldiers and lack of oxygen were the distinctive features visible at Nathu La tourist point. We even got certificates as a souvenir for visiting this place. Salute to the army soldiers to stay vigilant at such extreme conditions.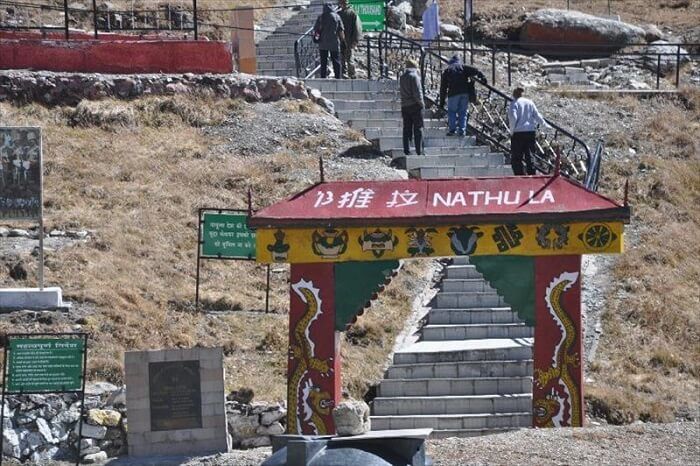 We took off for Baba Mandir after spending an hour at Nathu La. A 8.5 km journey will take you to this holy pilgrimage place which was christened after an Indian soldier Major Harbhajan Singh. Some Indian soldiers believe that in the event of a war between India and China, Baba would warn the Indian soldiers of an impending attack at least three days in advance.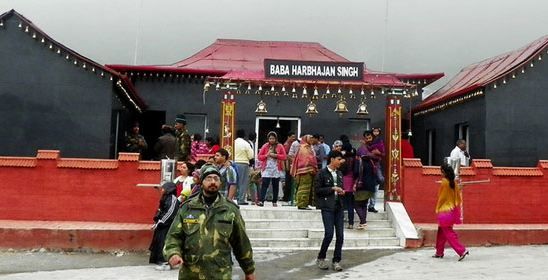 Travelling 16 km downhill, we arrived at the famous Changu Lake or Lake Tsomgo. This lake was half frozen which was unusual in the month of December. At 12000 ft, big Yaks, hot Maggi, Thupka and amazing snapshots standing on the strong icicles of the Lake made the journey memorable. At 6 pm we reached back from where we had started in the morning. We again set out for new travel operator to take us to North Sikkim especially Gurudongmar Lake.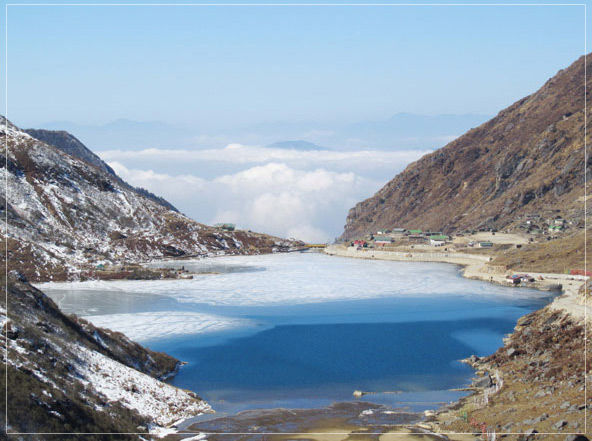 We were informed that the route to Gurudongmar was closed due to landslide and snowfall and hence we had to satisfy with a 2D/1N trip to Zero point and Yungtham Valley. Early morning we packed our bags and took only the necessary stuffs for the journey. Throughout the jounrey of 80 kms, the Teesta river accompanied us all the way to Lachen. It was 9 pm when we reached the guest house in Lachen. The temperature was dripping and we were unable to get out of the 5 layers of blanket saving us from the biting cold. I would suggest to choose your rooms very carefully while you are in North Sikkim in winters. At nominal rates you would find rooms with proper heaters and amenities which we were unaware of. The lowest temperature recorded at our cell phone reached -11 degrees at 2 am in the morning. This has been the lowest I have ever experienced in my life. The night spend at Lachen was harsh and extreme.
Somehow we survived the night and started for Zero point which is the source of the Teesta river at 6 am. Some snow flakes were settling in the early hours of the day but our driver seemed to be relaxed and was driving at ease. Although I love driving, I would surely need a lot of experience and courage before taking hands on in the hills. At 10 am we reached at the source of the Teesta river and witnessed the first sight of snow in three days. Yes, it was December and was so dry that no snow was present even at Nathu La at 14000 ft which compelled us to hunt snow and lead to Zero Point. Bingo!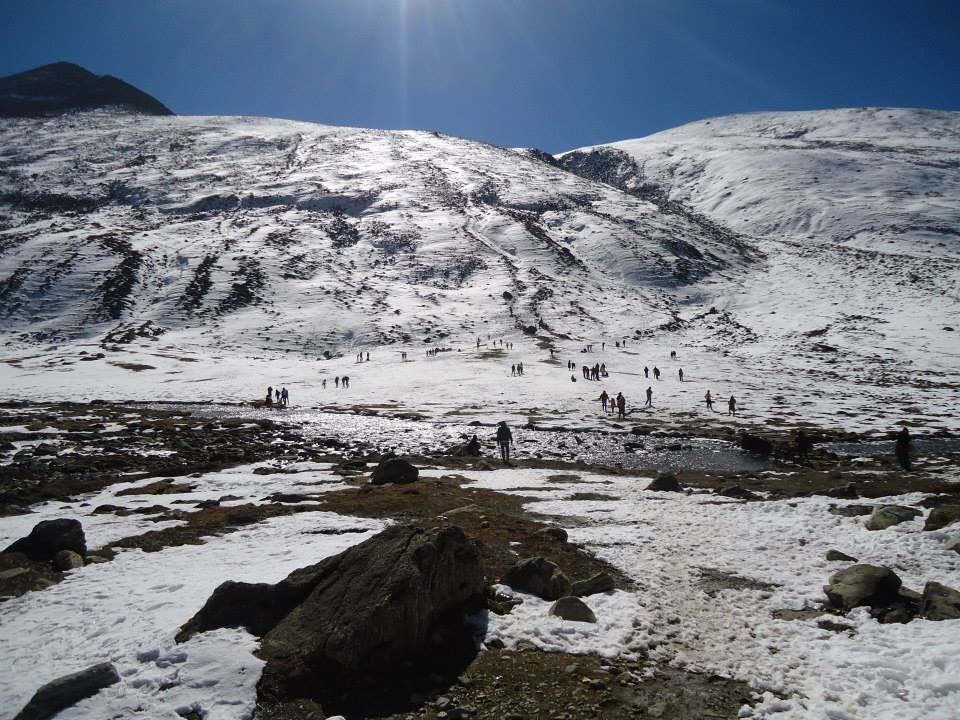 We started back for Lachen via Yungtham Valley. The valley is a must visit in the spring season when different colors of flowers adorn on both the sides of the road. The valley consists of a huge meadow with river flowing across beneath the mountain present at the back drop. After having light lunch and satisfied to find snow after three days of hunting, we started back for the place from where we had started; M.G. Marg. We went in a bar cum restaurant and enjoyed the special Karaoke session on occasion of X-mas.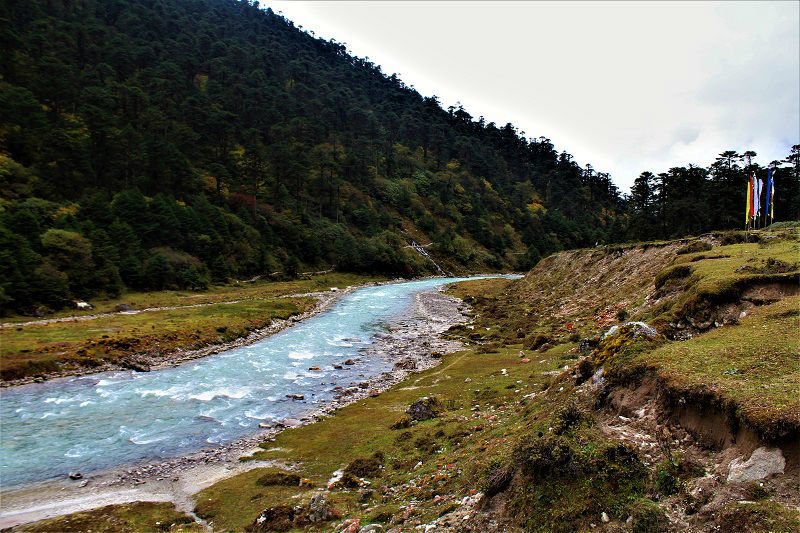 "I would rather have a passport full of stamps than a house full of stuffs"