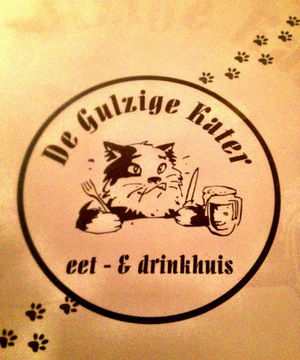 Places to stay near
De Gulzige Kater
Charming Central Studio by Canal
Old Boatmans house close to centre!
Luxurious apartment in the centre!
A comfortable room in city center
Private apartment city center
Reviews of
De Gulzige Kater
•
1
De Gulzige Kater in Groningen, had come as a recommendation, so it was almost certain that we would be on the right side of the food dividing line. At first glance the old granary, while on the small side, was full of comfort. Wooden tables set for plates of food and chairs that invited diners to sit and relax were surrounded by warm-coloured furnishings and an ample supply of cat statues. Yet, when we first arrived the restaurant was almost empty – a worrying sign in most circumstances – but it turned out that we only had beaten the rush. While cutting into our main course, De Gulzige Kater came to life with music and chatter from dinner guests both up and downstairs. Portions were large, well presented and delivered by friendly staff who were so busy you never saw them stop for a moment's breather. We were wise to start thinking about our dessert choices before taking our first bite of our meal as with so many tantalizing options, the choice was not an easy one. De Gulzige Kater, which can mean either "the greedy tomcat" (that explains all the cats) or "the greedy hangover" has a well stocked alcohol selection, including a plentiful wine list. Even if you don't go for the alcohol, you'll be sure to leave with a full stomach – and perhaps a new appreciation for cats.
Attractions near
De Gulzige Kater