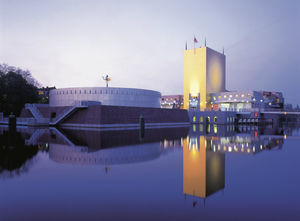 Contact
31 (0)50 36 66 555
Traveller Types
Couples, Friends
Rank
1 out of 30 attractions in Groningen
Places to stay near
Groninger Museum
Charming Central Studio by Canal
Old Boatmans house close to centre!
Luxurious apartment in the centre!
A comfortable room in city center
Private apartment city center
Reviews of
Groninger Museum
•
1
Housing modern and contemporary art, the Groninger Museum is made up of three main pavilions that when put together create a radically modernist, attention grabbing venue. Finished in 1994, the building boasts the internationally renowned Alessandro Mendini as head architect, a striking spiral staircase and an assortment of colours, shapes and materials throughout. Originally costing 25 million Guilders (approximately 11 million Euros), the building was paid for mainly by Gasunie, who in celebrating their 25th anniversary wanted to give a gift to the city of Groningen. And even if you aren't a fan of art, this museum is still well worth a visit – because the building is one of those places you just have to see.
Attractions near
Groninger Museum