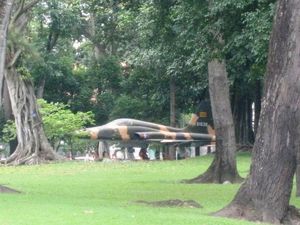 Places to stay near
Reunification Palace
Experience Saigon with Locals
Homestay in villa 1, FREE dinner!
22nd floor/Dope View/Free WiFi/LGBT
River-view room,city center (dream)
Reviews of
Reunification Palace
•
1
3:30 pm; From Wikipedia: It was formerly known as Independence Palace and was built on the site of the former Norodom Palace. It was the home and workplace of the President of South Vietnam during the Vietnam War. It was also the site of the end of Vietnam War during the Fall of Saigon on 1975 when a North Vietnamese Army tank crashed through its gates. We were not allowed to enter the palace during our visit because of a rumored bomb or something. We actually saw from afar the guards scanning the whole area to rule out the said rumor. Because of that we just made funny poses with the cyclos parked outside of the palace.
Attractions near
Reunification Palace