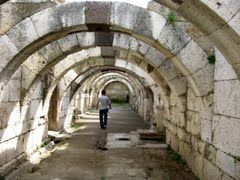 Rank
11 out of 12 attractions in Izmir
Places to stay near
Escape Izmir
ORİGİNAL SPACİOUS ROOM,VERY CENTRAL
Modern Central House Nearby Seaside
Nice room in a perfect location
Relax & Discover the City!
Gulf views, private room in İzmir
Reviews of
Escape Izmir
•
1
Day 8: Pamukkale Laodicea Philadelphia - Sardis Izmir. Wake up to the sounds of birds and don't miss a morning swim in the hotel's thermal pool before visiting the ancient city of Hierapolis, an ancient Roman city, where St. Philip was martyred during the persecutions ordered by Domitian. Hierapolis is located on the top of a hill where you can see the famous natural wonder, the White Cotton Fortress. Your next stop is Laodicea, one of the Seven Churches of Asia Minor [Rev. 1:11; 3:14; Col. 2:1; 4:13-16]. When you see the city of Hierapolis from a distance, you may have an idea why the Laodicians were "neither hot nor cold, but lukewarm" as it reads in the Bible. Following this nice little isolated old town, visit Philadelphia and Sardis. Philadelphia "the perfect church," was the only church which John had no real criticism (Rev. 3: 7-13). After a short drive, we reach Sardis-the dead church. Remember 'you seem alive, but you are actually dead'. Overnight in Izmir. Includes: (Breakfast, Dinner. Day 9: Izmir - Ephesus - Izmir. St Polycarp Church will be the first to host you this morning. In an hour's time you will be ready, after a short visit to traditional house of the Virgin Mary, to visit the ancient city of Ephesus where St. Paul lived and preached for more than two and a half years and to where he subsequently sent his letter to the Ephesians. We see the Baths of Scholastica, the Library of Celsus, the Temple of Hadrian, the theater, the Double Church (The Church of Mary) where the third ecumenical council was convened in A. D. 431. Then, we visit the Basilica of St. John where St. John was buried, the ruins of the Temple of Artemis, which was once one of the seven wonders of the ancient world. Overnight in Izmir. Includes: (Breakfast, Dinner).
Attractions near
Escape Izmir