Turkey conjures up images of the timeless appeal of Istanbul's Blue Mosque, the deep blue of the Bosporus and the city's chaotic markets. But there's more to this enchanting country than the usual touristy hotspots, and to discover a whole new side of Turkey, make a trip to the west coast with Izmir as your base; travel to the quaint seaside towns of Cesme and Alacati on the unbelievably gorgeous Aegean Coast.
A bustling port on Turkey's Aegean coast, Izmir is the third most populous city in the country, and has a history dating back several centuries. Snuggled up amidst rolling hills and flanked by the turquoise waters of the stunning Aegean Sea, Izmir is a quiet, laidback destination that offers the best of the seaside, without the crowds. With a European sensibility, a Roman history and a heavy Greek influence, the gateway to the country's breezy and scenic west coast is a great base to explore historical sites, vineyards and the quaint beachside settlements of Cesme and Alacati.
Getting there
Izmir is a one-hour flight away from Istanbul and Ankara. Buses ply the route frequently, and it would take about six to seven hours by road from both places.
Things to do
Izmir might seem like a typical modern city, but look closer and you'll find remnants of its rich past everywhere. And a visit to Agora Open Air Museum can be eye-opening in a lot of ways; from Roman-era graffitis to a robust sewage system that was in place centuries ago, this site gives visitors a chance to understand Hellenestic and Roman life. Agora means marketplace, and it was also used for political gatherings in the past. Walk around the ruins, and visit the ancient Roman Theatre, Basilica, among others.
The museum is a treasure trove of knowledge and artefacts from the Aegean coast. Izmir, formerly called Symrna, is steeped in history and was the seat of Greek and Roman empires. Several pieces unearthed from the Agora are preserved in this museum, including statues and relics from the Byzantine, Roman, Hellenestic and Ottoman periods. The museum traces the ancient history of the region and serves as a great introduction to the city and the Anatolian region; perfect for lovers of history, culture and archaelogy.
A walk along the seaside promenade, Kordon, is a must, especially around sunset. The sea and the hills lend the place an ethereal quality, and it is dotted with several cafes and restaurants that serve fresh catch from the sea. Kordonboyu, just parallel to the seaside walk, is a pedestrian-friendly high street if you like, brimming over with hip bars, shopping alcoves, showrooms, old bakeries and roadside eateries; high on energy, this place is a great way to spend your evenings in Izmir.
That apart, one could visit Konak Square, with its iconic clock tower, Kadifekale, which is an old castle atop a hill, and Kemeralti Bazaar, one of the oldest markets in Turkey.
An hour (85 km) away from Izmir, this tiny beachside resort has been attracting international tourists aplenty, thanks to its picturesque setting. Touted as one of the world's best windsurfing spots, this seaside place is plush with high-end resorts and beach bungalows for the well-heeled.
Getting there
The best way to get to Cesme is to board the airport shuttle (Havas) from Izmir. Look for the timetable and rates at the Havas counter in the airport.
Things to do
Built in 1508 during the rule of Bayezid II, the castle soars over the town, overlooking the marina. With references to the Battle of Cesme that saw the brutal defeat of the Ottomans, the fort houses a museum with several artefacts from the Ottoman period. It offers a number of vantage points from where one can view the entire town and the surrounding areas.
Strewn with restaurants and cafes, the Cesme marina caters to the tourists who flock here on weekends. Live music, great food and scenic views make this a great spot to hang out. Take a stroll around town to soak in its unique architecture.
The 1.5km long Ilica beach is stunning, and in the summer, its turquoise waters attract beach lovers who bask in the sunshine and soft white sands. Water sports, especially wind surfing, is popular here. But what makes Ilica special is the presence of thermal springs; in fact, a portion of the sea near the beach is a thermal spring rich in minerals believed to cure skin ailments.
Cobblestoned alleys. Traditional stone houses. Vineyards and windmills. Discover a slice of Greece in this old Turkish seaside town that oozes charm. The town was originally inhabited by the Greeks, but owing to a compulsory population exchange agreement, they were forced to go back to Greece, while Ottoman Muslims from the neighbouring Greek islands moved here. The town was virtually abandoned, but today, it's a popular tourist spot among those who undertake cruise holidays, and also Greeks and Turks looking for a quiet, pretty town where time stands still.
There isn't much to do in Alacati except walk around and gape in awe. Its Instagram-famous streets with quaint cafes and shops selling curios and narrow tree-lined avenues, are a big draw for the culturally-inclined traveller. The stone houses here have brightly coloured windows and an enclosed balcony, and are draped in pink bougainvillea. People spill into the streets and sip coffee or beer at the town's many established eateries. Grab a table by the street at an outdoor cafe, read a book, sip on piping hot Turkish coffee and just watch the streets fill up. The locals are friendly and g out of their way to help you, despite the severe language constraints.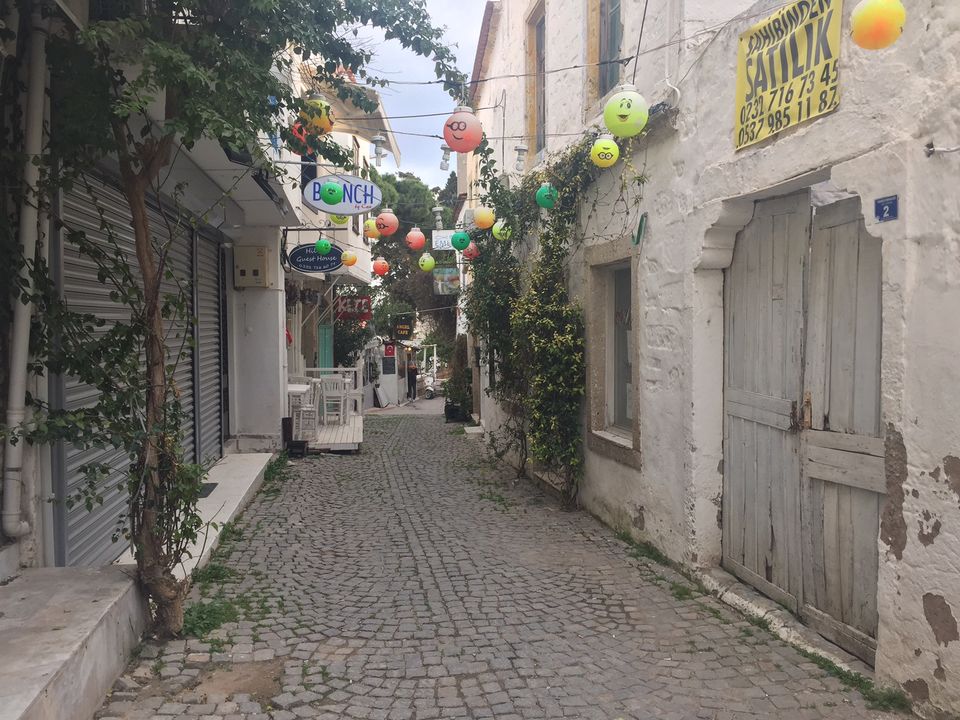 Alacati is food central. Fresh produce and simple, tasty food that reflects its Greek and Turkish heritage – that's enough reason to spend a lazy day scooping up fresh seafood and delicious breads and salads. Mastic, a natural resin with a sticky texture, is popular here and is served in the form of mastic puddings and ice cream.
And if you want an adventure-packed holiday, Alacati is the best place to go windsurfing in Turkey, thanks to its steady winds and beautiful sea. Head to the lovely Kum beach for a fun outing.
Stay
Alacati has several boutique hotels in its quiet alleys, but they don't come cheap. You could opt to stay at Cesme, that offers great hotels for relatively lower prices, or stay at Izmir and make day trips to the beaches.
Getting around
In Izmir, the metro is efficient and connects you to the city's main areas. Taxis are available too. There are shuttle services between Cesme, Ilica and Alacati, and once you're there, the best way to explore the place is to walk.
Best time to visit
Summer is ideal, as that's when the beaches are at their inviting best.
Frequent Searches Leading To This Page:-
top turkey tour packages with price for couples, top turkey tour packages for couples, top turkey tour packages for family, turkey honeymoon tour packages, 7 days turkey tour package