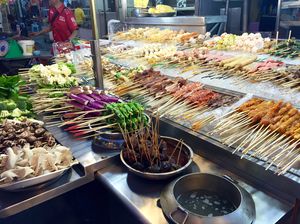 Traveller Types
Couples, Friends, Families
Rank
36 out of 217 attractions in Kuala Lumpur
Places to stay near
Chinatown - Kuala Lumpur
Reviews of
Chinatown - Kuala Lumpur
•
3
After lunch (finally!) I started to explore the city proper. First stop: Chinatown, or Petaling Street. This is located next to Pasar Seni station, monorail line (Klena Jaya Line). You simply have to walk a short distance to get there. Petaling street is a cross section street filled with Bangladeshi store owners selling counterfeit goods at exorbitant prices. I was surprised that this place was still standing, though it was shadow of what it used to be. After a horrible massage that brought my impending headache to an untimely climax, I moved on to Kuala Lumpur Central Market. This place is more reasonable – their goods are original or imported and cultural in nature. I would recommend going to KL Central Market if you're looking to shop, rather than Petaling Street.
KL Sentral is the hub for all the various lines that run within the city and connect the city with other Malaysian states. During this trip, I had to come to KL Sentral several times to change trains. After arriving at 7am, sleepless and exhausted, freshening up and moving was the only thing on my mind. This is when I snuck into the Hilton's reception toilet, as the train terminal's toilets were full and not very sanitary.
At the heart of Kuala Lumpur is an area which never sleeps, and far more colourful and bustling than its bigger and more glamourous neighbours, KLCC & Bukit Bintang. Chinatown is also a well-known bargain hunter's paradise, a place where you can find all sorts of stuff from Chinese herbs to imitation goods. At night, its main market area, Petaling Street, transforms into a lively and vibrant night market, filled with hundreds of stalls offering all kinds of goods at dirt-cheap prices, and the best thing is, the prices can be brought lower still as haggling is the way of life here.
Attractions near
Chinatown - Kuala Lumpur