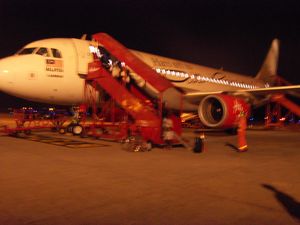 Langkawi International Airport Langkawi
Reviews of
Langkawi International Airport Langkawi
•
3
Day 4- The day finally arrived to leave this amazing place by sobbing, 3 days was definitely not enough to experience the whole of this enchanted destination. i cannot come back to and explore many more of it. We arrived at the Langkawi international airport to board our flight by Dawn by remembering and cherishing our best days in here. The one thing i will miss the more from here is FOOOOOOOOOOOD :)Here are the pics of the food i will miss the most:
We reached Langkawi at around 2 PM in the afternoon from KL. Checked in to our beach resort at around 2:30 PM. After freshening up, we started for our pre- booked Mangrove tour.Langkawi Places to visit:1) Take a Mangrove tour: Mangrove tours are package tour starting from RM200 for two people. The price of the tour depends on the tour operator you book with. You can check online for best deals.This tour is by motorboat (private or a group tour). This tour offers truly incredible views of nature. We travel around the Kilim Geo forest in the boat to see the well protected Mangrove forests, the flora and the fauna of the area. Keep a watch on the shores for the animal life. One can see monkeys, squirrels, monitor lizards, otters etc. The tour operators stop at the Gua Kelawar (the bat caves) and Fish farms. The bat caves are made of limestone formation and a really creepy place.
A tiny airport! You get off the plane and walk to the terminal! Great place to book your tours and for some last minute duty free shopping! The airport houses only a couple of stores and a couple of places to eat -not a great place to spend hours at.
Attractions near
Langkawi International Airport Langkawi