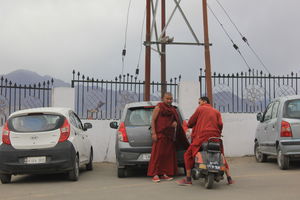 Places to stay near
Main Bazaar
Reviews of
Main Bazaar
•
3
We then headed to Leh market to buy some local handicrafts. The prices are inflated and you need good bargaining skills to not get ripped off. I personally feel shopping at Alchi and Thiksey monastery is a better choice than the Leh Market. There is a lot of hustle and bustle in the market in the evenings and the only place where you see hordes of people at one given time. We picked up few prayer wheels, local jams from organic store, few handicrafts and ladakh tshirts.
Visit to the market - Our driver, Philbru took us to the market in Leh. The market was interesting enough to roam around. We were looking out some shawls and visited lot of shops. Finally we could find the stuff we were looking for in a shop called Zanskar Arts. There was a person/ seller named Arman who offered us Kawa, a drink of this place. We didn't really responded to the offer but he made it and served. He was on roza, yet he had put in an effort to make it, lot of gratitude to him. It was a very tasty drink which gave lot of warmth to us. Kava, The tea is made by boilinggreen tea leaves with saffron strands, cinnamon bark, cardamom pods and occasionally Kashmiri roses to add a great aroma. Generally, it is served with sugar or honey and crushed nuts, usually almonds or walnuts.Amazing treatment for the guests, the people in Ladakh give.
When wife says we need 2 days for shopping, we probably do, and may still miss a few things despite multiple visits to the market :P. The main market of the city is a small one with high redundancy across shops but it was great to listen to a few stories from a few old timers who would tell about times when there were only 3 four-wheeler in the region and when people used to play Horse polo right where the market stands today. Few of the interesting things we bought apart from the usual prayer flags, shawls, dry fruits and fridge magnets, were some crockery with dragon print and all. Remember to bargain like crazy when you are here. The shopkeepers are used to foreigners and the prices are inflated upto 400-600%. Also, do try apricots. They are yumm. Point to be noted: Don't skip the market. Even if you have kept it for the last day and you are tired.
Attractions near
Main Bazaar