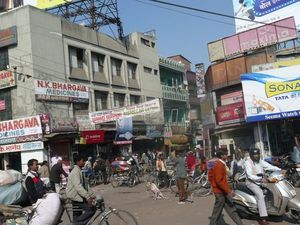 Traveller Types
Families, Business, Friends
Rank
8 out of 73 attractions in Lucknow
Aminabad
Aminabad is a market place in the heart of Lucknow and it is often called the 'Chandni Chowk of Lucknow'. This market has been in existence since the time of the Awadhi Nawabs and is still as popular and even more. You must have heard about the Lucknow Chikan work and embroideries which is famous all over the world. This is what you find at its best here. Starting from clothing fabrics to linen you will find all the authentic stuff here. You also get a lot of food outlets selling traditional sweets and snacks out here. Over all if you want to do a lot of budget shopping and are not at all brand concious this is the perfect place to visit in Lucknow.
Places to stay near
Aminabad
In the bustling Industrial Part!
Reviews of
Aminabad
•
1
Who can return from Lucknow without a good stock of chikankari material and jutis? S brings back beautiful kurtis and salwar kamiz for me almost every single trip, so much so that my wardrobe is heavily tilted towards wearing other dresses v/s the chikenkari ones :). But my love for these never end. The intricate handiwork makes each piece special. And the jutis hold their own pride amongst the various other versions available across the country. Best places to shop varies on your budget. I had picked an awesome pair of jutis at a bargain at Aminabad market. Then there is Chowk and Hazratganj, where you are spoilt with choice on the variety.
Attractions near
Aminabad