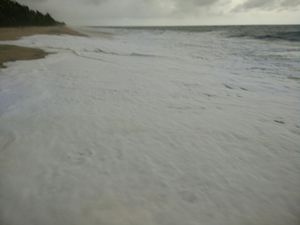 Places to stay near
Marari Beach Resort
Homestay Marari John's Beach
Marari Nest Beach Homestay
Reviews of
Marari Beach Resort
•
3
Marari Beach, Kerala:This is one of the most beautiful beaches in Kerala. Located in Allapey, this is one of the most beautiful unexplored beaches in India. Marari beach will make you feel like you have reached another country. The clean beach sand, the gentle waves is just what you need on a holiday! Marari beach is truly the best if you want to unwind and relax!Flight costRound-trip fares start from Rs 6000 onwards. Book in advance and fly to Kerala from New Delhi to get the best price.Best time to visitThe best months to visit Kerala is from September to January, because its pretty cool there around this time. The weather is perfect to roam around in beaches as well.
Swaying palm trees, blue water and silver sands sums up Marari beach. It is very close to Alleppey and not too far from kochi. The beach is pretty much secluded and very scenic. Here you can rent beach chairs, sun beds, umbrella and spend rest of your day in lazing around or going for long walks along the shore.
Marari Beach is an hours drive from Kumarakom, around 40kms. If you dream of being alone in paradise, well this is the place! Absolutely no one around except palm trees & the ocean. The beach is very clean and sand is golden brown. This is the perfect place to enjoy the ocean and it's peace. It's a must visit place of you are in Kerala. Marari beach has been awarded as the Travelers Choice Award 2015.
Attractions near
Marari Beach Resort