Kerala, known as gods own country, best for its hospitality and geography, why won't anybody want to spend years of their life in this well preserve natural beauty. I explored Kerala in many trips and still couldn't come to conclusion to create "out of the best" itinerary for my long weekend plan.
During my SWRT (South West Road Trip) I explored mostly all the coastal region of Kerala, the best corner of that trip was Varkala after "Amrita's smile of Kanyakumari". I decided I must include it in this plan as well. But I was looking to get bashed by something totally new. With help of Nature Walkers, I could able to explore the belt from Coorg - Idukki - Wayanad to Munnar. But to choose the best for my long weekend, I chose Munnar. Yes, this trip consist of the best parts of Kerala in 3 Days. Dense green carpet of tea gardens and jungles of Munnar & white sand of Varkala and its cliffs beside Arabian Sea is be best summary in words I could describe.
Initially, the plan seemed impossible for following reasons. First I had only 3 Days, Secondly, I will be covering a distance of total 1500 km, via Salem, (not forgetting the 2 state permit taxes I would be paying, if I go on my vehicle) Thirdly, will it be worth traveling so far?, the answer to all the questions are Yes, it will be one of the best holidays you could opt with all checks on budget and time. I prepared an itinerary with both the destinations and presented it to Nature Walkers. With all their cost effective measures we prepared the final cost of the trip including travel, stay, food and all forest permissions & guide within 7500/-.
We planned to start our trip on Thursday early evening, boarded the bus with all the other participants and started our journey through the beautiful destinations of Kerala. We reached Munnar in the morning, while waiting for the forest department to open, I was enjoying tracking the sun rays moving like a dragon ball with the morning dew just dropped from the leaf of a tea plant. You could sense the freshness of the morning. I knew the travel time to reach Munnar including dinner time will be close to 12-13 hours. So we planned our start time by about 3.15 pm.
The campsite of Meesapulimala Trek is in the middle of Silent Valley and the road leading to the valley goes through wide spread of beautiful Tata Tea Gardens. The 20 mins ride from Munnar town to the campsite in an open forest jeep was the best way to start my journey in the magical land of uniform dome hills with floating river of clouds and snaky roads. At night the scene looks even more beautiful when vehicle move through the valley in dark, giving you an illusion of 100 fireflies sparkling with all energy, in efforts to amplify the beauty of Munnar.
Meesapulimala is the highest trekking path in Western Ghats, The trek takes you through the Silent Valley to Rhodo Valley to the Meesapulimala Peak.
Dense pine-cone forest, green meadow carpet of long grass, bushy tree covered in blood red Rhododendron flowers, fresh water stream at every corner and an amazing view of ocean of clouds from the Meesapulimala Peak is a brief summary of the Trek. Please do check out the complete trek of Meesapulimala Trek & Forest Camping.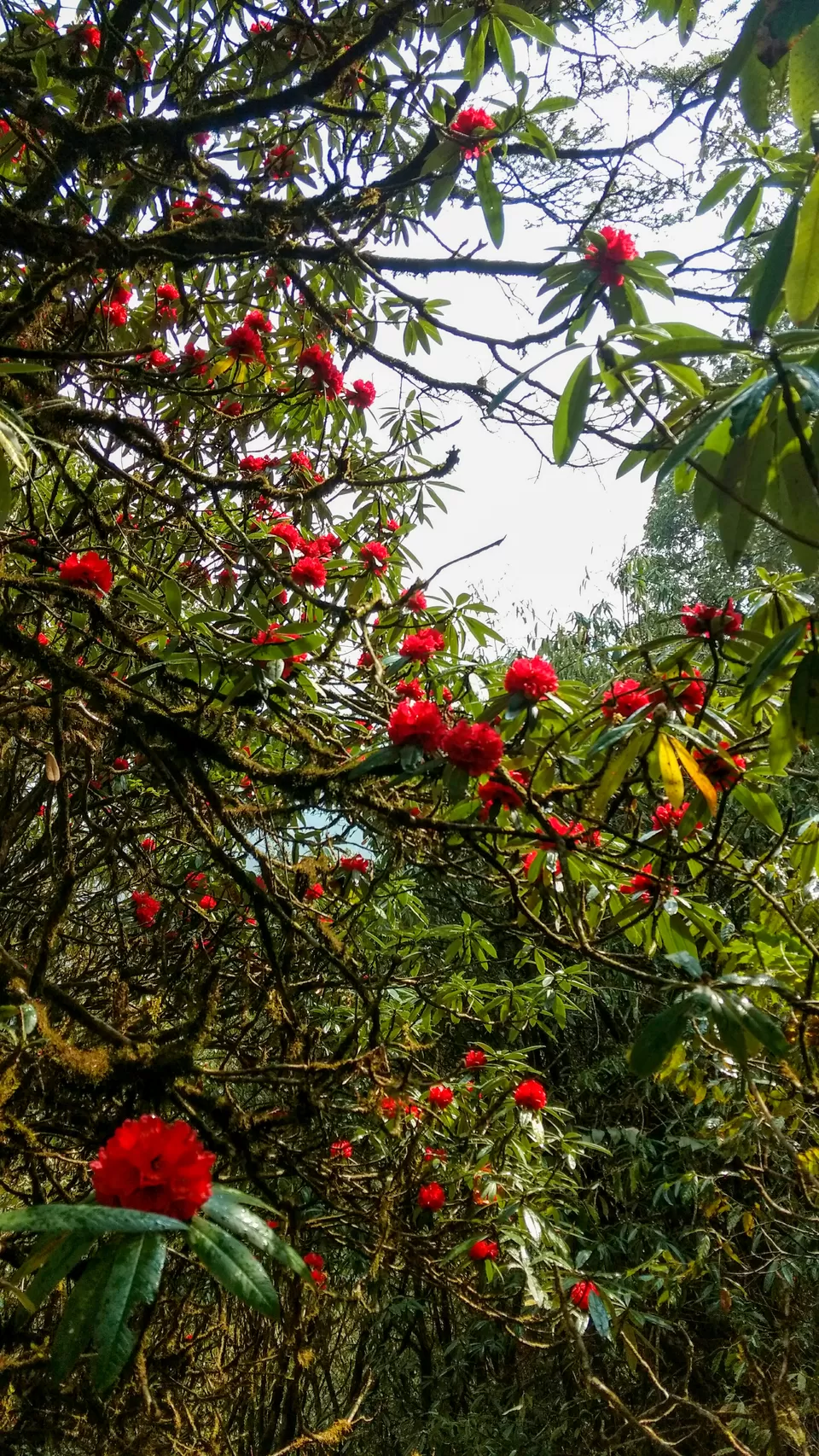 The second destination of my travel map is Varkala. Which is close to 250 km south west from Munnar. I knew if we leave early from the Munnar campsite, we can avoid much traffic on road to cover our next 7 hours of journey. We packed our bags after a lovely breakfast and departed with a heavy heart from the campsite. I must say the forest department hospitality could be compared equivalent to a Three Star hotel in Munnar.
We reached Varkala before late-noon, Nature Walkers always use this travel time to bond between the participants. The ice breaking session on road decreases the shyness in discussion and creates an invisible bond between the people. We laughed, danced, played several games and enjoyed this moments which now we cherish with good memories.
The guest house on the cliff of Varkala had an amazing view of the beach. Looking at water waves bouncing people at the shore, we couldn't hold our enthusiasm and head straight to the beach after our check-in. An ocean dip after a tiring trek of Munnar and travel, dissolved all my body energy and turned me into a crawling Sea-Lion. My head felt light, feet's turned into flexible ladle and my body felt like a boiled potato, I lay down on the beach with all my stretched corners, waiting for the next wave to push me little more out of water. The mesmerizing sunset of Varkala nailed my bum into the white sand. I felt the time has stopped for minutes. I knew all the efforts I used to reach the Meesapulimala Peak of Munnar has paid off. I was waiting for this heavy ocean wave bash of Varkala after a memorable trek of Meesapulimala. One can only enjoy the shade, if he had been under sun long enough.
You can also enjoy paragliding experience of hovering the place from above with some local vendors. Although it's seasonal. The best time to experience all the vibes of Varkala is from December to February.
After an evening walk photo-shoot with the team on cliff streets and shops, we selected our restaurant for the night with live music. We all got dressed for Christmas party dinner after a relaxing shower. The interesting thing to note in Varkala streets was the out stall display of fresh catch from the morning. You could point the fish you want to eat and chef will pick it to kitchen for preparing. Fascinating.
We danced, we sang song with the singer on mic and his small band. Other customers from the restaurant also joined us on some of their local and foreign numbers. The food was great, ambience was lovely and travelling companions made this evening into one of the most memorable time of my life. I will always cherish the best moments I created from an itinerary "Taste the best of Kerala in 3 Days".
Early next morning, I took my cam bag, packed a towel and a biscuit pack and head to the beach for my morning dip. After a rejuvenating warm ocean bath, I just sat there for a while thinking, how wonderful these days been. Places I have seen in the journey, people I met, the food I tasted, the experience was amazing on this trip. Watching a mom and her son making their sand castle on the beach made me realize how peaceful atmosphere this place Varkala offers. I made a promise to the view that I will bring my kid here to make our sand castle. With this thought, I head back to the guesthouse. We all dressed up again in the hunt for a place for our breakfast photo shoot. Believe me, if you are in Varkala, you would want to have your breakfast in a themed restaurant, as ambiance surely add a feel to the beautiful view of the ocean and sometimes it gets difficult to figure out the mood.
When Amrita and I came here for the first time, even we got confused in selecting the ambiance so we planned our course of the meal in the different theme restaurant. Like Appetizer in Kerala style, main course in Chinese, and pan from India. Must try.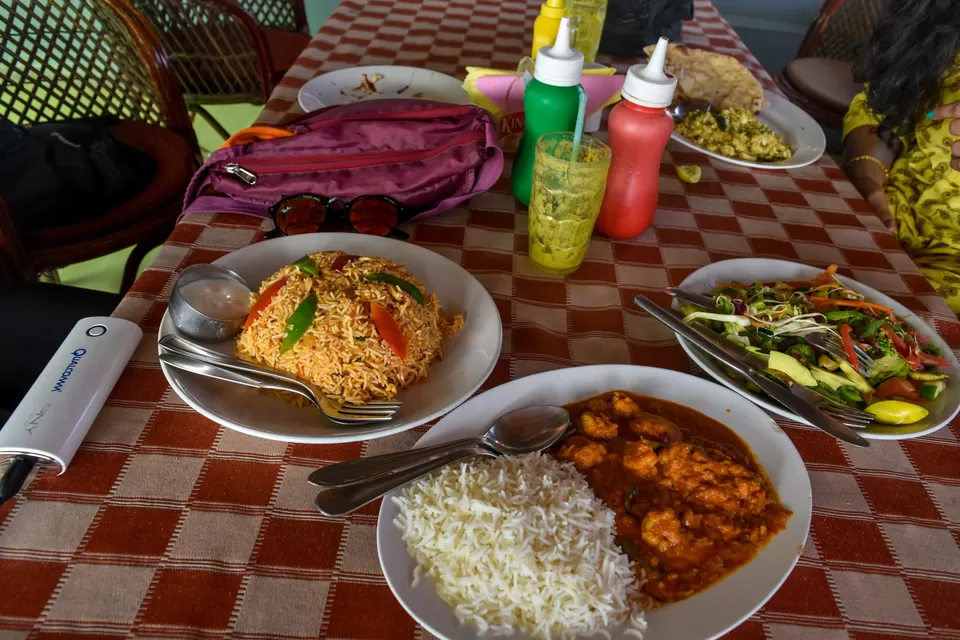 The time flies very fast here, so you should always have a checklist of the things you want to do in that day. Paragliding will be a cherry on top for this trip but as the cost was little of my budget, I passed. Thanks to the lovely company of my travellers, I enjoyed every second of my time in Varkala. The idea of creating an itinerary mixing the highest mountain and softest beach of Kerala was fruitful and enjoyable to its every drop.