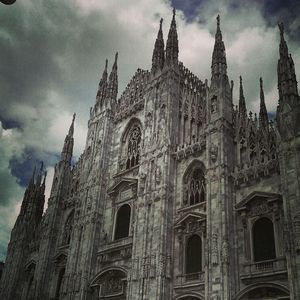 Places to stay near
Duomo di Milano
La Chambre Milano Guest House
Bed and Breakfast di Porta Tosa
Reviews of
Duomo di Milano
•
3
The shopping gallery is right next to the Duomo of Milan (ah, Duomo just refers to a cathedral, it isn't a name and here, it doesn't refer to the famous Duomo in Florence). Did you know that the Duomo di Milano is one of the biggest cathedrals in Italy? The queue to enter the cathedral was way too long so we didn't go in. Anyways we'll be visiting a lot more cathedrals, so we don't want to get all cathedraled-out too early into the trip.
Day 4The Duomo is one of the world's largest cathedral and by far the most gorgeous one I have ever seen. It's so breath-taking that I spent hours soaking its artistic charisma. I was spellbound by its ethereal beauty and just couldn't believe my eyes. It took nearly six centuries to construct this splendid structure (well it is still under construction).
If there is one cathedral in the word that can proudly boast of having the most intricate facade and an impressive interior, it is the Duomo. The pristine white gothic structure stands out in a city otherwise abounding in modern galleries and fashion outlets. The fifth largest church on this planet, it also houses the biggest stained glass window in the Christian world. There probably is a reason why it took over 600 years to complete this marvel. Embellished with 135 spires and 3200 magnificent statues with a gilded copper Madonna adorning the main spire, the Duomo draws thousands of tourists every day some of whom spend a good amount of time lost in the breath-taking views of the city and the Alps from the roof terraces. When in Milan, do not miss the Duomo, you will regret it. Getting there: Buses, trams and the metro connect all major spots in and around Milan and the tickets come for nominal amounts. The closest station to the cathedral is 'Duomo' (90 metres) which serves Line 1 and 3 of the Milan metro and one can buy tickets at the station itself for 1.5 Euros. Tickets for the Duomo can be bought right outside the cathedral and they come for about 5 Euros. The prices increase if you want to see the roof terraces - 7 Euros if you choose the stairs and 12 if you take the lift. There might be long queues but are not much of a deterrent because they move pretty fast. Entry is free on Sundays but one still has to buy tickets for the spired roof terraces. Remember to dress 'appropriately' and do not carry any glass bottles in your bags or basically anything that can be used as a weapon because the folks at the security check are extremely paranoid.
Attractions near
Duomo di Milano