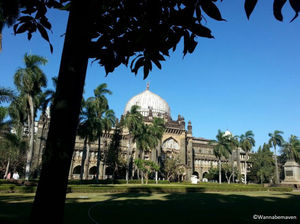 Best time to visit
11:00 AM - 3:00 PM
Open hours
10:15 AM - 6:00 PM, The museum remains closed on Mondays.
Budget
Rs 60 for Indians, Rs 300 for foreigners, Rs 25 for college students, Rs 10 for children visitors
Rank
214 out of 446 attractions in Mumbai
Prince of Wales Museum
Also known as the Chhatrapati Shivaji Mahraj Vastu Sangrahanalaya, this museum was named after Prince George V when he visited India in 1905. The foundation stone was laid down by the prince himself however the inaugration was done in 1923 by Lady Lloyd, the wife of the then governor George Lloyd. The museum is built in Indo- Saracenic style with blue and yellow stones and has a very simple design. As you enter the museum you will find a large central hall from where leads staircases on two sides that takes you to the galleries branching out on both sides in the next two floors. There are a variety of art exhibits housed in here. These include Indian mixed art forms and decorative art pieces. You will also see Nepalese and Tibetian art forms besides European paintings and garments and armory displays. The artworks of the Pahari School of Art and Deccan School of Art are also very beautiful.
Reviews •
2
The Prince of Wales Museum is really good if you like history. The museum has a collection of many sculptures and documents and a must visit for people. There are around 2000 paintings stored here from the various art schools in India.
The Prince of Wales Museum was build by eminent citizens of Mumbai in the 1900's to commemorate the visit of the Prince of Wales. Much later it was renamed Chhatrapati Shivaji Maharaj Vastu Sangrahalaya. It has been awarded as a Grade I Heritage site by the Government of India. The museum architecture is built in an Indo-Saracenic style favored during the Victorian era of British history. It houses over 50,000 articles of Art, Ancient Civilization and Natural History. The Prince of Wales museum is centrally located in South Mumbai. The museum is a neighbour to the Jehangir Art Gallery and when both visits are combined it makes for an art lovers haven. George Wittet designed this beautiful indo-sarcenic structure. He is the same gentleman who designed the Gateway of India. Most of the art and artifacts housed inside the museum are personal collections of famous Indian industrialists Sir Ratan Dadabhoy Tata and Sir Dorabji Tata. They have an audio guide facility at the Prince of Wales museum which is optional for locals and included in an international visitor pass. The audio guide is a self handled user friendly device and is extremely informative. In my second visit, I availed the audio guide facility. Comparing both my visits, I very strongly recommend every visitor to avail their audio guide facility while navigating through the museum. Without an audio guide, viewing these pieces of art will get very boring and monotonous. You might probably skim through the area or give up viewing the sculptures and artifacts as a whole in the absence of sufficient information.
Attractions near
Prince of Wales Museum