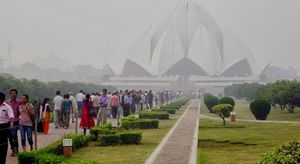 Best time to visit
4pm – 6pm
Open hours
9:00 AM – 7:00 PM
Things to do
Spend time detoxing your mind and soul in the peaceful atmosphere of the temple.The best way to reach the temple is by metro. The nearest station is the Kalkaji Metro Station.
Best Months
September - May
Traveller Types
Families, Friends, Couples
Rank
14 out of 370 attractions in New Delhi
Bahai Lotus Temple
Also known as the Baha'i Temple, it was built by a Persian architect named Fariborz Sabha in the year 1986. The temple is built in the shape of a lotus, which is a universal symbol of peace. This temple is open to all no matter what religion you belong to. Anyone who seeks inner peace is sure to find a magical feeling here. The temple is spacious and can hold 2500 people at one time. It has 9 doors that lead to a common central hall. The temple is made up mainly of marble blocks and dolomite. This gives it an even more peaceful look. The motto of the Bahai religion is creating unity among people of the world and welcoming each person who wants to leave behind the bindings of religion and caste. The design and architecture of this temple has been appreciated worldwide among all other Bahai temples in the world. There are also beautiful pools with crystal clear water inside the temple. It feels that the temple has certain therapeutic qualities that can heal a person suffering of stress and inner disturbance.
Places to stay near
Bahai Lotus Temple
OYO 2705 Hotel Preet Palace
★☞ The historical Center of Delhi !
A/C Private Room + Living + Kitchen
Quiet comfort in green surroundings
Reviews of
Bahai Lotus Temple
•
8
Attractions near
Bahai Lotus Temple