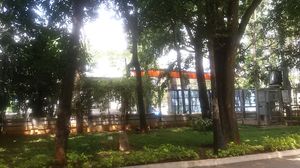 Places to stay near
National Art gallery
Superior Double AC With Breakfast
★☞ The historical Center of Delhi !
Stay in a true Delhi neighbourhood
Bnb room 4 near metro and airport
Reviews •
1
The national art gallery in the palce road is functioning in the Manikyavelu mansion. It is surroundesurrounded by trees and along with that artistic pieces made in stone that are kept for the exhibition. The art gallery houses not only the well the known paintings but artistic sculpture made of wood and different metals. The paintings include Ravindranath Tagore, Abarindranath Tagore, Raja Ravi Varma and many more gifted artists of India as well some British artistes at the colonial period of the country. The paintings include contemporary as well as modern art. When you get tired of watching the mind blowing skills of the a great artists you can straight away head to the canteen offered by the art gallery and have refreshing coffee. The entrance fee for students is just 1 rupee and 10 rupees for adults. If you are an artist by nature you are bound to enjoy the visit otherwise it can be a little bit boring.
Attractions near
National Art gallery