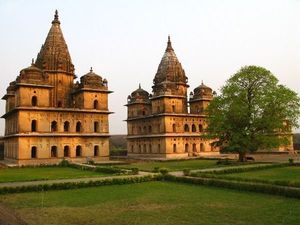 Best Months
September - May
Traveller Types
Families, Couples, Friends
Rank
2 out of 15 attractions in Orchha
Chhatris Cenotaphs
The Chhatris or the cenotaphs situated in Orchha, Madhya Pradesh are one more of the numerous authentic vacation spots in Orchha. These Chhatris are dedications made to the leaders or kings of the Bundels and are set down in a row of 14 along the delightful banks of the Betwa River. It mirrors a superb sight however to some it looks uncanny. The Chhatris of Orchha are the most despairing remnants of the city in Madhya Pradesh. Each of the 14 chhatris on the waterway banks, are implicit memory of the leaders of Orchha, the previous leaders of Bundelkhand dynasty. These chhatris or cenotaphs display a beautiful sight on the banks of the stream betwa. The landmarks still talk about the old rulers, their triumphs and their stories. These fourteen chhatris are best seen from the thin street span, or from the rocks from where you get a flawless impression of the chattris of Orchha on the still waters of the stream.
Places to stay near
Chhatris Cenotaphs
Reviews of
Chhatris Cenotaphs
•
2
Later in the day we visited the Chhatris located near the Kanchan Ghat on River Betwa. The 15 cenotaphs are a symbol of lineage of the Bundela Dynasty. The height of the chattris vary in sizes and symbolize the time period of the reign of each of the Bundela Kings.
A serene place to sit and relax. Orchha has 14 chhatris (memorial) for its past rulers - Bundela Kings.
Attractions near
Chhatris Cenotaphs