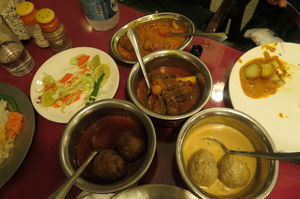 Places to stay near
Grand Hotel
Room in old town Palma city center
Double room in Palma city centre
Beautiful Room near the Sea !
Spacious room in centre of Palma
Reviews of
Grand Hotel
•
1
A local driver told us about this hotel, we struggled a lot in searching this small hotel but succeeded at last and the food which we had here was so blissful. Srinagar is a real paradise even in terms of food. Aah...!!! Can't forget the delicious delicacies of the traditional "Wazwan" which had 7 dishes including Kebab, Tabak maaz, Rista, Roghan josh, Gushtaba, Radish chutney and rice. I just loved "Tabak maaz" it is fried lamb ribs. If you are a non-vegetarian, it's your place totally.
Attractions near
Grand Hotel