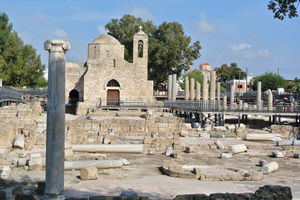 Ayia Kyriaki Chrysopolitissa
Places to stay near
Ayia Kyriaki Chrysopolitissa
Paphos Gardens Resort,200m to beach
Paphos Apartment with Swimming Pool
Apollonia Holiday Apartments
All, what you can dream is here!
Brand new and cozy studio
Reviews of
Ayia Kyriaki Chrysopolitissa
•
1
For Easter Sunday we went back to Paphos for a Greek Mass at the Church by St. Paul's Pillar. It ended up that we went to the English mass instead but things go interesting when an old lady fainted (she's okay) during the holy water ceremony (I'm not Catholic so I don't know the correct term, sorry). Overall it was a great experience.
Attractions near
Ayia Kyriaki Chrysopolitissa