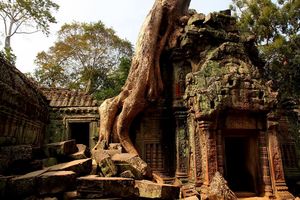 Traveller Types
Friends, Couples
Rank
36 out of 103 attractions in Phnom Penh
Places to stay near
Ta Prohm
Reviews of
Ta Prohm
•
3
We did not get up early. All those walks took a hit on our body. We were so tired, we woke up late in the afternoon. However we hurried and covered the Tomb-Raider famous Ta Phrom temple first and then headed towards the other complexes on the way. On this day, we covered almost everything that we missed the previous day even though we started late. The trick here is to take the Tuk-Tuk wherever you go. Word of Advice to people: Hire a tuk-tuk guy for the days of visit and he wont charge much if you are good with bargaining. We are Indians, we bargain a lot.
This is one of the most flocked temples in the Angkor Archaeological Park mainly because it was the location of the movie Tomb Raider. But beyond Ta Prohm's fame lies a state of beauty amid the ruins. The complex has been untouched by archaeologists except for the clearing of a path for visitors and some structural strengthening to avoid future deterioration.
Probably what has come to become the iconic image of Angkor Wat -- of tree roots exquisitely framing a stone entrance -- comes from Ta Prohm. Add to that the fact that Tomb Raider was shot here, that keeps the tourists coming in shameless hordes, and you have in front of you the veritable celebrity of the group. The irony of it is: for a place that has come to be the face of the greatest temple complex in the world, Ta Prohm is not as much about the genius of man as the devastating arrogance of nature. Left in the state as it was found to recreate for the discoverer the feeling of a primeval, untouched archaeological site, most of the structures have trees growing through them and their roots simultaneously destroying and holding them together. However much the hype may be, it will never fail to astound.
Attractions near
Ta Prohm