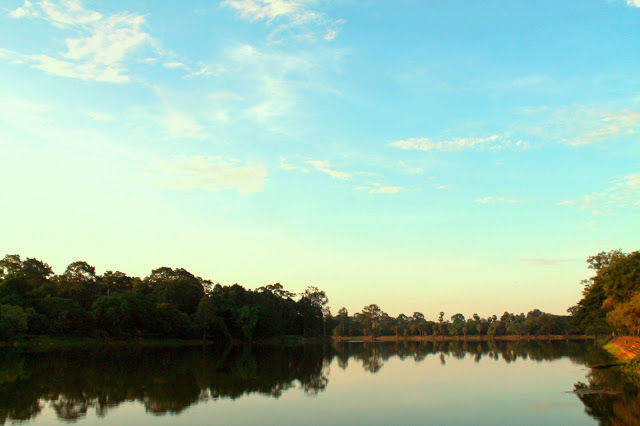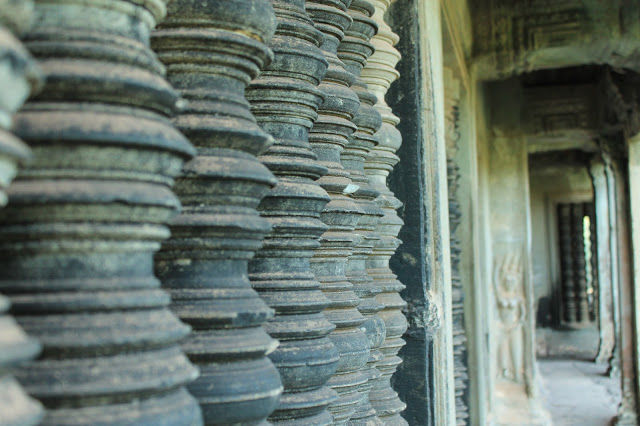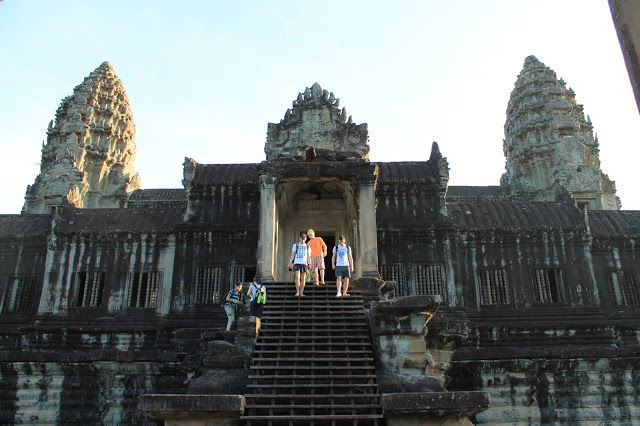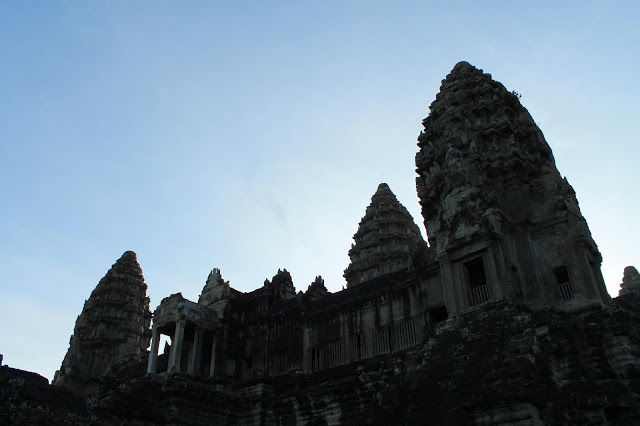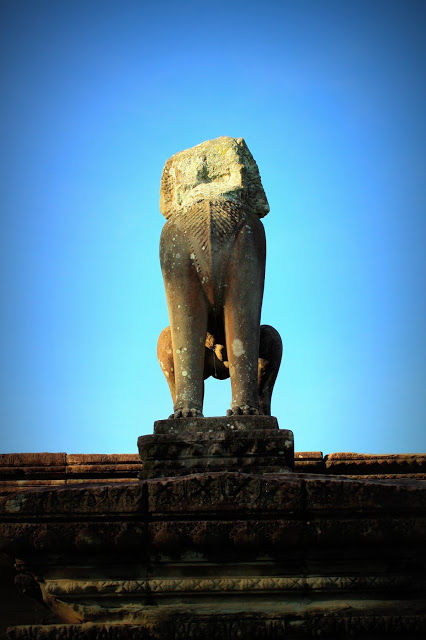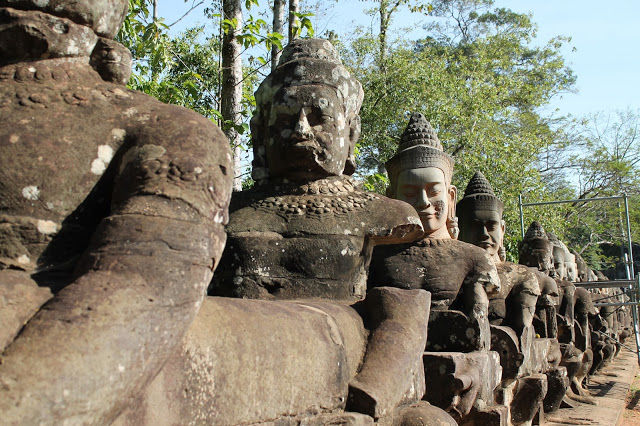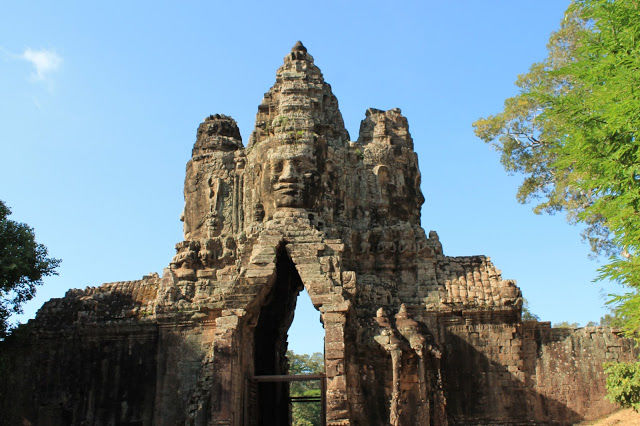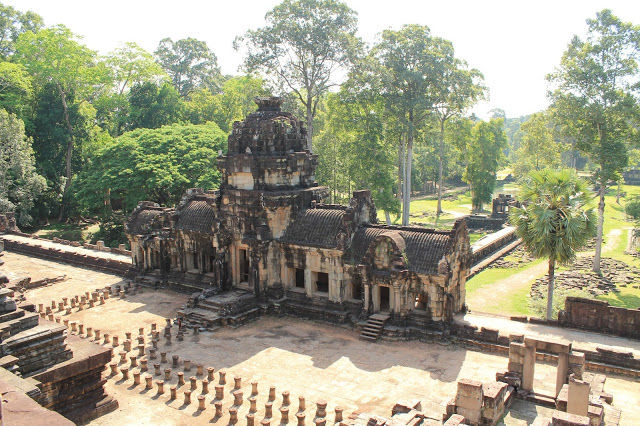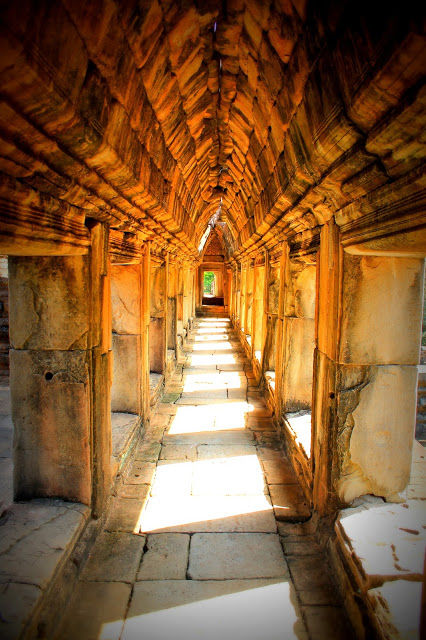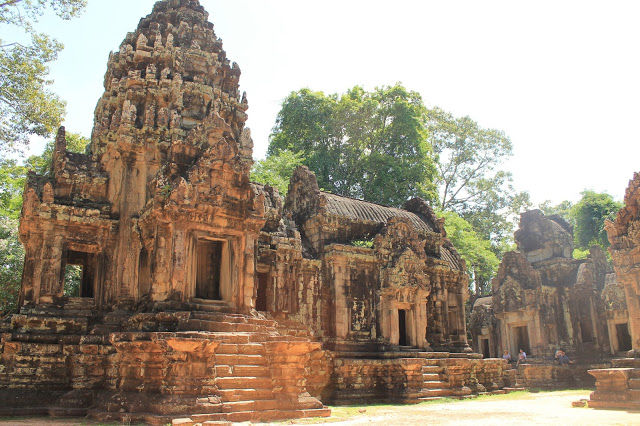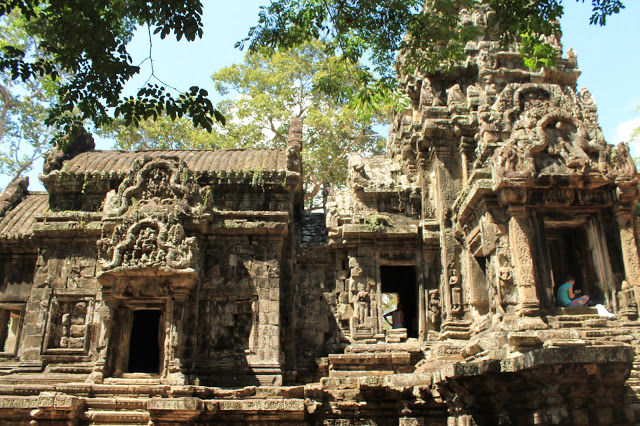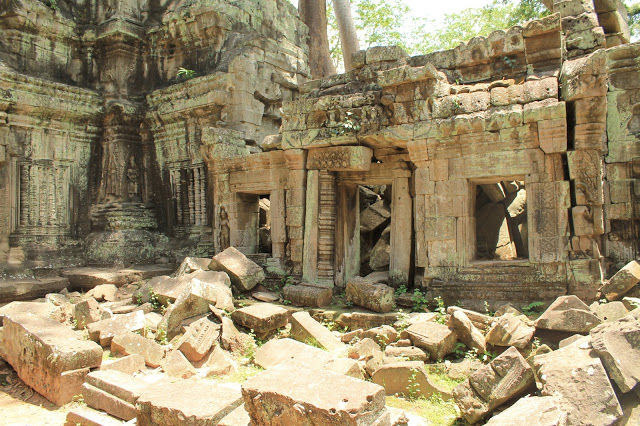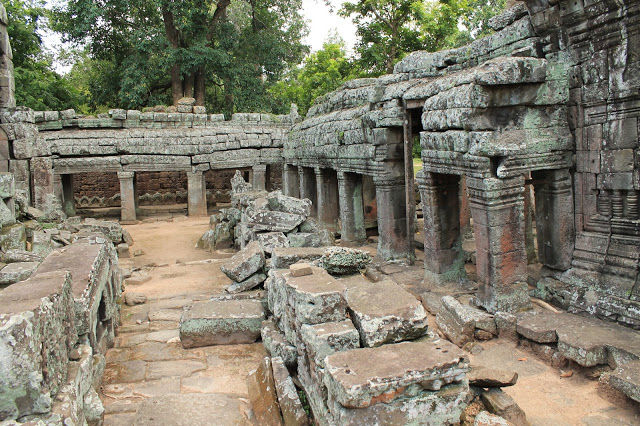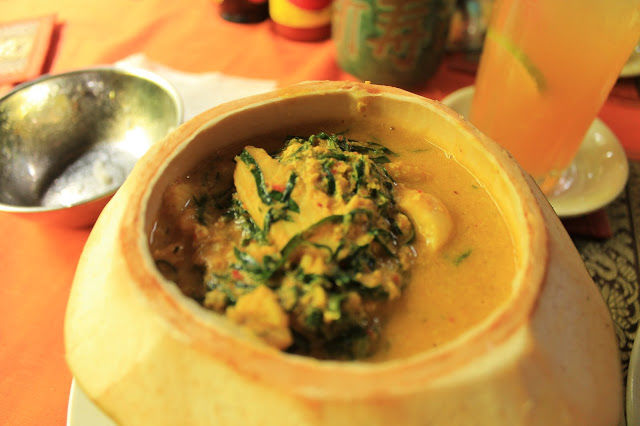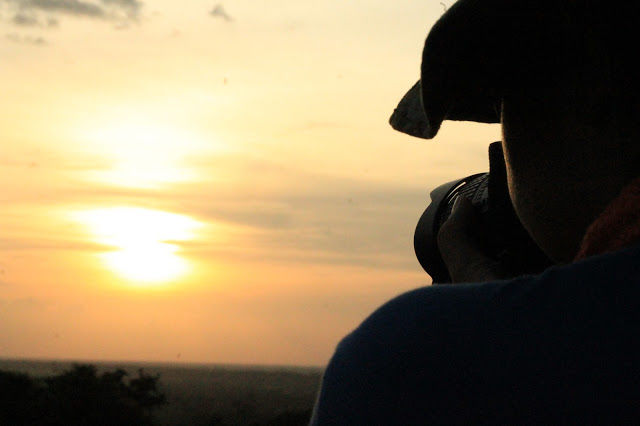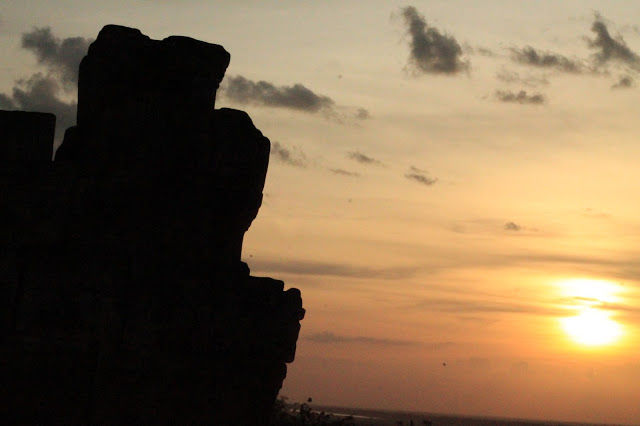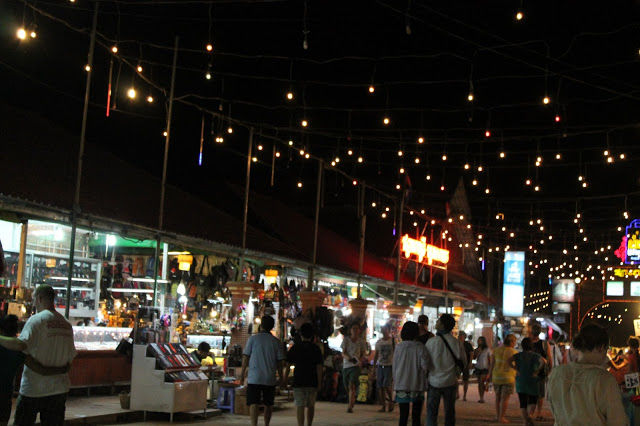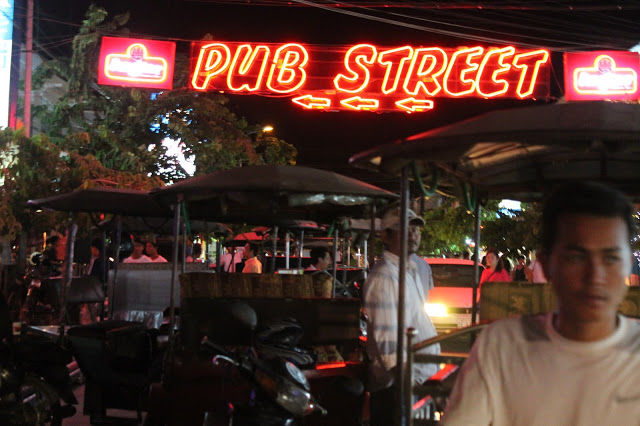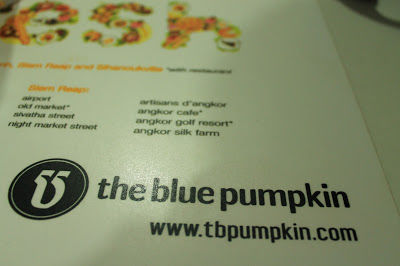 The Tuktuk TalesTransportation in Siem Reap is very basic. You either take a car, tuktuk, or bicycle.Tuktuk is a motorbike drawn cart where the passenger sits at the open back while the driver on the front. Upon arrival at the airport, we were met by our hostel representatives with our names being flashed. Prior to meeting with my pick up, we talked to Coli's friend Chanda to ask whether he can refer a good tuktuk to tour us around the city. Then my tuktuk driver started getting mad asking why the hell I'm asking somebody else for a tour in the city when he is already there. We later realized that work ethics in Cambodia rule that people should respect whoever got in line first. My tuktuk driver got there first so he deserved to get the tour job. So okay, we decided to let him tour us around the city for the morrow.
Sunrise in Angkor Wat
They say that the Angkor Wat shows its majestic beauty during sunrise. So we agreed to wake up at 5:30 and go to the Angkor Temples. A slight problem occurred though. The tuktuk driver did not show up. I was already in the lobby of my hostel at 5:00am but no driver was there until the receptionist decided to call another driver, Saru. It was already 6am. The sun was already up and I got really frustrated. We still had to pick up Harold and Claire. Angkor Wat at sunriseLuckily, the sun was still not so high on our way to the temples. So after buying ourselves the tickets, we proceeded immediately to Angkor Wat and started shooting.It was breathtaking. The temples, the ornate designs on pillars, the statues, apsaris, gods and deities were all remarkable. I was so lucky to witness all this grandness.
The Angkor Temples
I never imagined that the Angkor Wat is only part of the hundreds of temples in the city of Siem Reap. Angkor Wat is actually the largest Hindu temple complex in the world built in the 12th century. It was also very big that required strenuous walking and climbing. All these under the heat of the sun and humid air. At 9am, I was already soaked wet I had to remove my second layer shirt.
Fish Amok for Lunch
Siem Reap was also interesting because it uses American dollars as its currency. So when you go out, you'll find everything starts from USD 1.00. Two bottles water for example is USD 1.00, a coconut is USD 1.00, and average souvenir key chain is from USD 3.00 - 6.00. But the most awaited part of the day is FISH AMOK or steamed curried fish. This is a traditional dish of Cambodia made with fish coated with thick coconut milk.
Mountain Hiking and SunsetAnd so to cap the day's temple-thon, a hike to the mountain to see the sunset and the whole view of Siem Reap is a must. One caution is that the sun can be too hot while waiting at the top, but you must be early because it can be really crowded and this site is only open until 5:30pm. The structure cannot hold so many people that local officials had to control the influx of tourist atop the temple.
Pub Street and Night MarketSiem Reap's night life was also active. Teeming with so many tourists, you won't be surprised that there are also several clubs that caters to each visitor. As I understand, there is quite a lot of happenings out here but we found ourselves in this place called Pub Street. Had dinner in a restaurant named Blue Pumpkin, where I learned a valuable lesson when in a different country. That is- you have to make sure that you pronounce your order clearly. Below is the transcription:
Waiter : What do you want?
Me : I want to have Avocado shake. Do you have Avocado?
Waiter : Yes we have.
After 3 minutes, waiter came back with a cup of coffee.
Waiter : Here's your afugado. (afugado is a cambodian coffee blend)
Me : No, I didn't order coffee. I said Avocado Shake.
So poor waiter. Replaced the coffee with a Mango Shake because they didn't have Avocado Shake.
And I actually liked the night market here because you can get good buys here. I especially liked the traditional Cambodian pajamas which I only got for USD 3.00 each. The beer ranges from USD 1.00 - 5.00.