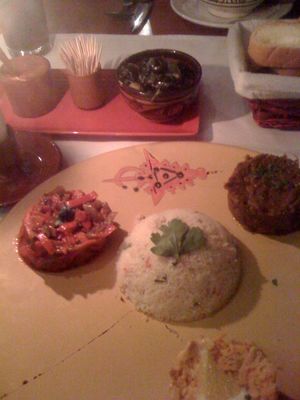 Places to stay near
Restaurant Safir B.V.
ibis Rotterdam City Centre
Urban Residences Rotterdam
Reviews of
Restaurant Safir B.V.
•
1
Descending the stairs into the Restaurant Safir is like stepping into another city. It might not be quite Morocco but the decoration, music and staff outfits all work together to transfer you straight out of Rotterdam.Starters of Moroccan soup with lamb and couscous salad with paprika, aubergine and carrot were accompanied with fresh bread, olives, toasted bread and a tomato, olive oil topping. The main course consisted of chicken with roasted potatoes and olives for me and lamb with dried fruit and almonds for my friend, Anna. Both were well cooked, deliciously seasoned and attractively presented. Safir goes well out of their way to create a pleasurable atmosphere. From the serving dishes and tangines to the Moroccan style tiles and carpets, every detail has been thought about. This attention to detail, in addition to the tasty food, clearly pays off because the restaurant was almost full after about 7pm. However, even this had been well thought through with tables spaced well enough apart that you didn't become part of your neighbors conversation.
Attractions near
Restaurant Safir B.V.