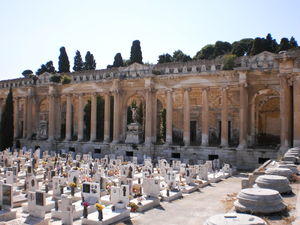 Cimitero monumentale di Messina
Places to stay near
Cimitero monumentale di Messina
Suggestivo appartamento in Galleria
Centralissimo mini appartamento
On the roof of the Strait!
Reviews of
Cimitero monumentale di Messina
•
1
While most of those who heard the tales of this travel had a quizzical mark when I mentioned about visiting a cemetery, as the drilled me with questions of some tragic love ballad that was forgotten and repressed or as a historical inquisition for no one understood my reason to visit a cemetery! But this experience is something I can't explain for it were my eyes that guided my feet! It was the sight of some spectacular, even forgotten, not tombs but sculptures from biblical stories over the graves of some great men that led me to discover this architectural marvel. A true spiritual yet artistic experience.
Attractions near
Cimitero monumentale di Messina