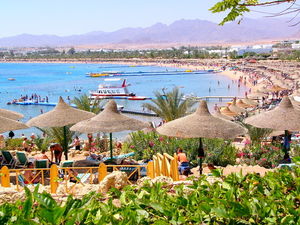 Rank
16 out of 83 attractions in Sharm el-Sheikh
Places to stay near
Na'ama Bay
Golf Heights Sharm El Sheikh
Stella Di Mare Beach Hotel & Spa
Apartment in Hilton, beach access.
Holiday Service College & Diving
Reviews of
Na'ama Bay
•
2
This bustling resort offers an altogether different experience. As the country's premier tourist resort and included on many egypt travel packages it has a lot to offer any visitor Resplendent with luxury hotels, atmospheric bars (including a Hard Rock Café) and lively clubs, it is the ideal base for tourists who love their nightlife. Daytimes are spent relaxing on one of the private segments of beach or exploring the majestic coral gardens. However, it's the evening when thing s really come alive. As well as the energy-fused clubs and bars there are also several cafés where you can enjoy some shisha and indulge in some people watching.
Attractions near
Na'ama Bay