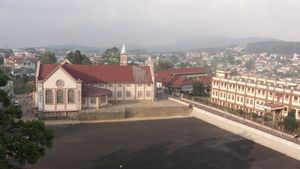 Places to stay near
Don Bosco Museum
The Shillong Hills Guest House
Cafe Shillong Bed & Breakfast
Reviews •
3
We then reached Don Bosco Museum. The entry fee was Rs.50/person. Inside, there was a big board showing Sonia Gandhi's photo and her comment on the Museum visit. Don Bosco is considered as the best museum representing an entire state culture at a same place. The museum is a 5 storey building with collection and perfect explanation about Khasi, Garo and Jaintia Hills. After 2 long hours, we then went to next spot which was the Church. We took some very nice clicks of Church from outside and then went in to pray Jesus Christ in a completely silent environment of the Church. We then skipped the Lady Hydari park & passed through Golf course which was no more scenic looking as it appeared in Google pics while planning our journey. The driver was very generous, so he took us to Shri Rabindranath Tagore's residence again which we had missed due to the assembly meeting.
This place captures sentiments of all the different cultures of the indigenous people of the north east. An informative place with beautiful photographs and artifacts showcasing the different histories. I could write a whole lot on this place itself but would let some pictures above do the talking. If interested, a day's dedication would be required.
Never miss the Don Bosco Museum of Indigenous North East Culture. It is a must-visit attraction in Shillong. If you are a museum lover, there is another one you would rejoice with a visit. It is the Butterfly Museum.
Attractions near
Don Bosco Museum