After our Journey of Darjeeling, we moved further towards Guwahati (Assam) as it is the major destination near Meghalaya. One can get majority of trains and flights to Guwahati easily. When we reached Guwahati and went out of railway station, shared taxi drivers were shouting "Shillong-Shillong" so we were somewhat relieved that we won't have to suffer in hunting for taxi/bus services. We then went to stay in a hotel for our stay at Guwahati for one day as we had decided to go Shillong next morning. The hotel was average but we stayed there as we had decided to save our money in Hotel costs so that we can spend more for tour.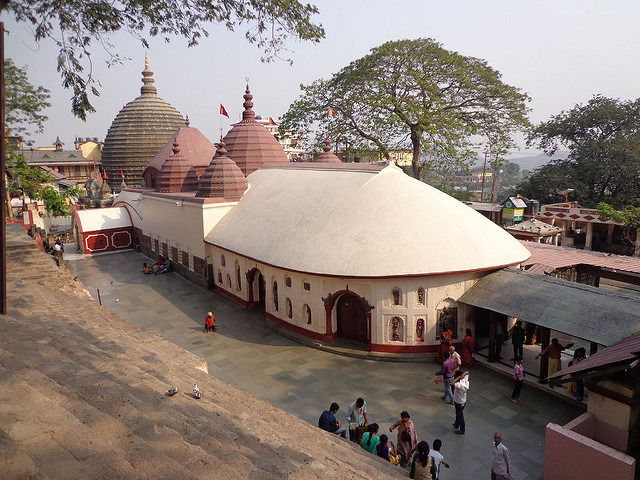 We took some pictures of the temple, visited the Kunda inside the temple premises and decided to return. We saw male goats so we realized that the process of giving "Bali" of goats was going on regularly in the temple. This hurt me so I didn't have any disappointment that I couldn't visit inside the temple in my one time journey to Guwahati in lifetime. We then went to Umananda temple on returning from Kamakhya temple. The rickshaw driver didn't start the rickshaw as entire path was hilly and vehicles can automatically run downwards. This was cost cutting for him.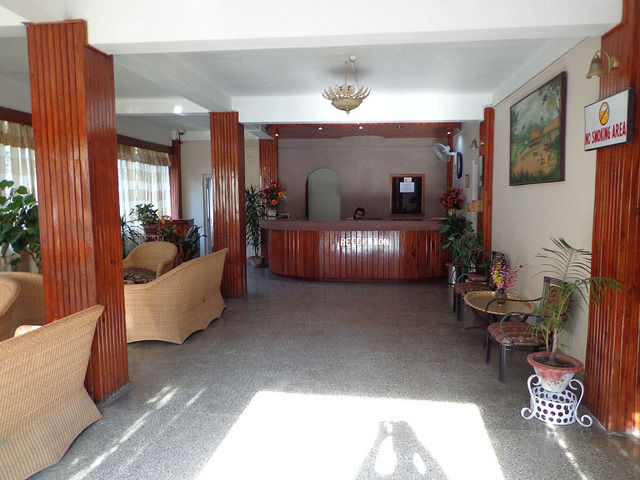 Next morning @ 06:00, we took a taxi to Shillong which was approx 90 kms and hilly highway. I travelled on a four track highway in mountains for first time. Entire path was very scenic and more natural and other hill stations. That was a great experience of combination of travelling on a developed four track highway and enjoying the most natural views. We reached Shillong at 08:30. In Shillong, the black taxis are only available public vehicle instead of auto rickshaw as it is a hill station. He took us to area where we could search for hotels. I went to find hotels but none of them were nice even at a rent of Rs.1250. We then decided to go to our pre-searched hotel named Orchid Hotel which was undertaken by Meghalaya Govt.
The Elephant falls were nice to see. We enjoyed listening pleasant sound of falls. But people were not allowed enter the water falls. After some time, we went to next place which was Shillong peak. Shillong peak is under the Airforce premises. So our driver took permission token from the Airforce staff and we went towards Shillong peak enjoying the beautiful views all around. Entire Shillong was visible from the peak and it was very nice to watch.
We then reached Don Bosco Museum. The entry fee was Rs.50/person. Inside, there was a big board showing Sonia Gandhi's photo and her comment on the Museum visit. Don Bosco is considered as the best museum representing an entire state culture at a same place. The museum is a 5 storey building with collection and perfect explanation about Khasi, Garo and Jaintia Hills. After 2 long hours, we then went to next spot which was the Church.
We took some very nice clicks of Church from outside and then went in to pray Jesus Christ in a completely silent environment of the Church. We then skipped the Lady Hydari park & passed through Golf course which was no more scenic looking as it appeared in Google pics while planning our journey. The driver was very generous, so he took us to Shri Rabindranath Tagore's residence again which we had missed due to the assembly meeting.
On reaching Hotel, we booked his taxi for our next day tour to Cherrapunji in Rs. 2500. Living Root Bridge was not included in the Cherrapunji tour package but we insisted him and he agreed. Next morning he arrived on right time @ 7:30 am and we began to head towards Cherrapunji after some breakfast. Cherrapunji was expected to be the best place in entire journey and so it was. Cherrapunji is known as Sohra in Khasi language. After a long 2 hour drive of 50 kms through heavenly looks all around us, we entered Cherrapunji region. There are no staying facilities there so it is better to have 1 day tour from Shillong or one can pre-book a room at Cherra Resort and enjoy heavenly stay in the completely natural environment. After reaching near Sohra, there was a bridge constructed by British govt. The bridge was previously a hanging bridge. But due to transportation of Coal from the mines in Cherrapunji towards the capital, the bridge was converted into a well constructed one.
When we reached the 2nd point of the journey, I was just lost in the enchanting appearance of the valley. I went near to the railing at the edge of the mountain for heavenly experience. I stayed there and experienced the gift of nature, breeze all around and later went to a small shop for a cup of tea along with my father and Ashok da. The style of making tea was different from our (western) side. They used Amul Mithai Mate instead of milk along with tea, hot water and sugar. Tea was very natural & tasty. Later, we went for next our next visiting place.
On the way, Ashok da shown us the coal mines. He also showed us the place where the song "Ya Ali" of Zubin was shooted. Then on the way to Sohra, we saw Ram Krishna Mission from a very far distance. We also passed through the Cement Factory handled by Meghalaya Govt. On reaching Cherrapunji, Ashok da shown us the Church and Cemetery made by Britishers in 1845 when they arrived in India and converted the Mughals to Christians in Cherrapunji region.
We decided to go there instead of the Bridge to which Cherra Resort staff people takes tourists after trekking to a long distance of 2 hours. We took this decision because my Dad at 61 years can also see the Living Root Bridge. After inquiring 1-2 people Ashok da finally found the path towards the Living Root Bridge. We reached at a totally silent place in the jungle and took a visiting ticket from a local lady. We also inquired her about the way to bridge. It was very nice trek of 20 mins with all sounds of insects, birds, etc generally heard in the jungle. We finally reached the Living Root Bridge and were amazed to see a bridge made up from the roots of Ficus elastica tree (known as Living tree). There was an Australian couple sitting on the bridge. We had a conversation with them regarding the other two Living Root Bridges and also regarding the Indian atmosphere. After clicking some pics and having a close look of bridge, we then returned.
Our driver, Ashok da, started a conversation (in Khasi language) with the local lady who gave us tickets. She invited to her home for eating pure, natural tomatoes. When I ate a piece of tomato, I was shocked and experienced an extremely original taste of tomato which I never have eaten in my life. She offered those tomatoes to Ashok da @ the rate of Rs.80/kg to which he refused. While returning, I saw a pipeline made from bamboo which was made for storing water from a long distance waterfall into a Sintex water tank. This was a brilliant creativity of village people to store water.
On returning towards Cherrapunji, we stopped at a place from where we saw the lands of Bangladesh. I also had received a SMS from BanglaLink network as an International Roaming activation alert. We then went to our next spot, the Eco Park. It was a very nice place but generally pleasant to view in monsoons (mid of April to September). A small waterfall appeared on the back side of Eco Park which becomes a very huge waterfall in the monsoons. There was also a well named "Missing Well" which had a mysterious water flow in it.
I was going to enter for the first time inside a cave and that too in a 250 meter long cave. So I was very excited about the looks inside a limestone cave. Right on the entry gate there were beautiful naturally curved limestone structures which were fascinating to watch. As we went inside, it was very dark with small lights placed to see the natural design created by God. At some places, metal bridges were made to cross two big rocks. We later came to know that water flows under these bridges in the monsoons.
We bought tickets to view Nohkalikai falls and reached a spot from where the falls were nicely visible from very far distance. As it was off season, there was just a small stream of water dropping from the falls but the atmosphere there was awesome to watch. I wished I could go near the place of falls but only trekkers can do that. However, we clicked some memory pics and then returned to Shillong after a memorable journey of lifetime.
This post was originally published on Travel Shillong's Blog.
Frequent searches leading to this page:-
Shillong tour packages, cherrapunji tour package shillong meghalaya, tour package for darjeeling, cherrapunji tour family packages

After refreshment and rest, we then decided to go for the famous Kamakhya Temple in Guwahati. We took a rickshaw and asked the driver to take us there and Umananda Temple which is in a tiny island in mighty Brahmaputra River. Kamakhya temple was 10 kms from our hotel and on a hill. So on the way towards Kamakhya, majority part of Guwahati was visible on one side and mighty Brahmaputra view on the other which was very scenic to watch. There was a 2 hours usual line to enter inside the temple for prayer so we decided to bow down to Kamakhya Maa from outside.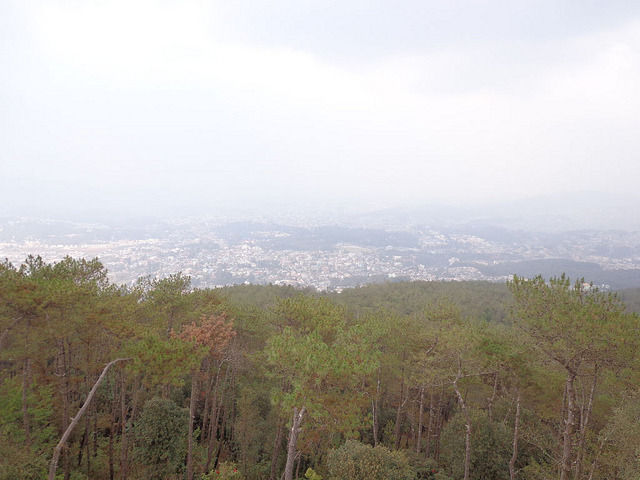 Then we were on the bank of mighty Brahmaputra River and the view was absolutely heavenly. The environment there was not too clean so I cancelled my plan to have a holy bath and took some "Charanamruta" and washed my hands and face after going somewhat deep away from the waste materials. The boat riders were asking us to go to Umananda temple but we just enjoyed the view of Brahmaputra so decided to spend our time watching the mighty river. We then returned to our hotel, had our dinner, inquired about Shillong taxis and slept in hotel.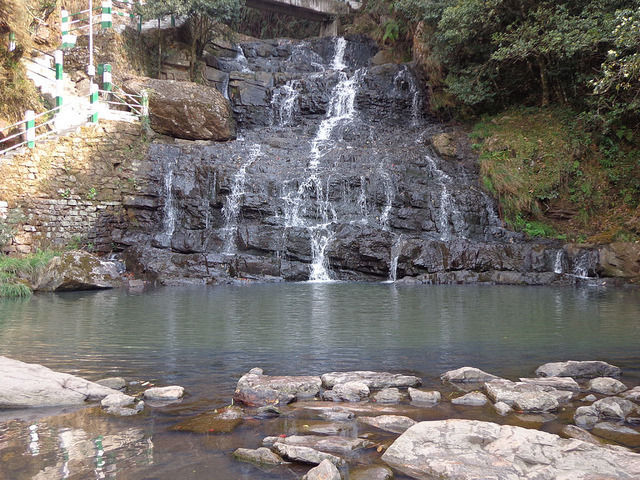 Ataxi driver took us to Orchid Hotel on Polo Road. We were amazed entering the big parking premise and a large organized Reception. They offered us a very spacious room just for Rs.1174. The staff provided excellent service. Later, after lunch, we went for Shillong local sight scene with the taxi driver who had dropped us at the Hotel. He was Bengali (Ashok da) and very descent driver. I had never experienced a driver with such a nice behaviour. He was more interested in making us visit all the places rather than just making money. He even provided detailed information regarding all the site.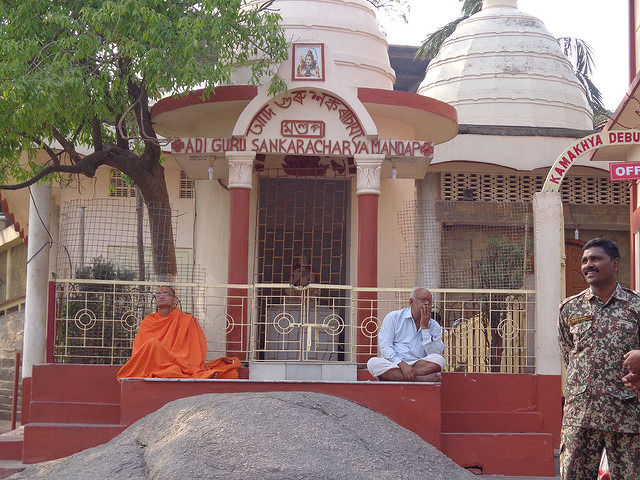 e first went to Shri Rabindranath Tagore's residence in Shillong but there was a political meeting going on at the Assembly next to Shri Rabindranath's residence due to which tourists were not permitted to enter the premises. Ashok da then took us to Elephant Falls which was 10-12 kms from Shillong. The highway was entirely covered by British Pine trees (very pleasant to view) on our Left side and Indian Pine trees on Right. On the way, there was Airforce premises and Airforce museum but we didn't want to visit the museum as we had decided to visit Don Bosco museum later which takes 2 hours to watch.