Rock Capital of India,Fashion Capital of The East-Shillong has often been tagged with such suffixes. But has Shillong,the capital of the state of Meghalaya, ever been put on the food map? Did any tourist returning from Shillong tell you about the amazing bakeries there? Or the awe-striking number of cuisines available? Most probably not.
Meghalaya for me was supposed to be a backpacking trip,venturing into its thick forests,walking the living root bridges,experiencing traditional Khasi culture. But,as we say,not everything goes according to plans while travelling. And so my trip took a turn that I could have hardly even imagined.
Food has always been a very distinctive prospect of my travels,even though I am a budget traveler, really. The fact that food helps to know the culture,history and habits has given me a deeper recognition and knowledge of the places I have traveled to. With the memories of Shillong still fresh in my mind,it is only normal that I share the most important,dominant and determining aspect of my recent travels to Meghalaya-food. Revealing gradually like a well-concealed story,the colors and fragrances of Shillong will take quite some time to fade away. Although, I wonder if they ever really will.
Through this blog I'll be mentioning a number of food destinations in Shillong itself,along with their most-celebrated specialities and my personal reviews. This is an attempt to firstly,put Shillong on the food-map of India and also,to kick-start my little food blog.
If you're an adventurer when it comes to food and don't fear tickling your gustaoception (I mean,taste) sense, then following are places that deserve a visit for experiencing the local Khasi food that the locals are in love with: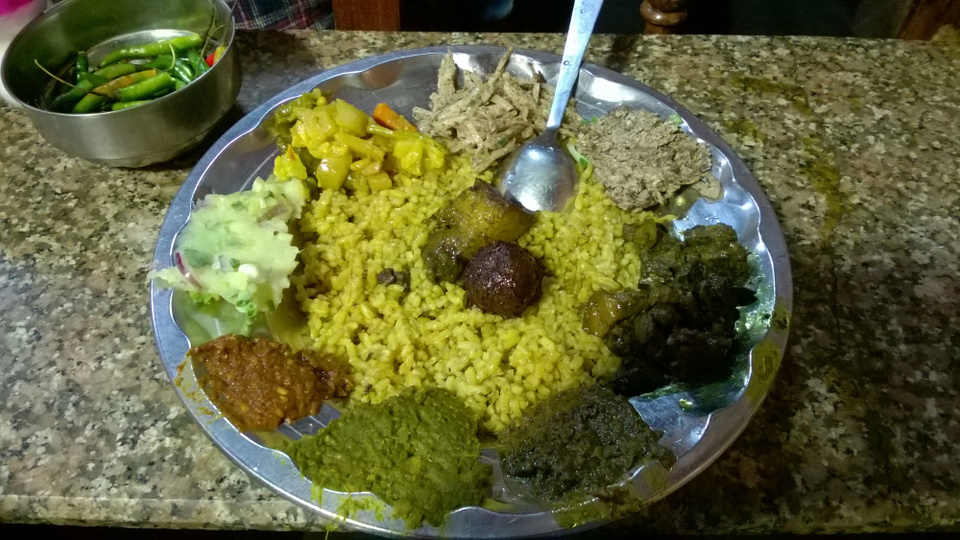 Trattoria-Located right at the heart of Centre-point,Shillong, it is almost never that one finds this place empty. Always bustling with customers who are mostly locals,Trattoria offers an insight to what traditional Khasi food is like. They offer a host of dishes ranging from pork,beef,fish and chicken. Along with every meat dish you order,comes a generous serving of the famous Jadoh which is a staple in the Khasi Hills. Humble ambience,modest setting and the smell of food in the air characterize Trattoria. Be assured of freshly-cooked food,AMAZING service and a very memorable culinary experience,all-in-all. One of the very amazing things about Trattoria is that if you're not aware of the dishes and have no clue what to order,you can get yourself the try-all-plate,as I call it. What is the try-all-plate? Well,its simply the total amalgamation of all the dishes in a particular meat category along with some condiments. So you don't regret not having everything and don't end up having a lot of something you ordered that you had no clue about. The food,as delectable as it is,is always served with a warm smile. Such food in such ambience,what else does a foodie's heart long for? By the way, if you're a vegan,stand aside and watch your friends devour the food and console yourself.
On My Plate- So I opted for pork and this is what my plate looked like. 10 different items with condiments like fermented bean sauce,vegetables,raddish chutney and other delectable chutneys. The star of the show,however,was the Jadoh (rice cooked in pork fat or pork blood) and the pork intestine having dense and smoky flavors.
No wonder I came out dancing and jumping!
Jadoh- You know that a native dish is important to the locals when a whole restaurant is named after it. In no particular order,Jadoh is arguably one of the best places that offer local Khasi food. Always hot and always fresh,it's no surprise that it stays jam-packed by students in almost every hour. Why did I mention just students? Because,prices. With Jadoh,it is possible to get your lunch done for a mere Forty Rupees (yes,I actually said that!). The combos-which,again,come with either chicken,fish,beef or pork-are served at a throwaway price of One Hundred and Twenty Rupees!
There's a lot that has already been told about the food quality and unbelievable prices,the humble seating order,but,Jadoh may as well be known for the heart-warming hospitality and warmth of the lady who runs the restaurant,so much so that eating there feels like eating a hearty meal cooked at home. Eating here is absolute peace.
Oh,and if you're a vegetarian,have tea.
On My Plate- Looks pretty simple,doesn't it? Well,the flavours were not. The Jadoh is as delightful as ever,but,the the Smoked Pork Gravy gave it a twist like no other. The Tungtap adding a certain hit and the vegetables accompanying them perfectly;all the flavours doing the a joyful dance in your mouth!
Bread Cafe-Among the numerous bakeries and cafes in Shillong,what was it in Bread Cafe that caught my eye? Well,the banner on the entrance said "Bread Cafe-The Baker's Coffee Shop". And that itself dragged me to it,like a duck to water. Quite,cozy and humble is what can be said about the setting and seating. Ambience is fair as well. Can't say the same about the music,though. But what steals the show is the amazing range and quality of the food they offer. The pies always freshly baked and the coffees always delightful. It is indeed a delectable affair!
You can have your breakfast from here,although I prefer to follow it with second and a third breakfast as well. Well,it's sort of tough to eat everything that is on offer just in one shift,right? The Cafe also offers coffees (both hot and cold) that,though congenial in themselves,go perfectly well with the baked goods.
Coming to the pocket pinch,looking at my platter one is likely to think that I must've fished out quite a sum for a breakfast that looks so lavish and neat. Well,that's not quite the case. With qualities that can give the costliest and most famous bakeries in my city a run for their money, I would say it's fairly reasonable and absolutely worth the money. No surprise I spent most of my mornings there.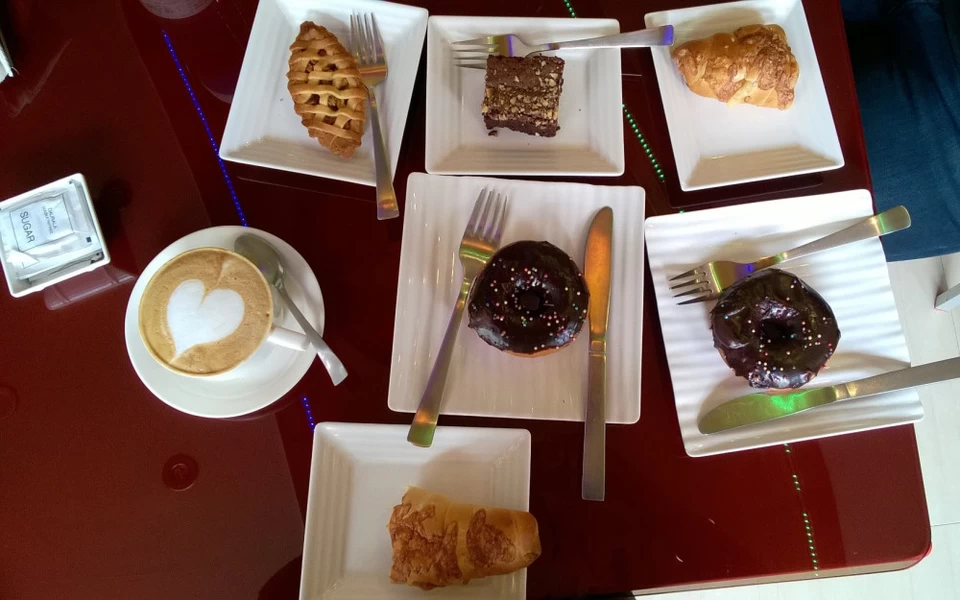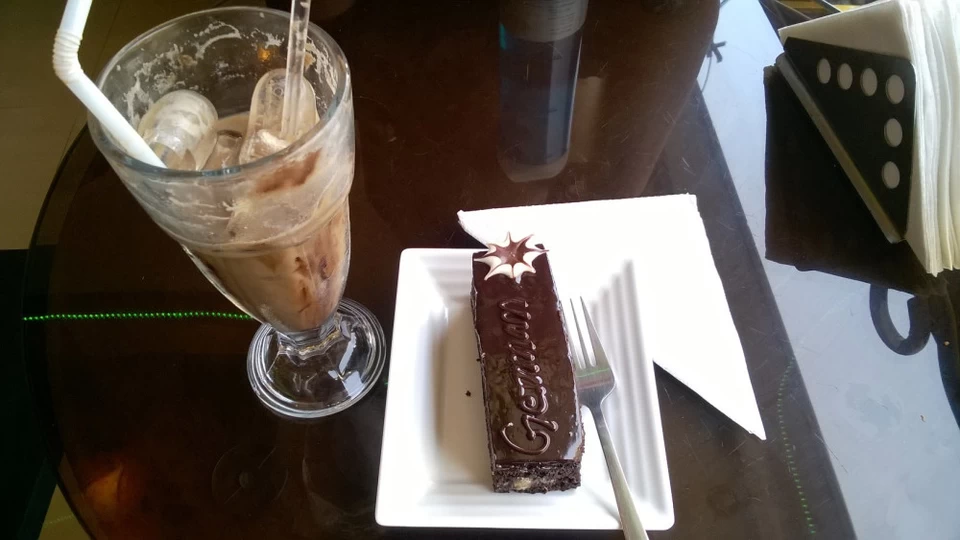 On my plate(Clockwise)-A 'Cafe Latte','Apple Pie','Chocolate Brownie','French Croissant','Chocolate Doughnuts' glazed with Candied Pearls. Also, 'Chilli Coffee' and 'German Chocolate Pastry'. While it is sort of cumbersome to choose from such a wide variety of gorgeous-looking pastries,pies and coffees, one can blindly select a few like-'The Fudgy Coffee,Chilli Coffee' among cold coffees and 'Hazelnut Capuccino' and 'Cafe Latte' among the hot ones. Other than that, 'Chocolate Mousse','German Chocolate Pastry','French Croissant' and the 'Brownies' are the absolute show-stealers!
While you digest all these,brace yourselves because there shall be a second part of this 'scrumptious' food journey!
This blog was originally published on 'LittleMissSupertrampBlog'
Frequent Searches Leading To This Page:-
Plate & Platter, Shillong, The Best Street Food in Shillong, Best Cafes to Eat in Shillong, Best Restaurants & Cafes in Shillong