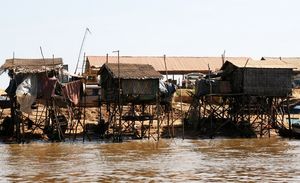 Places to stay near
Tonle Sap Lake
The Siem Reap Chilled Backpacker
Schein Guesthouse & Restaurant
Reviews of
Tonle Sap Lake
•
3
We took a couple of bicycle rides out towards Tonle Sap Lake through rural villages and lotus fields but apart from that it was mostly pretty quiet until Christmas week (not counting of course the usual Siem Reap socialising).
This is Southeast Asia's largest freshwater lake and is protected by UNESCO since 1997. It is a huge and magnificent lake in which a very abnormal phenomenon occurs during the rainy season where it continues its course towards the sea through the Mekong River and back up to the lake and enhances nearly 10 times its normal size. This strange phenomenon only happens here and in the Nile River in Egypt. The lake is near Siem Reap famous for the above temple Angkor Wat.
A visit to the calm waters of Tonle Sap lake and its luring boat ride are a must to-do in the Siem Reap province. As exciting and exhuberating is the local experience around the lake, you can find much interest in exploring the shifting boundaries of this great central lake. You can even enjoy a visit across the floating villages, fish sanctuary, bird sanctuary and the swampy forests in the region.
Attractions near
Tonle Sap Lake