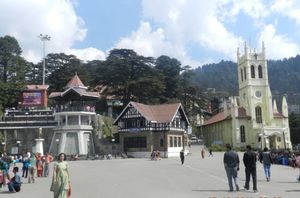 Best time to visit
When in Shimla City
Open hours
The road opens from 6:00 am to 8:00 pm.
Things to do
For items from the Kullu Valley, this is the place is where you will get them.
Budget
Budget for shopping
Traveller Types
Families, Couples
Rank
6 out of 80 attractions in Simla
The Mall
The place is abuzz with activity all through the year and is the heart of the town of Shimla in Himachal Pradesh. While one may want to go shopping here, this place is home to some ver famous malls and shopping complexes like the Hong Kong Market. A number of restaurants and cafes dot the street and one can drop by any of them for a snack and drink. One is reminded of a carnival at The Mall, as the mood is full of fun, frolic, merry making and delicious food. A good thing here is that no vehicles are allowed to play here, so that one can stroll around peacefully without being honked at.
Places to stay near
The Mall
Explore Tradition Culture Himachal
OYO Rooms Heritage Bungalow Cart Road
Attractions near
The Mall