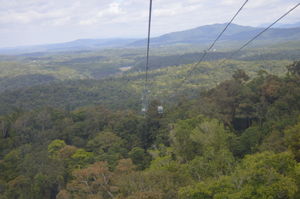 Traveller Types
Couples, Families
Rank
1 out of 6 attractions in Smithfield
Skyrail Rainforest Cableway
Places to stay near
Skyrail Rainforest Cableway
Aircon room house with ocean views
Between the rainforest and beaches.
Cairns Beach Front- Sunbird Suite
QUIET BEDSIT IN POLE HOME
Reviews of
Skyrail Rainforest Cableway
•
1
The Skyrail Rainforest Cableway is a 7.5 kilometre (4.6 mile) cable car journey venturing above the canopy of the lush, hilly and sensational Barron Gorge National park, connecting Cairns with the historic and idyllic village of Kuranda. There are two stops along the way, Red Peak Station and Barron Falls Station. At Red Peak Station, you will stop there for around twenty to thirty minutes and will be able to explore some spectacular rainforest scenery on the boardwalk including some very large and ancient trees. There was a guided tour when we were there, which was very informative. The next stop, Barron Falls station, allows you a similar amount of time to savour in the environment there, which includes lush rainforest, historic displays and the views of the awe inspiring Barron Falls, which drops way down into the Barron Gorge. The trip up to Kuranda (including the two stops) is 1.5 hours while the trip back down to Cairns is 2-2.5 hours. A MUST DO while in Far North Queensland.
Attractions near
Skyrail Rainforest Cableway