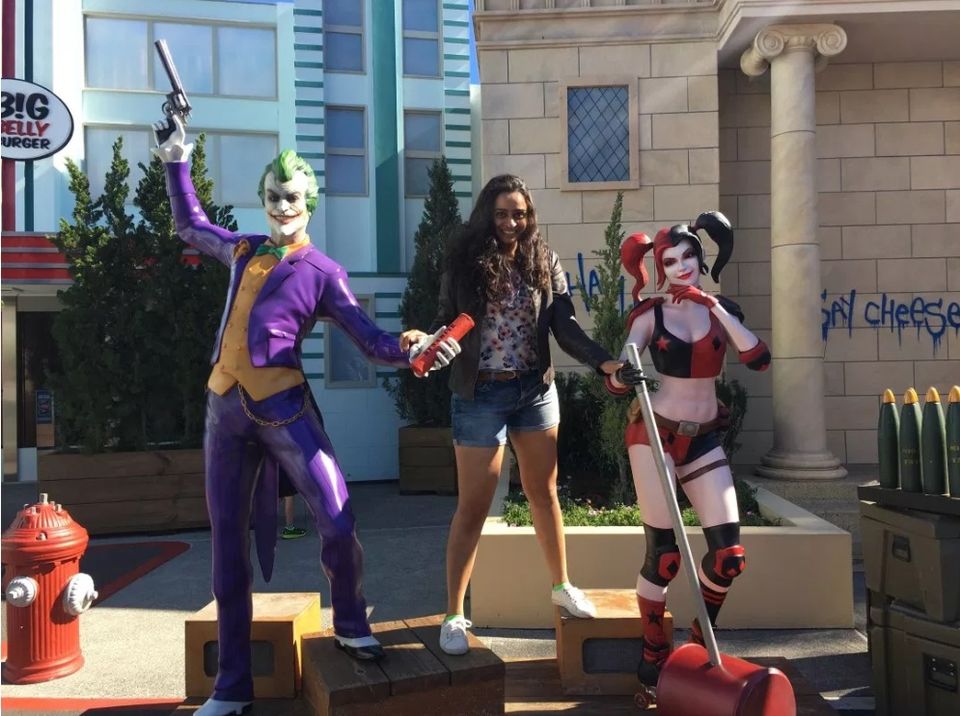 What's Party Central of your country? For India, a lot of folks would probably say Goa. I'd largely agree. The sheer number of beaches, super-chill vibe and pulsating nightlife makes it a hotspot for locals and tourists alike.
That's pretty much what Gold Coast is for Australia. It's young, happening, fun, relaxed, and has a perfectly happy vibe. There's quite a bit you can cover out here as well, and some REALLY cool things if you have an extended period of time. My 2 days in Gold Coast had me wishing I had more time, so I could do everything else I wanted to but couldn't. I'm listing down some of my favourites here, so feel free to pick and choose according to what YOUR preferences are!
Beach Bumming!
Gold Coast is KNOWN for its beautiful beaches! Surfers Paradise, Burleigh Heads, Mermaid Beach, Miami Beach, Palm Beach... Surfers Paradise is by far the most popular, and yep, you guessed it, plenty of waves to catch out here. If you're looking for something a tad quieter, head over to Burleigh Heads Beach (it may have been quieter because I went during winter). This one is SO BLUE, I can't even! See for yourself!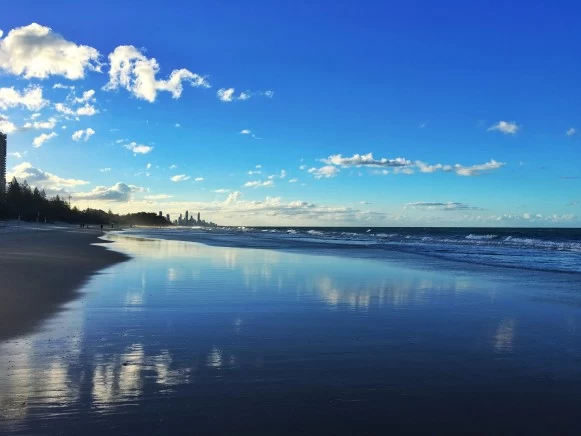 Also, if I were you, I'd make it a point to grab a sunrise / sunset at atleast one of the beaches
Honestly, for a beach bum like me, I need more than just 2 days in Gold Coast to see all of them. Heck, I could spend an entire week and not tire of them beaches!
Surfing Lessons:
Sign up for some of these, cos hey, you're in AUSTRALIA!! Some of these promise that they'll have you standing at the end of it, and for me, that's goals (I can trip over my own two feet on solid ground). I didn't get a chance to do this because 2 days only allows so much, so now I've already started counting my reasons to go back. Not that I even need any, but still.
Theme Parks:
Seriously, Gold Coast is the hub for theme parks. Take your pick between Dreamworld, Movie World, Sea World, Wet'N'Wild, and White Water World. I hit Movie World and had a mad, mad time going dizzy on all those rides. There's also something about chowing down on typical theme park food, it's like a PICNIC isn't it? (I did say I failed at the whole 'Let's eat healthy!' resolution, ugh).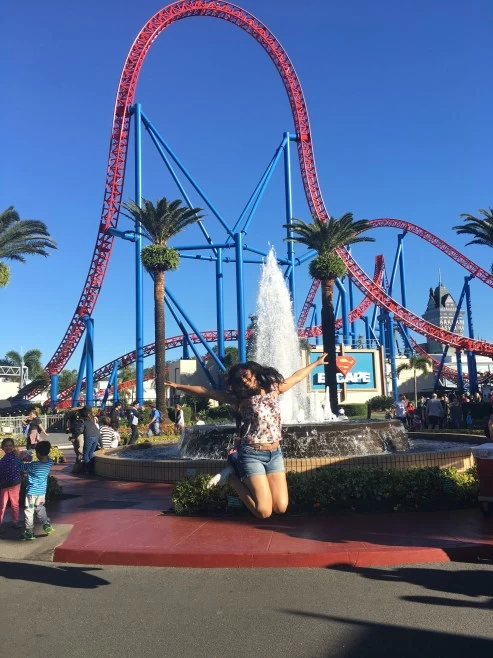 You don't need to choose BETWEEN theme parks if you have time, just go to one, two, three, four or ALL of 'em! If you're headed to Dreamworld, you could get a combination ticket which includes entry to the Skypoint tower as well. Check out the whole range of tickets right here. You'll need to book return transfers to the theme parks. I used Con-X-ions to book mine, and it was super convenient. They have multiple pick-up and drop-off points, and I got picked up and dropped off literally 5 minutes away from my hostel.
Of your 2 days in Gold Coast, you'll need an entire one for a single amusement park, so if you're planning to visit more than one, plan for a higher number of days.
SkyPoint:
Sweeping 360 degree views of Gold Coast await you! It's soooo GORGEOUS, especially if you head over during sunset, just in time to see an orange ball of light drenching the sky in magnificent hues of orange and pink and purple as it kisses the day goodbye.. The Skypoint bar is the perfect place to grab a drink and a seat just by the floor length windows and spend the evening soaking in some gorgeous views.
For those of you who are okay with shelling out a little bit extra and are also a bit of an adrenaline junkie, DO THE SKYPOINT CLIMB! You'll be taken to the TOP of the tower and there will be absolutely NOTHING between you and the view!
Pub crawls and parties:
Surfers Paradise is peppered with nightclubs and bars and you'll be spoilt for choice. Melbas, Shooters, Elsewhere, Sin City, The Bedroom.. You can pretty much dance the night away! If you're a hosteller like me, check with your hostel, they WILL have a kickass pub crawl with some sweet deals on drinks that you could join and party the niiiiight away!
Infinity Attraction:
I didn't end up going here, but IT LOOKS SO FREAKIN' COOL! It's like this multidimensional universe where you can go crazy with folks you're traveling with or folks you meet at your hostel or whatever. They call it an 'interactive fun-house of the future', you can see what I'm talking about here.
Where to Stay?
Surfer's Paradise is where you want to be.
I stayed at Surfer's Paradise Backpackers. It's 2 tram stops away from the main city, or you could say about 10 minutes walking. Very conveniently located, with the tram station just 2 minutes away. LAAAVVVV it when things are so easy!
I only had 2 days in Gold Coast, and I wish I'd had more time. Also, I suggest visiting Gold Coast only during the summer months, because it's rather quiet otherwise. I loved the vibe, though, and I'd happily, HAPPILY return, during the summer for sure, and for a longer period! But if you have only 2 days like I did, I hope this piece helps you plan a super-fun trip!
This blog was originally posted on Peppy Travel Girl.