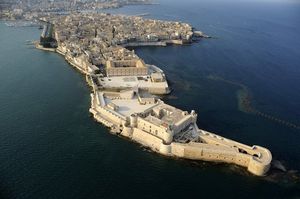 Rank
1 out of 99 attractions in Syracuse
Places to stay near
Ortigia
A window by the sea of Ortigia
MAR Residence Artist and Tourist
Stanza in pieno centro Siracusa
"Appartamento in centro Siracusa"
LOFT FOUR STEPS TO ORTIGIA
Reviews of
Ortigia
•
1
The best way to see the island of Ortigia is just to wander. It's difficult to get lost (it measures just 1km by 500 meters and has lots of little streets that all look the same), but packed with over 2,500 years of history. We often come here at night as its a great place to soak up some Italian nightlife, wander past the harbor showcasing the yachts and sailing boats of the elite and also drop by the famous fountain of youth (La Fonte Aretusa). Half a dozen Greek poets wrote the tale of the nymph Arethusa, who was bathing in the Alpheus River in Greece one day when the god of that river took a liking to her. She begged for deliverance from his advances, and Artemis in pity turned the nymph into a spring, allowing her to escape underground. She traveled under the sea to emerge here, in Siracusa. Alpheus, though, was hot on her heels, and came gushing out in the same spot, mingling his waters with hers for eternity. Apparently this, to the Greeks, was romantic. They used to say you could toss a goblet into a spring at Arcadia in Greece and it would pop up here.