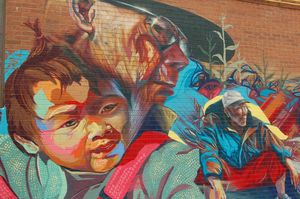 Traveller Types
Couples, Families, Friends, Solo
Rank
50 out of 438 attractions in Toronto
Places to stay near
Chinatown
Private Suite in Condo Downtown
PrivateRoom&Bathroom in Downtown
Bright Living in Trendiest 'Hood.
BrandNew☆3minUNION!Lake,ACC,CNTower
Cozy studio in heart of the city
Reviews of
Chinatown
•
1
From The Eaton Center, it is only a stone's throw to Chinatown. Chinatown is a buzzing little area of Toronto filled with Chinese writing on the walls, wafts of Chinese foods coming from Chinese food vendors either in restaurants and stores or, in the summer, from Chinese street vendors. The stores sell cheap tourist merchandise, but hidden amongst the more commercial stores, you might find a gem, such as the store Kim bought a Chinese wall hanging from. Kim has a degree in fine art and she has a keen eye for things such as these. The other thing I love about Chinatown is that you will see things you never normally see, mostly exotic foods. I am not sure I would ever eat any of these things, but they are definitely interesting to look at!
Attractions near
Chinatown