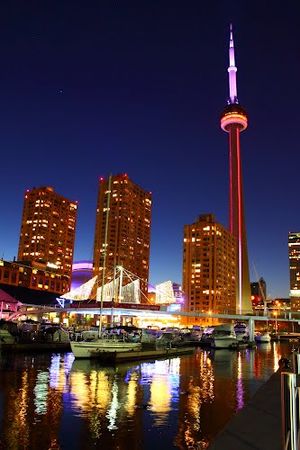 Traveller Types
Couples, Families, Friends
Rank
4 out of 438 attractions in Toronto
Places to stay near
CN Tower
Private Suite in Condo Downtown
PrivateRoom&Bathroom in Downtown
Bright Living in Trendiest 'Hood.
BrandNew☆3minUNION!Lake,ACC,CNTower
Cozy studio in heart of the city
Reviews of
CN Tower
•
2
The CN Tower is arguably the most iconic landmark in Toronto, if not Ontario! In fact, in 1995, the CN Tower was listed as one of the seven modern wonders of the world. I do hate how many 'Wonders of the World' lists there are. They confuse me. If you are confused, read more here. Also listed on the 7 modern wonders of the world are: Itaipu Dam, the Golden Gate Bridge, the Panama Canal, the Chunnel under the English Channel, the North Sea Protection Works off the European coast, and the Empire State Building. The CN Tower was finished in 1975, is used as a broadcasting station and measures at 553.33 metres. I think they are the three main facts! Now for why it is appealing to me. Firstly, I love the way it dominates the Toronto skyline, by day or by night! nce at the top, the view of Toronto is literally breathtaking. Literally. This is another area that viewing Toronto in the winter beats viewing in the summer. In the summer, all you see from the top of the tower is the city. A stunning view of the city and you can perhaps see for further, but it is still just the city (this is entirely subjective, however), but in the winter the ice makes pretty patterns on Lake Ontario and everything is covered in snow. I have so hated the snow that I had forgotten that I actually once liked it! There is also the 360° restaurant. It is rather pricey, but it isn't so bad if you do what Kim and I did and buy a piece of cake for $10 and share it (there is plenty for two people) and a drink each. Many people simply order drinks and sit looking at Toronto with them, so you won't be alone if you don't order something larger on the menu. It was wonderful to sit and look at the shadow cast by the CN Tower, trying to work out whereabouts on the shadow we were sitting and marveling at how far it spreads a roast here stop. The city!!!
CN Tower is the tallest free standing structure of Canada, and used to be of the world. A dazzling view of the city can be seen from the very top, by shooting up the floors through a glass elevator. It's quite the feeling! Lying on the glass floor at the very top definitely gives you the butterflies.
Attractions near
CN Tower