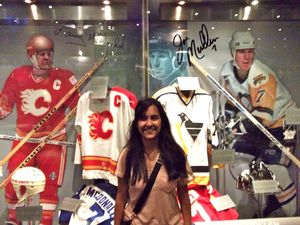 Traveller Types
Families, Couples, Friends
Rank
9 out of 438 attractions in Toronto
Places to stay near
Hockey Hall of Fame
Private Suite in Condo Downtown
PrivateRoom&Bathroom in Downtown
Bright Living in Trendiest 'Hood.
BrandNew☆3minUNION!Lake,ACC,CNTower
Cozy studio in heart of the city
Reviews of
Hockey Hall of Fame
•
1
A popular tourist attraction in downtown TO, great to learn the history of hockey, Canada's national sport. Check out signed hockey sticks and glass panels of famous hockey players. The hockey cup, known as the Stanley cup, also is part of the attraction.
Attractions near
Hockey Hall of Fame