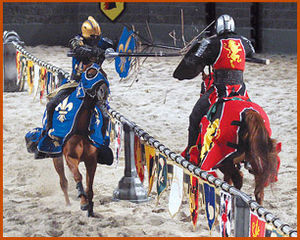 Places to stay near
Medieval Times-Toronto
Private Suite in Condo Downtown
PrivateRoom&Bathroom in Downtown
Bright Living in Trendiest 'Hood.
BrandNew☆3minUNION!Lake,ACC,CNTower
Cozy studio in heart of the city
Reviews of
Medieval Times-Toronto
•
1
Pretty much my final birthday celebration was yesterday when Luke paid for me to go to Medieval Times in Toronto. Our primary reason for going though, was to celebrate our neighbour's Mom's (part of our substitute family as our families are both in England) birthday! I don't know whether you have ever watched Cable Guy with Jim Carrey, but Medieval Times was just the same as that in the movie. Oh...and the horses. Dozens of andalusians frisking around with big necks, muscly bottoms and flicky toes! Rearing and champing at the bit. At this point Luke started to get a bit bored. Maybe because I was trying to tell him exactly what a flying change is and how you know if a horse is cantering on the correct lead. Sam, however, was waving his green flag with all his might, demanding more beer for his newly purchased tankard and yelling 'you going down red knight' at the top of his voice! So funny! Luke was much happier when the games and fighting started and I stopped gas bagging about how to make a horse leg yield and rein back. Everyone there was divided up into colours according to where they were sitting. We were all in the green section, which meant that our knight was the green knight. The games started and were initially not dissimilar to a gymkhana, but by the end they were jousting and sword fighting. It was very staged, but had us all cheering and booing like crazy medieval bloodthirsty paupers nonetheless! Everyone sat around a sort of dressage arena to eat and whilst we were watching the entertainment the food was served on pewter crockery and consisted of soup, half a roast chicken, spare ribs, a potato and a tart for pudding. Our serving wench was excellent at topping up our potion. No cutlery is provided so wash your hands well before you go! There was also a falconer, who I did feel sorry for, as his bird would just not obey him! All in all, it was an excellent, fun novelty night with good food and good company.
Attractions near
Medieval Times-Toronto