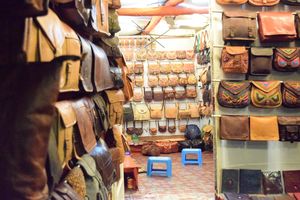 Places to stay near
Varkala cliff
Green Villa Garden Home & Guesthouse
Reviews of
Varkala cliff
•
3
Our last day here so we decided to visit the ancient Janardhana Swamy temple and the Black beach that I'd heard a lot about. After a nice relaxing breakfast, we decided to go to Black Beach which is right off the south end of the cliff. Lives up to its name- the shore was a glistening black and almost deserted. So peaceful that we decided to spend the rest of the afternoon lying on the lawns by the beach. In the evening we went to the 2000 year old Janardhana temple dedicated to Lord Vishnu. The premises gives a sense of complete satisfaction and a calmness within.Alas, goodbyes indeed are the hardest. With this, the trip was coming to an end. A train from Varkala to Kollam from where we boarded the bus back to Bangalore.
Sai and I were in Punalur (Kerala) for a friend's wedding in August 2016. Varkala was just an hour's drive from Punalur, and it had been on my list for quite some time now. With a bit of complications around taking leaves in office, we decided to make it to Varkala for one day.We set out from Punalur early morning in a hired taxi. The one hour odd exhilarating drive through the numerous rubber and spices plantations and beautiful coconut trees lined roads upped our spirits. Our resort, Clafouti Beach Resort, was on the North Cliff, a popular place lined with multiple resorts and shacks.
it has all kinds of shops- you can buy clothes, colourful skirts, shorts, scarves!! i myself did a lot of shopping (giggles), the cliff is around 2 Kms long, and you can take a nice walk down.. This cliff overlooks the Papasnanam beach on one side and the Edava beach on the other.
Attractions near
Varkala cliff