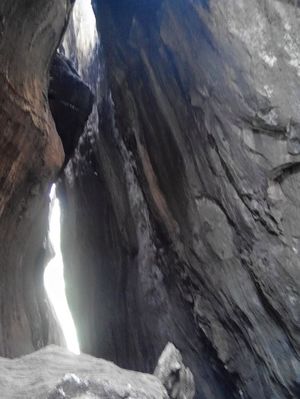 Yana Caves
It is a village located in the Uttara Kannada district, in the Sahyadri mountain range and is know for its peculiar rock formations made of Karst limestone. Durind the annual Shivaratri, a car festival is also held here.
Reviews •
3
Distance from Vibhooti Falls to Yana caves is not more than 10 km but the route is slopy with lots of turns and curves. You need to be real careful of the potholes on the muddy road.
After reaching the entry point of Yana cave trek, there is a parking space on the left and in the front is the trail leading to the hike. In the beginning of the trail itself we came across a lot of vegetation and flowers. These were some local flowers but their beauty was just captivating.
So, Yana Caves is a place, you're not supposed to wear your chappals to since you have to walk 15-20 minutes on a jungle trek to reach the exact spot. So, the parking fee for your car would be Rs 30/- and there is a small shop from where you can buy aerated drinks and snacks. With butterflies in our tummy, we took tiny steps. On our left was a huge covered with green plants, shrubs and mosses. On our right, we had dense forest, as natural and untouched by the humans. There were no barricades on either sides to stop the animals from coming on the forest trail. A few seconds later we saw a tall tree with a broken entry gate. The scene reminded me of Jurassic Park and became a warning sign for us to not walk alone. It was just us two looking 360 degrees always and stepping each foot with caution. After walking for a few minutes, we found a huge log on the trail. We could only hear birds chirping which were not the usual ones we hear in the city. It was strange and frightening at the same time. We were scared af and after walking 5 steps we used to contemplate whether we should continue or turn around and go back. All we were hoping was to see few beings from our own species so that we could feel safe in their company. Finally, after walking another stretch, we saw the caves. It was giant and facing another cave (the main one and the one we had access to I suppose. Thick trees covered the way to this cave and we were skeptical if at all there was a route to reach that cave. Eventually, we could hear footsteps and sounds which we could interpret. ...And there it was, the enormous cave, made up of limestones, standing tall with sharp edges. To all the GOT fans out there, it actually looked like the dragon stone. There was a small temple of Shivaji at the foot of the cave. We were advised not to go inside the caves and do the parikrama but guys come on we all know, who listens to free advice? We were now calm and compose and relishing what nature had offered us. We were actually lost in its wanderlush and high on the overdose of its greenery. So, we decided to take a parikrama of the caves because we were not at all comfortable about coming to a place and not enjoying that moment to the fullest. We were asked to keep our shoes outside and climb a concrete staircase which led us to the cave's entrance. Since, were barefoot, the thought of any slimy thing made us jump. It had started drizzling a little. As we entered the caves, we almost turned our heads 90 degrees to measure its height. There were 2 holes in the caves through which the rain water was pouring inside. It was not pitch dark as well since the light rays brightened up the inside up to a small radius. Flat rocks acted as steps. It was breathtaking. If we were not alone, we would have stayed a little longer inside the cave and search for some carving, Jon Snow might have drawn :P. Now, we had to make our way through a narrow opening. That was fun and we made our way out. We were surrounded by lush green forest again. We had to walk down a couple of stairs and then head upwards. But guys trust me, we lived each and every minute we spent here. We truly felt like khatron ke khiladi. And by the end of this parikrama, we didn't want to leave the place at all. Our way back to the entry gate was a piece of cake since we were not the ones feeling endangered anymore. We sat in our car, rolled down the windows and put our heads out, not caring about our messed up hair.
Attractions near
Yana Caves