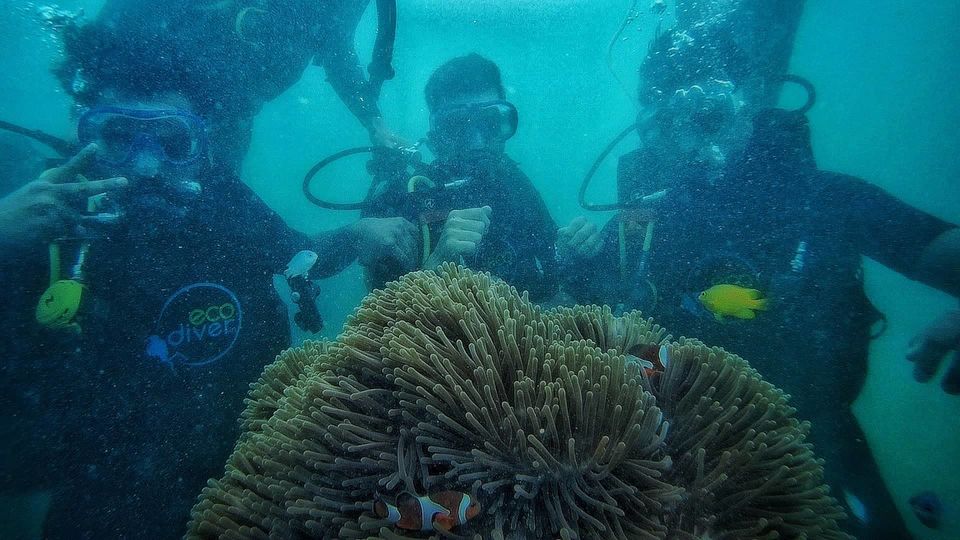 Andamans and Nicobar island is a union territory of India with its capital at port blair. Popular among honeymooners for some relaxing time with loved ones but has so much to offer to everyone. In this blog, I am going to tell you how to plan your trip in minimum budget but covers everything and that too in a lavish way.
In this blog, I am going to tell you some points you need to remember while planning your trip to andaman along with the trip i have done in chronological order.
Before that, if you have time please check out my gallery on instagram @travel_tanmay and follow if you like it.
Next day, we boarded our ferry (markruzz) from haddo jetty to havelock, you can book markruzz online or through their office in city but i recommend online and that too before arriving there as internet is major problem. You can try your luck with government ferries as they are cheap but don't know whether their process tedious or not. Comment below if you have any info about that.
The moment we step on havelock, the view was memsmerizing, fishes, corals were visible in water near the jetty which was good to see. We booked hotel sumati through OYO,only one time where oyo fulfilled its promise but then also i don't recommend to pay beforehand. hotel was decent in the price we paid, nearby hotel there was nemo beach which kind of private beach for three hotels nearby namely havelock beach resort (very popular there) and same with name havelock resort something.
After check-in, we step out and explore nemo beach which was deprived of human population and quiet, it was mesmerizing to watch crabs there.. in every color, some were busy in daily routine, some were doing fighting.. nemo beach has also a stretch of mangrove trees which gives you perfect background for photos. One thing is everyone thinking of scuba when comes to havelock. this sport developed here very popular and its considered one of the best place in india to dive for.
1. Buy a Airtel or BSNL simcard before going to andaman
Once you land in andaman, all your other networks are dead, it's better if you buy a airtel or BSNL beforehand. Fortunately, we had both this SIM in our group. Though they are also working very slow, but help you in calling your hotel or when you are in some emergency.
After land, the main task is to find your hotel. We booked Swaraj home stay by OYO app as it was showing near jetty, from where you probably need to board your ferry next day or upcoming days. when we reached there, we realized most of the hotels updated wrong location on Google maps and photos are fake on any hotel booking website like OYO or makemytrip. So, here comes the next point.
2. Always opt for pay at hotel option when booking your hotel
If you book hotel through some app, my suggestion is don't pay through site, opt for pay at hotel option and if you aren't able to find out or unsatisfied with your room, ask your driver or talk to some hotel in main area like Gol Ghar, you can crack a deal in cheap price.
3. Use autos instead of taxis
So while we were doing our hopping for hotel , we got to know that autos are cheap in andaman and helpful too. however, we paid 400 rupees to taxi driver on airport, which we easily get in 100 rupees by auto. So, now we reached our homestay which was not satisfying but we were tried and we booked only for one day, so we hold our horses there and get ready for cellular jail. It was already dark when we reached the jail, so we decided to see only sound and light show and enjoy weather nearby. we roam around for sometime in veer sarvarkar park, Rajeev Gandhi sports complex nearby.
We attended 6 PM show. First thing is that show is 50 rupee cheaper than same 5PM show... haha.. just to save some money. To book tickets for show, here is my advice.
4. Book tickets by yourself and not engage with any agent
plenty of agent approach you to book ticket and charge anything 50-100 rs extra for that, but proper instruction is pasted there by authorities to book ticket. you need to connect to jail wifi and fill a simple form and give ticket no. that generated to counter.
Show was excellent and take you through the dark times in indian history very well. That day we did our dinner at Rajasthani dhaba near gol ghar chorauha (four-way). It was good but not satisfied, after that we ate pizza nearby in cafe bistro and that too with free wifi.
5. Never book your scuba diving via any person on beach
On any beach, you'll find people asking for scuba ranging from 1.5k to 3.5 rupees, price vary according to season, even your hotel ask you for the same. My recommendation is always book your scuba from some establishment, you'll find many along the road in front of your hotel. We did through ecodiver.in whose office was just 500m from our hotel and they give pick-and-drop facility also.
In night, we visit Cafe something different which has nice ambience to spend some quality time with your friends, soup was very nice and we ordered some platter also which was average. Best thing is they also provide pick-and-drop facility, so keep there number before going there. we did our dinner in nearby restaurant called hotel moon or something and then went to sleep. Ecodiver is in between hotel and something different.
This was the day of dive. we got ready early by 7 a.m., had our lite and complimentary breakfast at hotel and by that time, our pickup was ready. it took us to diving site which was around 1km from our hotel, instructor gave us brief training and then 20 mins dive. Let me assure you that is the best thing you can try and safe too. All things completed by 9 a.m and our van dropped us at the hotel.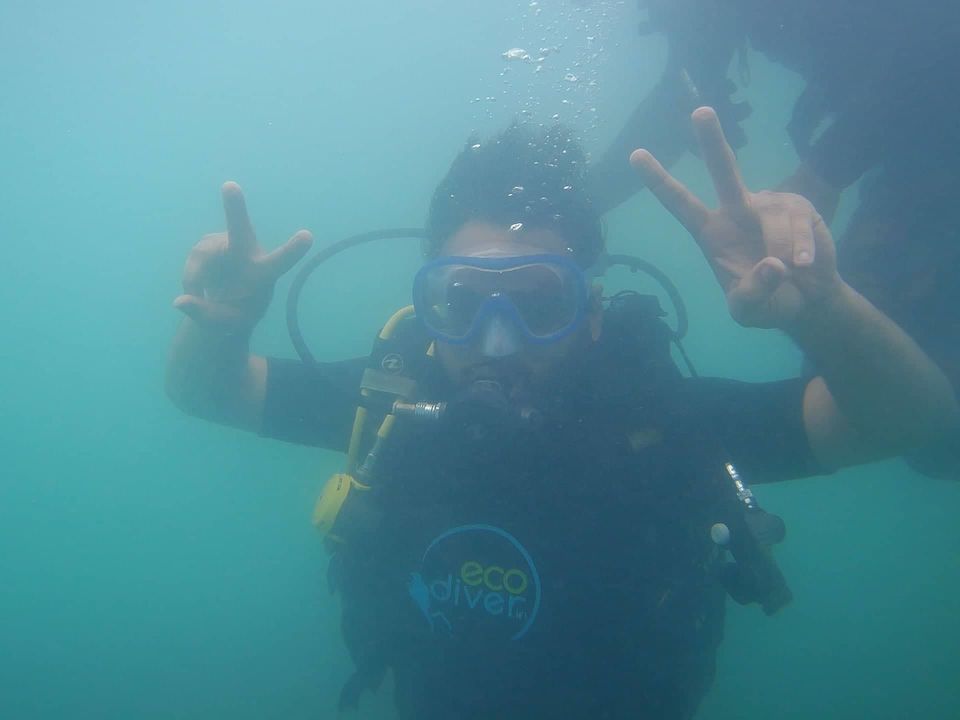 Next thing in our mind was radhanagar beach that is one of the beach in asia's top 5. we took shower after reaching hotel and book our ride (auto-rickshaw) to-and-fro for 400 rupees. Our return ferry was at 4P.M. So we told him, we need to come back by 2P.M. so he gave us fulfilled 2 hours for the beach which was enough. Radhanagar beach is like varkala beach in kerala but has white sand and longer stretch too. We spend there 2 hours, did our lunch in local shack there and head back.
Again we spend sometime on nemo beach which was nearby and took our luggage and reach jetty by 4P.M.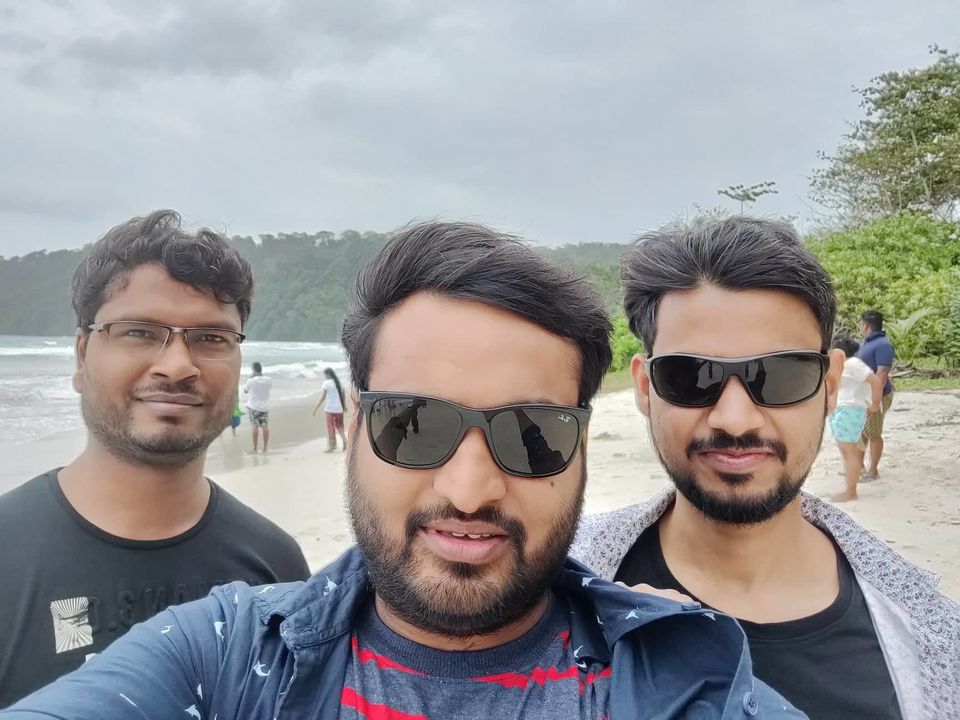 On reaching port blair, we headed to our hotel which was Hotel emerald homestays booked through OYO (not recommended for couples, ok ok for us, Photos are different on app). After freshen up, we headed out for Aberdeen bazaar which is famous for shopping and food. we did our dinner at Annapurana restaurant which was purely veg, little pricey but taste was good.
Next day our plan was to explore port blair, we got ready by 9 am, and headed to Rajiv gandhi sports complex, from where boats are hired for Ross island and North bay island. Many operators can be seen to distribute packages in 750 rupees for both island. Try to negotiate with then, you can get that package easily in 600 rupees. we did in 650. But there is a catch!! They gave you 1 hr on Ross Island and 2.5 hours on north bay.
However, if you did scuba on havelock and don't want to do any water sport activity, try to get more time on Ross, If you are a group of 7-10 people you can easily do this. The game here is that they develop many water sport activities like scuba, snorkelling, dolphin sighseeing on northbay and commission is given to boats. but still if you have more time on north bay, try to visit light house, nothing special but path is good.
We completed our tour by 2 PM. Next, we headed for chatham saw mill which is still working from 80's. This time we used local bus to explore public transport, you can easily see buses going to chatham. But unfortunately, mill is open till 2.30 PM and we reached at 3. so it was closed, try to reach before 2.30 PM if you want to see it. Next, we go to samudrika naval museum which is nearby and has many corals, shells and fishes in display which were good to know.
After all this, we were free by 4PM, did our lunch at Restaurant dal roti which was nearby and tasty too. For today, we booked hotel nagar inn through walk-in which was nearby to airport because we had an early flight next day. hotel was very nice, we walked around liitle bit in night, had some pastry in nearby bakery and that's how our andaman trip ended.
If you need any help in your trip, I would love to help you. follow and DM me on instagram @travel_tanmay
Cost distribution (for three people):-
hotels:-
Day 1 hotel (swaraj home stay):- Rs. 800
Day 2 (Hotel Sumati at swaraj dweep):- Rs. 1200
Day 3(Hotel Emerald homestay) :- Rs. 1100
Day 4 (Hotel Nagar Inn):- Rs. 1200
Ferry Markruzz (port blair-havelock-portblair):- Rs. 8442 (can be done in cheap using government ferries)
Scuba diving (through ecodiver):- Rs. 4500
Last day boat package:- Rs. 1950
Enteries (to jail, museum, ross island, sound & light show):- Rs. 990
Food (4 days) :- Rs. 6500 (can be done in cheap)
Autos :- Rs. 2000 (big one was radhanagar to-and-fro)
Souveneir:- Rs. 900
Frequent Searches Leading To This Page:-
andaman nicobar best tourist places, andaman nicobar islands places to visit, andaman nicobar budget hotels, andaman nicobar tour package from chennai, andaman and nicobar trip plan