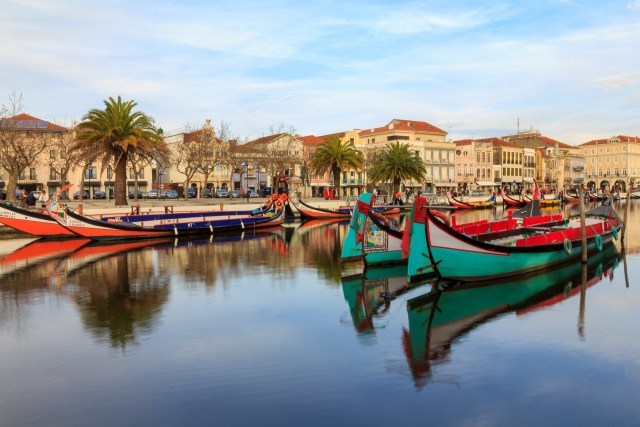 A week in the northern Portuguese paradise
'A nomad I will remain for life, in love with distant and uncharted places' these are words of the famous swiss traveler Isabelle Eberhardt, a bible which I live by. Walking on the beautiful cobblestone path of the beautiful Ribeira (riverside) of north Portugal, sun shining, street vendors selling fresh-caught seafood, and beautiful Portuguese music being played in the background, this image would probably be my most fond memory of our trip to Porto, Portugal.
Every time I travel to another country my main goal is to avoid the crowded and busy capital cities and head towards the calm and peaceful life of the smaller towns. Often I have found out that the real charm and soul of the country is in these small towns after all the true purpose of a vacation is to relax.
Porto, as the name suggests, is a port city in northwest Portugal known for its port wine (best in Europe) and delicious sea-food, the city is very coastal, people are very friendly, and the spirit is always high.
Sunsets, Sardines & Sangria
My lunch date is cute
We rented out a spacious and beautiful Airbnb a bit away from the center to observe the city life, soon as we dropped our bags off we headed straight for the port. What I have always found useful is asking locals where to eat, so our cab driver suggested to us a place for good seafood at a decent price and enjoy the view at the same time. Restaurants and bars are located all along the riverside selling amazing Portuguese cuisine which is mostly seafood, port wine, and bread, the trick is to visit the ones on the 'Gaia' which is the other side of the bridge, it's the same food, the same view just a lot cheaper, we found this beautiful outdoor restaurant next to the riverside and I could smell the BBQ fish from a block away, that's how you know its good food.
I am not a big fan of sardines but the ones from Porto blew me away. I mean drop-dead delicious, I would highly recommend it. We sat down and right in front of us was the owner throwing shrimp, octopus, and sardines on the grill. Nothing too fancy just a flask of impossibly smooth port wine, fresh shrimp and octopus from the grill and a view to die for, isn't that's all we need in life? For me it sure is.
Tigo & Rita
I rarely do this while reviewing a city but I felt these guys deserve their own section, after a late lunch we head to town walking along the Riberia in search for a local bar to hang out with people make friends and memories and that's when we met the friendliest couple in all of Portugal (Tigo & Rita). Who were so awesome, a young couple like us, studying and working. After a few glasses of red wine and casual introductions they offered to drive us around town, first, we went bar hopping to all the local hangouts, these pubs are usually filled with students and teenagers and are cheap, serve some good tapas mostly fish and bread and are fun to be in.
Porto at night
Tigo & Rita then they took us to see all the historic places, castles and churches at night, when there are no crowds and when everything is so peaceful and beautiful, trust me you wouldn't find a better tour in all of Portugal, that's why we always befriend the locals.
A Delicious Afternoon
Port side brunch
The town is very pretty and very colonial in architecture, cobblestone roads, old building, and boats are to be seen everywhere, we walked through the alleyways making our way to the center of town, there is always something going on in the center. fortunately enough for us, there was a food festival going on. there were stalls selling fresh local fish, cold beer, port wine, tapas, and all sorts of local assortments. Our new-found friends had recommended us to try a popular Portuguese specialty Francesinha, which is a steak or roast meat sandwich covered with melted cheese and tomato sauce, oh boy it was so good.
I don't really have a sweet tooth but I think this may have been the only time I got a sugar rush, we came across something called Sonhos, loosely translated they are Portuguese doughnuts, full of cinnamon and coated with powdered sugar is something that everyone must try.
Wine not?
Porto has the best port wine in all of Europe and is one of the largest exporters of port wine in the world. We went wine tasting in a different food market and had mindblowing port wine, the bartender was generous enough to give us a history lesson on the port wine. The wine barrels are stored underwater near the docks, the pressure from the water which reduces any contamination from air, experience what is known as "reductive" aging. it is worth every drop we spend an hour or two drinking port wine aged from 3 years till 50 years old.
After a very boozy we walked some more until we came across this beautiful alleyway, the walls of the buildings were covered with beautiful blue and white tiles with artistic patterns, it was so magnificent. we spent the rest of the day walking around town.
Aveiro
Aveiro is a small fishing town, a train ride away from Porto. The town is super small and very pretty, known for its great shrimp, mussels and red wine, The town has a beautiful view of the ocean and most of the restaurants are located right on the port and we spend some time eating mussels drinking wine and reflecting on life.
A small river runs through the town and there are crossovers everywhere. Tour boats run through these canals and go all over the city, they are cheap and if you ask me it the best way to go around town.
We were walking around town looking for places to dine in and then we came across a huge load of beer. Super Bock is a very popular beer all over Portugal, its a light lager and is perfect with lunch. So when we came across this place, I had to a promotion.
On The Edge Of Western Europe
We went to the famous Foz Do Douro beach In Porto, it was the happiest place we have been in all of Europe. Sun shining, small tents serving beer and tapas on the beach, and the sound of the waves crashing against the rocks. Considered as the most romantic location in Western Europe and for a reason, we walked on the long pier which went about 200 meters Long, with fast blowing winds and waves crashing on both sides we were at the end of Western Europe, the farthest one can go without jumping into the water and there stood in front of us, the majestic Atlantic Ocean. We were just mesmerized by the beauty of the blue ocean, so many tales and so many mysteries the Atlantic holds, it's like jumping back in time.
The Lifetime souvenir
What better souvenir than the one which stays with you forever. I had long been wanting to get another tattoo on my arm as I wanted to complete my right arm sleeve (yes I have a lot of ink and yes they all of the meaning). We found an amazing tattoo parlor and one of my long time favorite tattoo inspiration done on my arm as permanent memorabilia of our delightful time spent in Porto.
Porto is the perfect balance of calm and energy which makes it an amazing place to relax and enjoy a vacation. The food is delicious, the wine red and the view is breathtaking. People are also very friendly and helpful, we are sure to come back here to visit our friends and make new ones but before we left with us we took some delicious souvenirs, 2 bottles of port wine of course.